WpStream: Easy Live Streaming with WordPress
Last updated on:
Did you know, as of 2020, live streaming is 27 years old? That's right. Live streaming is not just a TikTok, Facebook, or Instagram craze. It's a technology that has been around for a long time. However, many businesses are just now realizing this fact.
We are all aware that many businesses have been forced to use live streaming to manage operations during the lockdown. Schools, too, are offering online classes via live streaming. Quarantine meant we had to stay in touch with family and friends via live streams.
And you can expect live streaming to grow bigger in the future, pandemic or not. According to market research, the live streaming industry is expected to grow to $70 billion in 2021. Besides, it's not a hidden fact that many people have been using live streaming with great success long before now.
I mean, celebrities and pro-marketers jumped on the bandwagon a while ago thanks to streaming services such as Periscope, Facebook Live, and YouTube Live, among others. And they have been killing it, with most building large communities of engaged followers.
You've probably streamed live a couple of times as well. I know I have, at least for friends and online street cred. Hehe. My wife is literally addicted to streaming; you'll catch her on TikTok, turning up daily. Yes, every single day without failure.
That aside, the point is you can use live streaming to grow your business in ways unimaginable. You can communicate the latest news, build a brand, create a community, and sell products from a single live stream. Many big-name brands are already doing it.
And for WordPress users, we share WpStream, one of the best live streaming plugins out there. But why choose WpStream when we already have Twitch, Facebook Live, and YouTube Live, among others?
Well, it's simple.
You don't own your stream content on these third-party streaming solutions. In other words, you're at their mercy.
Plus, your live stream can be banned or deleted if a user (or worse still, a competitor) reports it.
Thirdly, you have limited monetization avenues on these third-party streaming services.
And lastly, third-party streaming services impose restrictions that may hinder your growth.
These reasons (among others) make creating a live streaming service on your WordPress site a viable option, especially if your livelihood depends on it.
But, until WpStream, creating a streaming website on WordPress was a nightmare. Now, it's as easy as A, B, C.
In the following review, we learn more about WpStream and why it's an exceptional live streaming plugin for all WordPress websites. Without further ado, let us get to it 🙂
What is WpStream?
First things first, what is this animal we are calling WpStream? Well, in a simple line, WpStream is, firstly, a nifty live streaming plugin for WordPress websites.
But that's not all.
WpStream is more than just a live streaming plugin. It's a fully-fledged WordPress video platform offering you storage, bandwidth, and the toolsets you need to host high-quality live streams like the professionals.
That's right, WpStream allows you to host live streams on your WordPress website via their plugin. But you don't have to worry about storage and bandwidth, which saves you a lot of server resources and expenses.
Your website server is saved the strain of delivering live streams since WpStream handles everything on their end.  You don't need any other server or setup, which means you can start streaming live in your browser right away.
At the same time, WpStream works with other 3rd party video players such as Bradmax, Flowplayer, JWPlayer, and DPlayer, among others. Meaning you have a lot of flexibility at your disposal.
WpStream is incredibly easy to configure and use. I kid you not; I was up live streaming in less than five minutes. That's right, I tested the service and was thoroughly impressed.
And I'm not alone.
Many other users are singing praise for WpStream, as seen on WordPress.org (with an average rating of 4.9 stars out of 5 stars).
There is this guy:
Discovering this plugin has been of great success in the website and app I manage. It's reliable, affordable and their response to their users is superb. – ejis4wealth
And another one:
We were looking for an online streaming provider that would scale with our various potential uses. WpStream ticks all those boxes and so far has been fantastic! Support is second to none. I look forward to growing our live streaming business with WpStream at our core! – morphavuk
And yet another happy user:
I was searching for something that would work with WordPress and Live Streaming and low and behold, WPStream was the answer! It does everything that is needed in order to live stream ON your WordPress site and not having to depend on another streaming service to cut in and stop you because they are having their own issues and don't care about you!

WPStream is EXACTLY what the doctor ordered and it has saved me from losing valuable viewers! – robwhiteus
Many other users love the WpStream live streaming experience; it's hard to fit all into a single review post.
WpStream offers you a great list of powerful options without feature bloat. For such a robust live streaming service, you might think it's not very easy, but that's not the case with WpStream. You only have the features you need to stream live, and nothing stands in your way.
WpStream Key Features
WpStream is making waves thanks to the following key features:
Easy installation process
A free trial enough to run an HD stream for an hour
Incredibly easy to use
Two free WordPress themes that are optimized for live streaming, although WpStream works with any theme
Live stream from your browser
Support for many other 3rd-party video players
Multiple monetization options, including free, Pay-Per-View, and Subscriptions
Full support for RTMP streaming software such as OBS (my favorite), Wirecast, Larix, and more
Stream from your mobile device to your WordPress website
Compatibility with major browsers and platforms
Fully encrypted live streams for enhanced content protection and security
World-class support via multiple channels
Ability to record your live streams for later use
No adverts
Compatibility with modern page builders including WPBakery and Elementor
Support for multiple users
Stream to unlimited viewers – no limits
And much more
If you're in the market for a WordPress live streaming solution (not just a plugin), you can't go wrong with WpStream. It offers you the tools and resources you need to host professional live streams whether you're a freelancer, a small business, or a big organization.
Let's move on, and learn if WpStream is pocket-friendly.
WpStream Pricing
WpStream offers you four pricing packages billed monthly. The only major difference between the plans is the amount of storage and bandwidth leeway you get. Each plan is aimed at a different market segment, so be sure to choose what works for your business (see the screengrab above).
WpStream offers:
Family Plan – The cheapest plan comes in at $19 bucks a month for unlimited live channels, unlimited viewers, unlimited videos, 100 GB bandwidth, and 2 GB storage. The plan allows you to stream 300 hours of HQ video content or 150 hours of HD video content. It's ideal for beginners.
Team Plan – The plan costs $49 per month for unlimited live channels, unlimited videos, unlimited viewers, 250 GB bandwidth, and 10 GB storage. The Team plan allows you to stream 800 hours of HQ video content or 400 hours of HD video content. It's perfect for budding live streamers who have started creating a following.
Friends Plan – Perfect for serious streamers, the plan costs $149 monthly. It offers you unlimited live channels, unlimited videos, unlimited viewers, 1 TB bandwidth, and 50 GB storage. With the plan, you can support 3,000 HQ or 1,500 HD viewer hours.
Fans Plan – The most expensive plan sets you back $399 every month. It ships with unlimited live channels, unlimited viewers, unlimited videos, 3 TB bandwidth, and 250 GB storage. The package supports 10,000 HQ or 5,000 HD viewer hours, making it ideal for professional streamers with a huge following.
If your live streaming needs outgrow the above plans, you can always contact WpStream for a custom quote. To get you through the door, WpStream offers a free trial account with unlimited viewers, unlimited live channels, 500 MB bandwidth, and 100 MB storage. It's enough to run an HD stream for an hour.
How to Install WpStream Live Streaming for WordPress
Putting together WpStream to start streaming is remarkably easy; you don't need a web developer to hold your hand. You don't need technical or coding knowledge either. Just follow the tips below, and it is smooth sailing all along.
Firstly, head over to WpStream.net and click the Try It For Free button, as we highlight below.
Next, fill out that short form, create a strong password, and hit Register at the bottom:
Doing so leads you to the beautiful WpStream dashboard shown below.
You don't need to do anything here unless you'd like to upgrade to a premium package right away 🙂
After that, log in to your WordPress admin and navigate to Plugins > Add New, as shown below.
Enter "wpstream" in the keyword search box, and once WpStream appears, click Install Now, as we show in the screenshot below.
After that, click Activate:
Now, let us link your WordPress site to the WpStream account you created a few seconds ago. Click the WpStream on your WordPress admin menu, as shown below.
Next, please enter the email and password you used to create your WpStream.net account, and click Save Changes, as we highlight below.
At this point, you should see the following page.
Are you following? 
Good, let us move on.
Now that your WordPress site is connected to WpStream.net let us go ahead and learn how to add a live stream.
How to Add a WpStream Live Stream in WordPress
Just like installing and connecting WpStream, creating live streams is simple. Navigate to Free Live Channels/Free Videos on your WordPress admin, and click Add New, as we highlight below.
Next, enter a title and description for your stream:
Before you hit Publish, scroll down to the Live Channel/Video Setting meta box, and choose Free Live Channel – encrypted streaming & copy protection:
Then hit the Publish button:
When you hit Publish, WpStream adds a new box in your editor, as shown below. Notice the Record checkbox that allows you to create a recording of your live stream for later. By recording your live stream you open up a ton of new video options. Provide recordings as video-on-demand (VOD) for free, or charge for them – using a pay-per-view or subscription based model. It's a great way to recycle your content.
To create a live stream, hit the Broadcast to Channel button:
Next, you can either Start Browser Broadcast or Broadcast With 3rd Party Software (such as OBS), as shown below.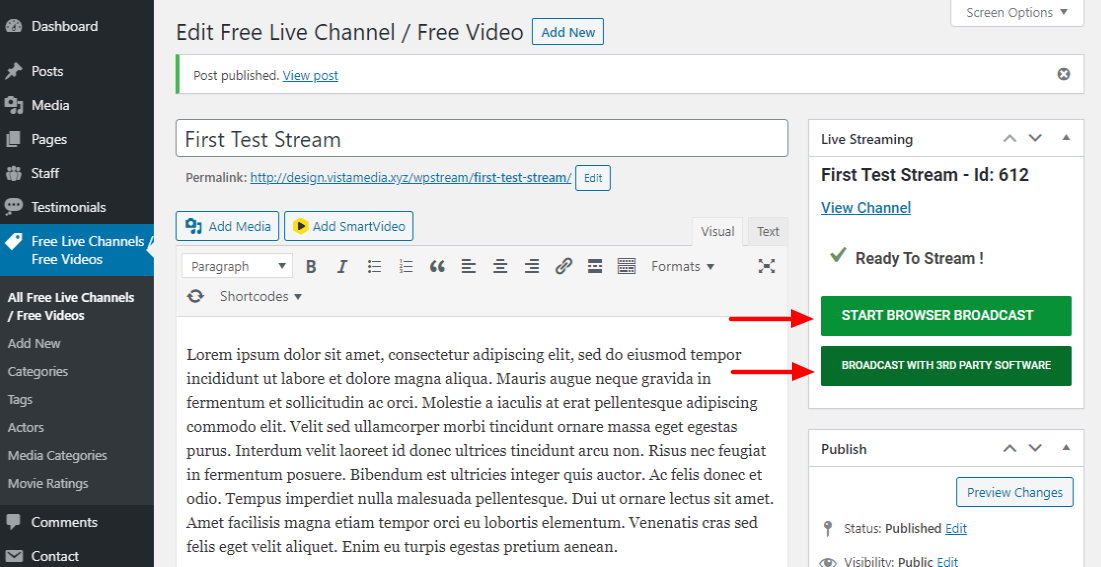 If you choose to go live on your browser, you need to provide camera and microphone permissions in the popup that appears when you click Start Browser Broadcast:
Please don't blame my laptop camera. Hehe:
When I viewed the live stream on the frontend, your boy was live – complete with two viewers!
Not bad for about five minutes of setting up everything. Again, don't mind my camera and light settings.
If you choose to use third-party streaming software such as OBS, please follow the following video instructions. This video is especially helpful as it not only covers live streaming but also how to publish recordings of your live streams. With a couple clicks you can easily offer video-on-demand (VOD) with WpStream. And if you would like to broadcast a Pay-Per-View event, watch there is a video guide for that as well.
You can learn more about WpStream on the official website and their support forums, where users ask many important questions.
Final Words
And here we are. I hope the above review helped you create a live stream with WpStream. Keep in mind that you can do much more with WpStream, including storing and delivering pre-recorded videos to your viewers. And that's because WpStream is a fully-fledged video platform, not just a video streaming service.
It offers you a variety of features and monetization options (via WooCommerce) to create all manner of streaming services. Heck, you can even create a Netflix-like website on top of WpStream, and sell monthly subscriptions using the WooCommerce Subscriptions add-on.
WpStream is a brilliant solution for all WordPress video creators looking to make money from their work. It's robust, yet incredibly easy to use. Give it a try, and let us know what you think in the comments.
Happy streaming!