10 Best Video Live Stream WordPress Plugins
Last updated on:
My family loves to live stream. We host live shows on Facebook all the time, and it has become an addiction. The exciting part comes when you see the audience growing and people commenting and reacting in real-time.
The point is, when done right, live streaming drives real conversation, which makes it a fantastic way of creating brand awareness. Many companies have taken to live streaming with great success. The influx of more live streaming platforms has made the process easier for all and sundry.
Big-name brands such as Facebook, Instagram, and YouTube, among others, offer you plenty of tools to live stream video and audio content to your audience no matter where they live in the world. And thanks to advances in internet connectivity and the proliferation of mobile devices, there is no limit to what you can achieve with live streaming.
For WordPress users, dozens of live streaming plugins allow you to stream from a variety of sources, be it social media networks, video sharing sites, or other platforms. In other words, you have plenty of plugins to host live streaming on your WordPress site. Now, you can bring your live streaming audience to your website and keep them there.
In today's post, we cover only ten of the best live streaming WordPress plugins. We have both free and paid options, meaning there is something for everyone. Without further ado, let us add live streaming to your beloved WordPress website.
Regardless of the live streaming plugin you choose, ensure it's suitable for your business needs. Some users will find great success with a free plugin, and other WordPressers will appreciate premium support and extra features that come with paid plugins.
Disclaimer:
WPExplorer is an affiliate for one or more products listed below. If you click a link and complete a purchase we could make a commission.
1. Embed Plus for YouTube

Live streaming on your WordPress website becomes not only possible but also incredibly easy with the right tool. You need a WordPress live streaming plugin that is powerful yet easy to use. If you're looking for one such tool, we are glad to point you towards Embed Plus for YouTube.
With over 200k active installs, Embed Plus for YouTube is the real deal. It makes it extremely easy to embed YouTube videos, playlists, channels, galleries, and live streams on your WordPress website. It's quite beginner-friendly thanks to a set of default settings that you can automatically apply to your live streams and videos.
It works with YouTube only, meaning you'd need a different plugin to live stream from other sources such as Facebook, Instagram, and so on. But if you're an avid YouTube user, the Embed Plus for YouTube is a lifesaver. It offers you a lot of features to offer customized live streaming experiences on your site.
The pro version comes with even more features, including YouTube live chat, caching, automatic tagging for video SEO, automatic video thumbnails, and priority support, among others.
2. WPStream
Do you run a live streaming WordPress website? If so, you can prolly attest to how challenging things get when you're looking to deliver professional streaming experiences. Many have had to put up with the likes of Zoom for live streaming needs, but we all know they aren't necessarily the best provider out there.
If your business depends on live streaming, the WPStream video streaming plugin for WordPress is just what the doctor ordered. It offers you all the features you need to live stream on your WordPress site like a pro. It's especially a great solution if your revenue model is Pay Per View or Video On Demand.
WPStream helps you to stream directly from your browser or using broadcast software such as LiveU, Air Solo, OBS, and GoCoder, among others. Each live streaming event has its own video page, but you can add your video player on any WordPress page via shortcodes.
Further, you can monetize your live or recorded videos via WooCommerce, where you can sell them on a one-time or recurring basis. It's easy to set up and comes with adequate documentation to get you up and running quickly. You can start with the free plugin + trial at wpstream.net, and upgrade to paid plans later on.
3. WebinarPress
Webinars are basically online seminars that help you to generate more leads. It's a fantastic lead magnet – at times, even better than offering a free eBook to get emails. If you've run webinars before, you already know it can be hard putting everything together.
Not anymore. The WebinarPress WordPress plugin makes running live and recorded webinars as easy as pie. Thanks to the plugin, you no longer need a third-party service to host webinars on your site. Just install the plugin, set up your landing page, and add a live or pre-recorded video.
Notable WebinarPress plugins include fully responsive pages, optional replays, attendee interactions, customizable email reminders, shortcodes, and so much more. Setting up webinars with the WebinarPress plugin will save you a ton of time and money.
4. VideoWhisper's Broadcast Live Video
Live Streaming is huge right now. And many brands are taking to live broadcasting to share news, stay in touch with users, and offer an interactive way of engaging with customers. Many live broadcasting websites are making a killing by offering said brands the tools they need to stream live videos effortlessly.
If you're looking to create one such website, you'll love the Broadcast Live Video WordPress plugin by VideoWhisper. You can use the live streaming plugin to create websites such as Twitch TV, Livestream, RealLifeCam, YouNow, and so on. On top of that, you can use the Broadcast Live Video plugin alongside apps such as Periscope and Meerkat.
Thanks to VideoWhisper's live streaming WordPress plugin, you can easily stream video from various sources, including PC webcams, IP cameras, iOS/Android, and so on. On top of that, you get a tipping system (among other monetization options), Ajax-powered live chat, and much more.
5. bzPlayer Pro
As far as live streaming goes, the more options you offer your users, the better the results. Free live streaming WordPress plugins are great for basic functionality. If you need more options, you need a paid live streaming plugin.
bzPlayer Pro is one such live streaming plugin for WordPress. On top of letting set up a fully functional live stream, bzPlayer offers you the features you need to go the extra mile.
For instance, bzPlayer gives your users the chance to rewind, resume, and forward live streams. On top of that, the plugin supports all popular live-streaming formats.
Other features include social share, control playback speed, age lock, download button, responsive player, autoplay, shortcodes, and more.
6. YouLive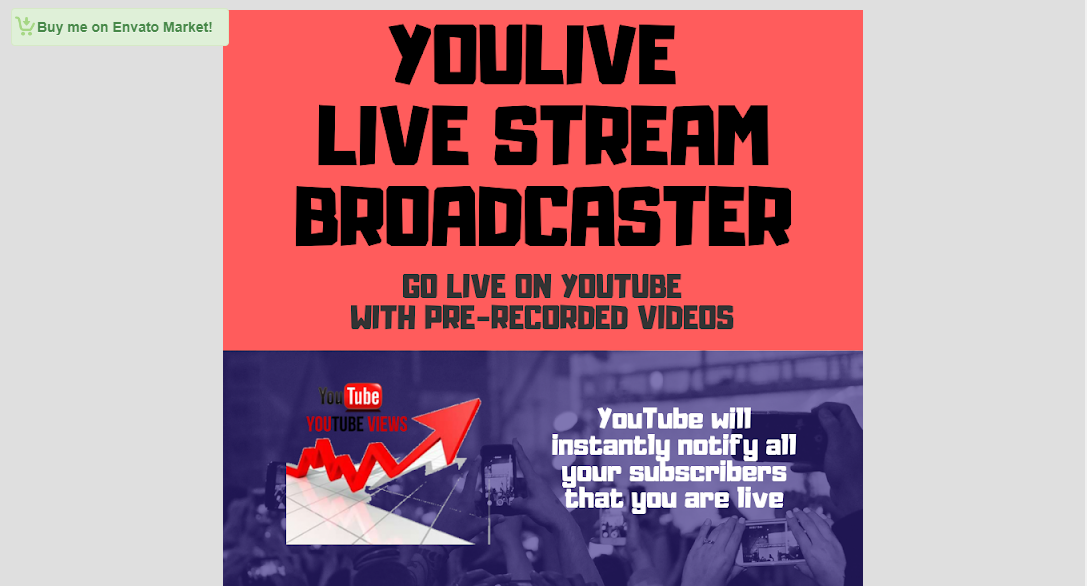 Did you know live videos increase viewer engagement 10x compared to uploaded videos? That's right, and you can capitalize on this if you have the right tools. Instead of just adding videos to your WordPress posts, you can make the videos on your WordPress blog "live."
How? Glad you asked 🙂
The YouLive plugin is exactly what you need. The plugin allows you to go live on YouTube with pre-recorded videos. You can go live directly on your channel or create a live event for the stream. That's right; you can use your WordPress blog to increase traffic to your YouTube channel.
In other words, the YouLive plugin allows you to embed videos in your WordPress posts, and the plugin will stream the videos to your YouTube channel automatically. That's quite a unique approach to live streaming content. Set up the plugin once and add videos to WordPress posts. As soon as you hit publish, YouTube notifies your subscribers that you're live streaming.
Brilliant, right?
7. Modern Video Player for WordPress
Live streaming plugins have come a long way, and as new technologies emerge, you can only expect said plugins to get better. We have multi-purpose WordPress media players that go beyond live streaming, and the Modern Video Player is one such plugin.
The Modern Video Player plugin offers you a lot of features in one suite. You don't have to run about looking for different plugins. Modern Video Player comes with live streaming, adverts, Google Analytics tracking, responsive design, highly customizable, SVG icons, social sharing, YouTube, and Vimeo support, to mention a few.
It's a beautiful video player that makes streaming live on your WordPress not only easy but also fun. With Modern Video Player, you'll probably never need any other live streaming plugin.
8. Easy Video Player WordPress Plugin
Keeping your options open when it comes to live streaming plugins ensures you find the one solution that's perfect for your business needs. Simultaneously, it would help if you had a simple yet powerful live streaming solution that won't make you pull your hair out during configuration.
A trending item at the time of writing, Easy Video Player is a fantastic live streaming plugin created by an elite author. The developers claim it is the number one video player WordPress plugin on Envato Market. But is it worth its weight in salt?
Easy Video Player allows you to do a lot more than just streaming live. It is packed to the brim with a lot of features including (but not limited to) advanced advertising, video protection, WooCommerce support, 100% responsive design, subtitles, multiple file formats, 10 skins, private videos (users must log in to view) and so much more.
9. Free Livestream with Hapity
High-quality live streaming plugins are hard to come by. If you find one that looks easy to use, you find out it does come with all the features you need. If you go for a complex plugin, you end up with feature bloat, which is annoying, to say the least.
You have a live stream WordPress plugin such as Free Livestream, which is easy to use yet powerful. This plugin lets you publish livestreams from your WordPress site via Hapity. Setup takes 5 minutes and you can start broadcasting with just one click. And you can share your video streams across social media.
10. Bradmax Player
And, finally, the big question: Should you pay for a WordPress live streaming plugin? That depends on your needs, plus many free versions come with pro versions. Still, if a free live streaming WordPress plugin meets your needs, I feel you needn't go with a paid version.
Bradmax Player is a free live streaming plugin that offers you more than you could ever ask for. Does the developer offer a premium version? Yes, of course, but the free version comes loaded with an extensive list of features that make streaming on your WordPress website as easy as A, B, C.
Features, you say? Bradmax Player ships with features such as poster images, autoplay, live streaming, sleek video player, video analytics, player customization, player skins, custom logo, responsive design, and so much more. The pro versions of Brandmax Player offer you extra features and premium support.
Final Words
Video marketing is here to stay, and it's a powerful digital marketing strategy. You must up your game to remain competitive in the market, and live streaming content is one powerful way of staying relevant in an ever-changing digital landscape.
Many other businesses are leveraging the power of live streams to drive growth and stay in touch with customers, especially now. But whether we live in a pandemic or not, live streaming will continue to grow today and in the future.
Which is your favorite live streaming plugin for WordPress? Please share your favorites, questions, and suggestions in the comment section below.