Fast Hosting For WordPress From Flywheel
Last updated on: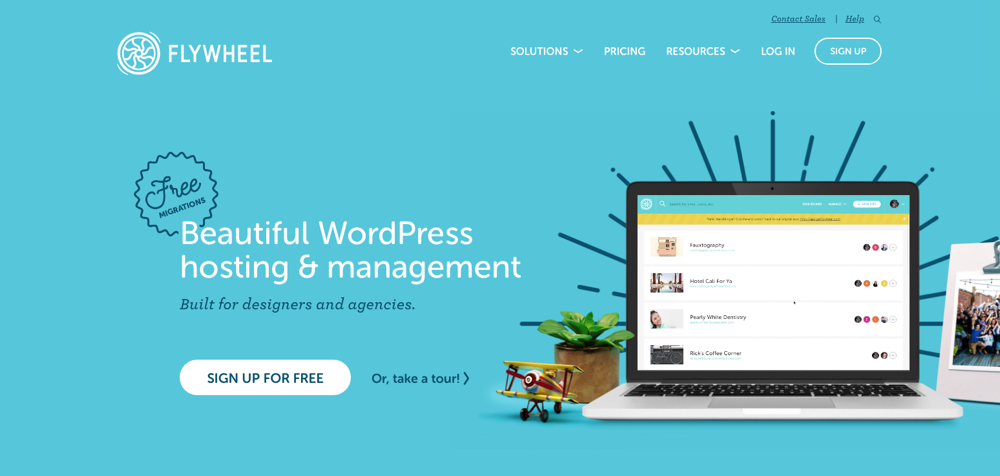 Happy new year all! We're glad to see you again, and we wanted to start the new year off right- with an amazing hosting giveaway from our friends at Flywheel! Now's an awesome time to start a new blog and managed WordPress hosting from Flywheel makes it easy for you to focus on creating quality content instead of managing your server. Keep reading to find out what exactly makes Flywheel so great!
Flywheel is ranked in the top 5% of web hosts, which really should't be a surprise. They're awesome. Not only are they WordPress experts, but they also offer awesome features like staging, free migrations, built-in caching, sftp access, malware monitoring, auto-backups, amazing support and more!
What You Need In A Host (Hint: Flywheel Has It All)
Flywheel is a great webhost offering managed WordPress hosting for new bloggers, experienced developers and freelance designers. They're awesome for so many reasons we couldn't possibly cover them all in one post, but here are some of the biggest reasons why they rock!
1. Easy & User Friendly
Having a hosting platform that is easy for you to work with is very important – and Flywheel is as easy as it gets. They offer great features for do-it-yourselfers as well as awesome options geared specifically for web developers (like the ability to build a site in a staging area at no cost, then transfer the site and billing over to your client when you go live).
Part of what makes Flywheel so easy to use is the fact that they are a managed WordPress host. This means they handle the installation and management of WordPress on your server, so all you have to do is signup for a plan and point over your domain name (which you can grab from NameCheap or GoDaddy).
Migrations are also made simple with Flywheel since they do the heavy lifting for you, for free. Just fill out the migration form and their WordPress masters will get started. They copy your site then move it over to Flywheel, all you have to do is pick a hosting plan.
Once you're setup you can test out new web designs and plugins using Flywheel's built-in staging sites. Just activate your staging site and you can seamlessly (and effortlessly) copy your live site for testing. When you're done, importing changes from your staging area to your live site is as easy as one click of a button.
And if you have any questions at all you can always reach out to the Flywheel support team. Submit a ticket via email 24/7. Or if you'd rather talk to some one you can give them a call or startup a live-chat with a friendly rep Monday through Friday (9am-7pm CDT). Flywheel offers one of the fastest response times among hosts, and their team is trained in all things WordPress hosting related so you can get the help you need quickly.
2. Fast Hosting
We keep bringing up website speed and how important first impressions are on the web, so it's crucial that your web host can serve up your site fast. New readers don't want to wait 10 seconds for your dirt cheap host to load. So do yourself a favor and invest a little bit into a great managed host like Flywheel. They use built-in server side caching to keep you site running fast (no additional plugins required)
So how do they keep their customer's sites running so fast? Flywheel sets up each of their awesome plans on Virtual Private Servers (VPS), which is way better than any shared option you might find elsewhere. Why is VPS so much better than shared? It's easily scalable for your business, offers more privacy & security, and gives you access to more resources so your website will perform better. The only reason some bloggers choose shared hosting over VPS is to avoiding having to manage their own server. But with Flywheel you can get all of the benefits of a VPS from a well-known managed WordPress host who will take care of your servers for you.
Flywheel also leverages 10 server locations, so you can choose a location closest to the source of your traffic. This way your site will load even faster for the bulk of your readers (i.e. if most of your readers hail from eastern Europe the London data center is probably your best bet).
But if you really want to speed up your site Flywheel offers a premium CDN add-on you might be interested in. By upgrading to this, Flywheel will ensure that your readers around the globe are viewing cached images that have been stored on the servers closest to them. And since they're one of the leaders in their industry you know that your visitors from Shanghai to Syracuse are viewing your pages at warp speed.
3. Secure WordPress Sites
You probably don't have time to focus on every aspect of WordPress security best-practices, which is why a good host comes in handy. Flywheel helps you keep your sites safe with a few built-in features you're sure to love.
The first and most obvious security feature is managed WordPress updates. One of the many perks of managed WordPress hosting is that you'll never forget to update your core installation ever again. To ensure a secure web environment, Flywheel keeps your site up to date with each new WordPress release.
Automated backups mean that you don't have to remember to manually make a copy of your database. Flywheel does it for you, automatically, each and every night. But you also have the option to log into your account and run your own backup any time you wish. And should you ever need to retire your website using one of your backup files, it's as easy as clicking a button.
Hacker-free security is one of Flywheels slogans. They enforce strong passwords for every client/user, limit login attempts to cut off brute force attacks and employ intelligent IP blocking (which means once an IP address is caught trying to be naughty they're blocked from all other Flywheel sites).
Plus they've partnered with Sucuri, a leading WordPress security expert, to offer top notch Malware scanning at no extra cost. So all of this plus your own implementation of a few basic security protocols (regular password changes, installing plugins and themes from reputable sources, etc.) means that your website on Flywheel will be running safe and sound.
4. Extras
Like we said before, there are many reasons shy Flywheel is a great hosting option and they do offer a bunch of extra features you're sure to love. One of them being an impressive 100% uptime. A good host should be confident in their ability to keep your site(s) running and many tout a 99.99% or 100% uptime guarantee, meaning that your site should only ever "go down" due to server maintenance (which usually only takes a few minutes, and is performed in the dead of night when you likely have little to no traffic anyway). Flywheel is a host you can trust to keep your sites going, and they've been proven to have 100% uptime month after month.
They also have no overages, ever. The plan you sign up for is what you pay for, so you don't have to worry of your site was featured in a Buzzfeed post. Surges in traffic won't result in ridiculous overages like some shared hosting plans. However, as your website's popularity grows Flywheel makes it easy to scale up to a larger plan that matches your resource needs.
And the last cool feature we want you to know about is the fact that Flywheel offers a helpful eBooks collection. As an online business owner or blogger extraordinaire, you need to always be learning to stay ahead of the competition and to keep your reader or customer base growing. Flywheel knows just how important that is, which is why they regularly release helpful ebooks (for FREE) that anyone can download to get better at their craft.
Flywheel In The Wild
So we've shared why you might want to use Flywheel yourself, but what do actual clients think of Flywheel's managed WordPress hosting? Well seeing as Flywheel is ranked #1 for client happiness I think it's safe to say that people love them. Here are a few real customer reviews:
Over to You
If you want to learn more, just head over and checkout Flywheel's website where you can read articles and watch videos about everything they have to offer (like globalization, bulk plans, PayPal integration, log files, add-ons and more).
Flywheel Managed WordPress Hosting
So what do you think about Flywheel? We'd love for you to share yourFlywheel experience with our other readers. Or do you have any questions that we can answer for you? Just leave us a comment below!