How to Add Music to Your WordPress Site with a Plugin
Last updated on:
WordPress and music go hand in hand. Or, aren't you aware that each major version of WordPress is named after a jazz legend? At the time of writing, the latest major version of our favorite CMS is named "Jaco," but I know you're not here for a WordPress history lesson.
You are out here looking for the perfect plugin to add music to your WordPress site. If that's you, today's is your lucky day as we shine a light on 10 of the best WordPress music plugins.
The plugins on this list will come in handy if you're a musician, DJ, band or anybody else looking to add music to a WordPress site. They are all easy to use and feature a modern design that's just perfect for your needs.
Our today's serving is the perfect blend of free and premium WordPress music plugins. Whichever route you choose, pick and run with a music plugin that's perfect for your needs. This list follows no particular order as we believe these are some of the best WordPress music plugins in the market.
That being said, let us discover what the WordPress community has to offer in terms of music plugins (and what we, in our humble opinion, think are the very best). Enjoy to the end and share your favorite WordPress music plugin in the comments!
Disclaimer:
WPExplorer is an affiliate for one or more products listed below. If you click a link and complete a purchase we could make a commission.
1. Audio Album
Let's kick off with a freebie – the incredible Audio Album plugin that was originally created for Dave Draper's website. It's a remarkable piece of software that helps you to add music to your WordPress site in album format.
Audio Album uses the default MediaElement.js that's part of the WordPress core making it perfect for any website you have in mind.
It's one of the easiest WordPress music plugins you will ever use, and probably the last one you'll ever need. Such a bold proclamation Freddy, but before you lynch me, read on to learn why Audio album has 5-star ratings only, and over 4,00 active installations as we speak.
For starters, this WordPress music plugin comes with terrific WordPress customizer options, which allow you to style your music albums like a boss.
Secondly, you can drop your audio albums on any page of your website using 2 shortcodes. If that isn't enough, you can add 20+ parameters to the shortcodes to create the music player of your dreams.
Audio Album is a simple WordPress music plugin but it is worth its weight in salt. The only way to find out what this beauty offers is to play with the demo. Oh wait, it's a free plugin, meaning you don't have to confine yourself to the demo; you can test out the plugin in its full glory. Please come back and share your findings 🙂
2. Music Player for WooCommerce
Do you sell music on your WooCommerce store? If that's a yes, you'll definitely love the Music Player for WooCommerce plugin.
This WordPress music plugin will make selling music on your site a breeze what with a nice set of features. It allows you to add HTML5 players to product and store pages that contain audio files. As such, the user can preview the audio file without necessarily loading the product pages. Talk of convenience my friend.
Other notable features include multiple player skins, support for 4 audio file formats i.e., OGA, MP3, WAV and WMA, support for major web browsers & mobile devices, a secure mode to prevent unauthorized downloading, compatibility with Gutenberg editor, Elementor, Page Builder by SiteOrigin & Beaver Builder, advanced admin options, Google Drive integration, and a widget to add a playlist to your sidebar among others.
Are you the guy who makes a killing selling music, podcasts and other types of audio files? If so, the Music Player for WooCommerce plugin is the real deal.
3. MP3-jPlayer
Simon Ward takes center stage with MP3-jPlayer, a fabulous and simple WordPress music plugin that will change how you serve audio files on your website.
MP3-jPlayer is an effective solution for anybody looking to create beautiful audio players and playlists on a WordPress site.
The plugin might look basic at first, but it's packed with a couple of cool options such as a volume control bar, a collapsible playlist, a download button, beautiful backgrounds, near-continuous playback between pages and popout players among others.
You can add multiple audio players on any page, and even show players or offer downloads selectively depending on the logged-in status of the user.
Further, you can extensively customize the colors, fonts, titles and more easily. Additionally, you have shortcode parameters that offer you absolute control over your players.
MP3-jPlayer supports MP3, M4A, MP4, WEBM, OGA, OGG, WAV, Icecast and Shoutcast. Other than that, the plugin is compatible with major browsers as well as mobile devices and has a fallback option for older browsers.
This WordPress music plugin is reskinnable and supports custom CSS should you need to customize the player designs. It's multisite compatible and comes with add-ons and plenty of developer-friendly features.
4. Modern Audio Player (Premium)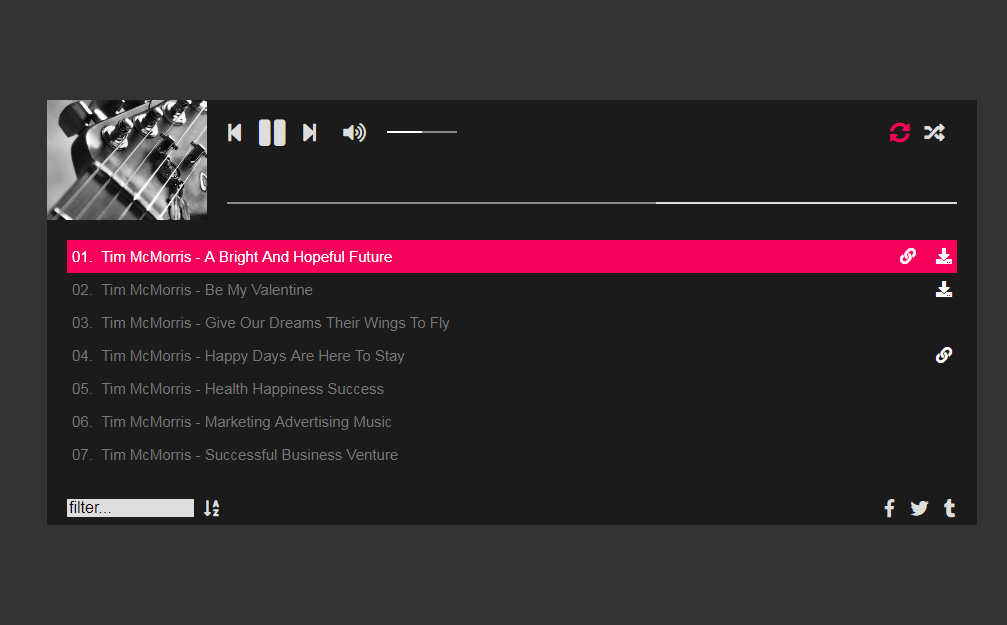 It's about time a premium WordPress music plugin made an appearance. Fair ladies and gentlemen, say a big hello to Modern Audio Player by Tean, an elite author at CodeCanyon.
With plenty of adjustable features, Modern Audio Player is a powerful audio player plugin that works as advertised. The plugin allows you to create an unlimited number of audio players and playlists. The latter can be a mix of different formats ranging from MP3 to SoundCloud and podcast and so on.
Modern Audio Player for WordPress features beautiful skins that you can easily style with basic CSS tricks. On top of that, the plugin is fully responsive meaning your players will look amazing across multiple devices.
Other interesting features include flexible player positions, Font Awesome icons, detailed statistics, cloud storage, continuous playback, multiple playback options, downloads, and keyboard shortcuts among others.
5. Sticky HTML5 Music Player (Premium)
You know me, I can't resist taking a superb plugin for a test drive, and this baby passed with flying colors. And just like yours truly, you might end up playing with the demos – if not the real thing – for quite a while.
Sticky HTML Music Player is that good. It's a fantastic solution for all audiophiles thanks to a suite of amazing features that will blow the competition completely out of the water.
This WordPress music plugin is the perfect solution to add background music to your WordPress website. The plugin comes with a continuous playback feature that ensures your music continues to play from the previous minute when you change pages.
Other than that, Sticky HTML5 Music Player is tremendously easy to customize and style meaning it's perfect for any website design.
If need be, you can automatically load the player playlists from a folder containing your MP3 files. And since this bad boy is intuitive and cleverly designed, it's compatible with desktop and mobile devices alike.
Thanks to over 30 parameters (you can call 'em options), you can turn your audio player whichever way you desire. The plugin is regularly updated and well-supported meaning you are in good hands.
6. AudioIgniter
If you've been around WordPress circles for a while, you must have heard a thing or two about the CSSIgniter team. If you're the perfect beginner, don't worry, you will come across the brand in no time, so feel right at home. CSSIgniter are known for their auspicious WordPress themes and plugins – and one of their better-known plugins is none other than AudiIgniter.
AudioIgniter is a free WordPress music plugin that makes it incredibly easy to add a music player to your WordPress site. It ships with a wide range of options allowing you to build the audio player of your dreams. The team behind this stellar music plugin has tested AudioIgniter against 150 most popular free themes, meaning you needn't worry about incompatibility issues.
On top of that, AudiIgniter saves you a lot of time since the plugin attempts to retrieve track ID3 metadata and populate the respective fields automatically. Say goodbye to populating these fields manually provided the MP3 files come with metadata.
Further, you can create unlimited playlists with unlimited tracks. All your players and playlists will look amazingly beautiful across multiple devices since the plugin is fully responsive and retina ready. And if you're into radio, you can even stream your station too! How suave?
7. ZoomSounds (Premium)
And just when you resign and think you have seen all WordPress has to offer in terms of audio players, another best seller shows up.
The best selling wave audio player, ZoomSounds WordPress music plugin is a force to reckon with. It's a premium option retailing at just $20 bucks at the time of writing, but between you and me, the price is well worth it.
Hyperbole aside, what does ZoomSounds offer other than a fancy sounding name? For starters, ZoomSounds is fully responsive and retina ready, which means the audio player works and looks great on multiple devices from desktop to mobile. But all WordPress music plugins on this list are responsive, so what else makes this beauty stand out?
Sample Data
ZoomSounds comes with sample data meaning you can hit the ground running by editing demo examples. On top of that, the plugin supports SoundCloud, Icecast, Shoutcast radio stations and self-hosted MP4, M4A and WAV audio files.
Another unique feature you might like is social support that allows your users to interact with you and others by liking and commenting. Woah – that's definitely a feature that isn't available in many other WordPress music plugins.
Additionally, ZoomSounds integrates seamlessly with WooCommerce offering you exactly what you need to sell audio content without breaking a sweat.
With eight wave skins, you have a pretty solid starting point to create an audio player that fits your brand. If that isn't enough, the skins are 100% editable; just drop your CSS styles and you're good to rock the party.
And there's more…
On top of that, ZoomSounds comes with an easy-to-use backend that's full of all the options you need to customize audio players to your heart's content. Not to mention this plugin's CSS3 components are built on top of SASS.
Other features to keep in mind include a selective download option, SEO-friendly code, embed codes, ZoomBox lightbox, touch-enabled UI, lifetime updates, HTML5 techniques, shortcode generator, loop option, playlists, WPBakery Page Builder integration, autoplay, continuous playback (provided your theme supports AJAX), a field to add custom links to iTunes & Amazon, video tutorials, detailed knowledge base, lifetime updates and world-class support among other things.
Clearly, ZoomSounds is a monster WordPress music plugin that will change how you add music to your WordPress site.
8. MP3 Sticky Player (Premium)
Still, things keep getting better, especially with MP3 Sticky Player in the picture. Brought to you by elite author FWDesign, this WordPress music plugin will change how you think about WordPress audio players.
You are used to basic audio players that fail to meet all of your needs. If that's not the case, you are familiar with advanced solutions that confuse and overwhelm you with tacky design and feature bloat that just don't cut it.
MP3 Sticky Player will have none of both worlds; it's the perfect mix of advanced functionality and simplicity. In other words, the plugin ships with a long and incredible list of features while still remaining clean and easy to use.
This WordPress music plugin is powerful, responsive and extremely customizable, offering you just the tool you need to add audio files and videos (including YouTube) to your WordPress site.
No Interruptions
The plugin ships with a popup player that allows you to browse the web while listening to music, so say goodbye to interruptions. On top of that, MP3 Sticky Player comes with download and buy buttons, so you can sell your music without breaking your back.
Thanks to Google Analytics, you can view how your audio players are performing.  And we all know that data is the new currency of the digital world we live in, meaning you can create a winning promotional strategy with the right data.
MP3 Sticky Player supports custom post types and multiple types of playlist i.e., XML, MP3/MP4 folder, HTML, SoundCloud PLS, podcasts, YouTube and Official.fm.
Continuous playback never disappoints on MP3 Sticky Player, and a shortcode generator makes adding your player anywhere on your website a reality.
Additionally, you can easily share a single audio track or the entire playlist thanks to deep linking.
And to keep thieves at bay, MP3 Sticky Player encrypts track paths. For example, content/videos/some-audio-fle.mp3 becomes 7ode890g83C42a95877Ob738fd3b66f2, which makes it impossible to steal the file even if the unauthorized user views the page source.
MP3 Sticky Player ships with even more features but we would need a whole post to cover everything, so I urge you to test the waters with the demo.
9. Karma Music Player
Finding a great WordPress music plugin is tough work. Most of the plugins – whether free or premium – I found are incompatible with the latest version of WordPress. Some were lastly updated back in 2015, which is just sad because they make for great WordPress audio plugins.
But I will have none of that; I will never recommend an outdated plugin even if Envato marketplace shows it has plenty of sales.
Why?
Because outdated WordPress plugins expose you to functionality issues and security vulnerabilities. It is one of the reasons I am extremely keen on the WordPress products I use and endorse.
Karma Music Player is a great WordPress plugin to add music and audio files to your WordPress site. It receives regular updates, which means better security and features at all times.
Karma Music Player is as simple as it gets but offers you enough power to server audio files on your website like a pro. 10 color palettes make creating the ideal audio player for your website incredibly simple.
Other features include widgets, Elementor and WPBakery Page Builder compatibility, download button, RTL support, responsive design and much more.
10. Compact WP Audio Player
Last but definitely not least, we have the Compact WP Audio Player WordPress plugin bringing up the rear. Handcrafted at Tips and Tricks HQ, Compact WP Audio Player is a great WordPress music plugin that puts the "A" in your audio players.
Compact WP Audio Player is a simple audio player plugin that only supports two formats; MP3 and OGG file formats. The plugin is compatible with all major browsers. Besides that, Compact WP Audio Player is responsive, meaning it looks and works great on all types of devices.
It's a feature-rich solution for solo artists, DJs, bands, producers, and anybody in the music industry. If you're in the market for an incredible WordPress music plugin, look no further as Compact WP Audio Player has your back.
Other features include podcast support, audio previews, shortcodes, autoplay and so much more. When you're ready, you can always add a Compact WP Audio Player anywhere on your website to serve the music and attract more readers, especially if you're using high-quality material.
With plenty of options, you can customize your audio players to reflect your brand. In other words, Compact WP Audio Player is a fabulous WordPress music plugin that doesn't disappoint. It's easy to configure and use that we don't expect you to run into any problems. The plugin is available free to download at WordPress.org.
One Last Note
There are quite a number of WordPress music plugins out there, each with a unique set of features and the works. You should always go for a WordPress music plugin that meets your needs, whether you choose a freebie or premium option.
Which is your favorite WordPress music plugin? Please let us know your thoughts in the comments.