Google Featured Snippet Guide for WordPress Sites
Last updated on:
Attracting people to increase your site's traffic is like saying no to pizza, very tough. There are hundreds of search results for even vague keywords, and if you do manage to stand out, then it's very challenging to stand out.
That's where the "Featured Snippet" comes in. It was introduced in 2014, and we don't think it's going to leave anytime soon. Google featured snippets get more clicks than normal search links, and that's a proven fact. Because of that, featured snippets can help you increase user conversions and engagement on your site.
In this article, you'll learn everything you need to about the Google Featured Snippet and why it is not necessary to rank #1 to get a featured snippet in Google.
What are Google Featured Snippets?
You already know what Google featured snippets are. You just may not be aware of the fact that it is called a featured snippet. If you have searched about something specific, Google will usually answer your question with a series of rich snippet results. These will have all the answer to the question or keyword you searched, but there is one result shown above all of the other links. This is the featured snippet, also known as Position #0, and typically is formatted differently to make it stand out. So, if you want to increase your site visibility and want engagement for your site, you should aim for position #0 instead of position #1.
There are many advantages to this. First, they take up so much space and provide a quick answer the user is looking for, so they will be drawn to click on your link. Second, they rule the SERP result. Third, they give you so much exposure and always keep you ahead of the herd, because of this your company's reputation can increase ten fold.
But it's important to note, you won't magically gain position #0 your content needs to be so good that Google keeps you there. By that, I mean content quality is the king and will remain king. You also have to consider WordPress SEO to improve your rankings and clicks from SERPs.
For snippets, a study by Ahrefs found that the following types of words have a better chance of getting featured.
Recipe
Best
Vs
Make
Definition
Types of Featured Snippets
While the majority of Google search results are displayed as a list of links, headings and excerpts the featured snippet is different. It stands out, and is displayed as one of four formats.
Paragraph
According to Getstat, 82% of the featured snippets are in paragraph form.
They mainly answer questions like:
Who is
Why is
How is
How to
Does this
The length of a typical paragraph snippet is 40 to 60 words. This type of snippet type is preferred over other types of snippets.
Numbered List
If you want to describe a step by step process, recipe, or you want to give any kind of instructions, you can create a numbered list.
Because of this order, a step by step method has been shown, the audience clicks to your site should increase, and with potential for a lower bounce rate too as your audience doesn't have to go to any other site in search of a complete answer.
You will often see an ordered list for.
Step by step tutorials
Ranked lists
Bulleted List
When a list is in order and step by step the method it should be created in the numbered way. If your list is not in the stepwise method you will instead create a bulleted list.
You will see a bulleted list for.
Best of lists
Ranked lists
Unranked lists
Featured lists
Table
If you are comparing two or more things with each other, then a table formatted feature will appear. Google loves to show off, and will show all the information available to their crawlers. This can include data with rates, years, prices, numbers, percentages, etc. You don't have to be super creative with your table because the information pulled by Google for the table snippet is a simple, static, and non-sortable table.
Benefits of Featured Snippets
There are many benefits to securing a featured snippet position. These include:
Better CTR: According to Search Engine Land, Featured Snippet gets 8% of all clicks, so if you land on the featured snippet, your organic click-through rate will get a boost.
Visibility: If your snippet is eye-catching, more people will see your featured snippet. They will automatically start thinking that if Google has chosen your answer, then your site can be trusted. It's seen as a sign of authority on a topic and people will click on your link.
Improved Odds: After implementing schema markup, Google will be able to understand the content of your site more clearly. Because of that, your chance of getting rich results in organic search also increases.
Boosted Conversions: If visitors get what they want after just looking at your featured snippet, the conversion will also increase. Because you will be getting consequent reads, downloads, inquiries, sales, etc.
Voice Search: Day after day, due to enhancement in technology, the number of voice searches is also increasing. Feature snippets are specifically designed for voice and on-the-go searches. By 2020 the percentage of voice searches has increased, so it is necessary to stay prepared. According to Google, the increase in voice search of "Near me" has seen a steady upward graph.
WordPress Plugins for Schema Markup & Rich Snippets
In order to secure a featured snippet position, you need to be sure your posts and pages display as a rich snippet in search results so it's important that your site's schema markup is properly setup. This code helps search engines determine what your website is and what your page is about.
All In One Schema Rich Snippets
All In One Schema Rich Snippet is a free WordPress plugin. It is a very easy solution to your Schema rich snippet issue and it is recommended by many. Let's see what All In One Schema Rich Snippets has to offer.
It supports 9 types of schema:
Review
Events
People
Products
Recipes
Software Application
Video
Article
Services
No coding is required
Customize the Plugin
Easy setup and configuration
Unfortunately, it won't allocate the Schema automatically to your site, you have to do it manually with the meta box it adds to the WordPress editor.
Yoast SEO

They make a bold statement that since 2008 they have helped millions of websites to rank higher in the search engines. And the work of their plugin supports their bold statement.
Lets see some of its functionality:
It supports multiple type types of schema
No coding required
Multiple rating system
Code optimized for google
Preview snippet for search & social media
Full control over your Breadcrumbs
No duplicate content
Schema App Structured Data
Install the free plugin for basic features like markup for posts, authors, categories, tags, and breadcrumbs. If you want more features than this you can upgrade to its premium version.
Functionality in Premium Version includes:
Generate Schema markup for basic data.
Wiki data integration
Review Widget
Video Snippet for Youtube
Custom post and Field mapping
WooCommerce Integration
Supports more advanced Schema types
How to Add Schema Markup for Rich Snippets with Yoast
Search engine crawlers use schema markup to understand your site properly, while rich snippets are for humans. You can add schema markup with the help of JSON-LD code or by installing one of the plugins listed above. All three plugins are easy to get started with, but in this guide we'll walk you through settings specific to the Yoast SEO plugin since it's what we use for WPExplorer.
Configure Search Appearance and Social Settings
In Yoast you will be able to find a search appearance setting. There you can select whether your site is a person or an organization. With the help of this information, Yoast SEO will be able to output correct structured data. Also, make sure you add all of your social media information (which you can do through Yoast). This will help search engines know which other web pages are associated with your site.
Set Defaults & Use Schema Tab in the Yoast SEO Meta Box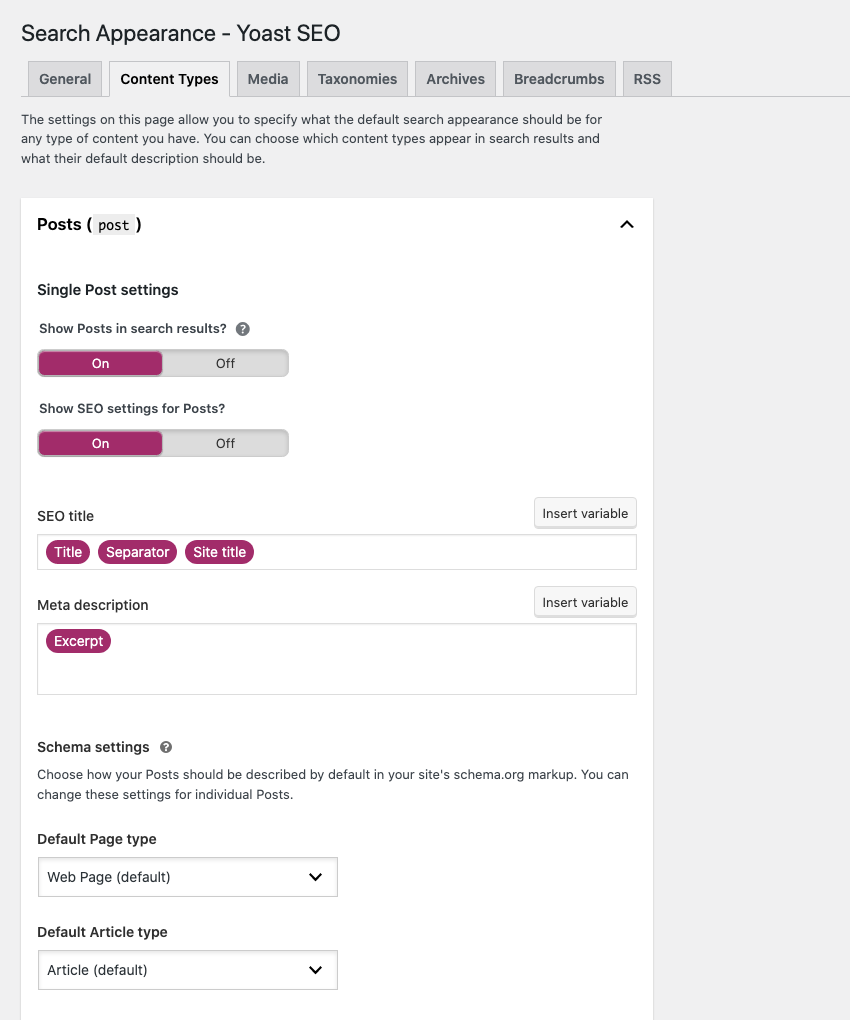 After you install Yoast SEO plugin the plugin automatically describes your pages with Webpage Schema and all the posts you have published with Article Schema. If you wish to change this default setting then you can within the Search Appearance > Content Types section of Yoast SEO.
Also, if you want you can decide how Yoast will describe each and every individual post or page with the Schema tab provided in the Yoast SEO meta box (typically located below the classic editor or in the Gutenberg Yoast sidebar).
Web: The most basic web page result, default setting for all the Pages.
Item Page: A page which is specifically dedicated to a single item or thing, such as a product or a hotel.
About: Your website's "About" page.
FAQ: This is the page that contains a list of all questions and answers.
QA: This page contains a single question with multiple possible answers.
Profile: A page representing a person or user.
Contact: A page which has a contact form.
Medical:  In this page you will find medical information, diagnostic advice, or similar.
Collection: If you want to find pages like a post archive or blog overview, this page has a list of all the other pages.
Checkout: This page is part of an e-commerce checkout process.
Real Estate: Includes information about a property for sale/rental or similar, you will find it in this page.
Search Result: A page which lists search results.
Now there are many different types of Schema markup, and Google acknowledges the following types of Schema markup the most:
product
recipe
event
local business
FAQs
How to
website
video
speakable
site navigation
You can add schema markup to your website through JSON-LD or with the help of a plugin. For example, you can use an SEO plugin like Yoast which uses JSON-LD to inject Schema.org markup into your webpage.
Breadcrumb Navigation for Search Results
Breadcrumbs navigation helps the customer and tells them where or on which page of your website they are. It is displayed as a trailing link, which you can see in search results. If you want to, you can also display the navigation trail on your website. With the help of breadcrumbs on your site, the user can easily browse categories and can discover more types of products and content.
I can type the whole JSON-LD code on how to add breadcrumbs manually to your site, but it will be a very tiring process for you. And unless you are a developer (or very comfortable with coding) it's best to go the easy route. Therefore, I suggest you should do it with the help of Yoast plugin, which makes this lengthy process of adding breadcrumbs less tiring, and short.
Yoast outputs the JSON-LD code in the source code to add the breadcrumbs to your site automatically. Because this is the most reliable method and you will also have rich snippets. Though most themes are Yoast compatible, be sure to double check that your specific WordPress theme is before getting started (just to be safe).
How to Add Breadcrumbs through Yoast
Login into your WordPress site, after you login you will be on your Dashboard.
On the left hand side, you will see a menu, click on the menu, in that menu you will see "SEO" now click on the "SEO."
After you click on the SEO you will see some more options click on the "Search Appearance."
Now click on the Breadcrumbs tab.
Scroll down to the bottom of the page and "enable" the toggle switch button.
After enabling the breadcrumbs you can configure the setting as per your preferences.
After the completion of configuration setting you save all the changes you made.
How to Add Breadcrumbs with the Yoast Shortcode
If your theme already supports Yoast breadcrumbs than they may show up automatically, since many premium themes (like Total) are coded to display Yoast's breadcrumbs if the plugin is active. But even if your theme isn't already integrated with Yoast you can still easily output breadcrumbs to your page, site, and taxonomies with the help of simple shortcode. If you are using Gutenberg all you need to do is insert a shortcode block and then add in the following:
Home » 
If you are using the classic editor and not Gutenberg, simply click on the text editor and paste in the shortcode into your main text or page creation area.
This way you will see your breadcrumb pathway added to that part of the page. Also , the only way to disable the breadcrumb from the page is to delete the shortcode.
Optimize Rich Snippets by Analyzing Ranking Snippets
With your Schema setup, it's time to optimize your rich snippets. If you're not sure where to start look at current ranking snippets for various keywords to take inspiration from them. If you have done everything to boost up your website and increase its ranking, but your competition is still getting the position of featured snippet, see what they are doing. This is an easy way to identify what you are lacking so you can get a clear idea of what should be your next step. See if lists are ranking better than tables. Or look for specific phrasing. You already know that a featured snippet has potential to increase your CTR, as well as the possibility for users to turn into customers. So you want that featured snippet!
Now how to secure those featured snippets? You can start with the most basic step, which is "competitor analysis", and to for what niche-related queries your competitors rank for and how you can potentially outrank them. There are many good competitor analysis tools to choose from, and most work in a similar manner. For example, you can use the ahrefs Keyword Explorer to research terms that you want to (or already do) rank for.
This report includes quick information as to related keywords, questions, keyword difficulty, ranking urls and even the featured snippet result (found in the SERP overview section). You can then use this information to improve your own site content.
However, it's important to remember that while it's good practice to use your competitors as examples you should never plagiarize or steal content. Instead, learn from how they format content, headings, etc and apply those techniques to improve your own posts and pages.
Appear in the "People Also Ask" Section
Becoming the featured snippet can be difficult, however you can instead focus on the "People also ask" section. This is often targeted at longer tail keywords and easier to rank for. Here are some quick tips to keep in mind:
People Also Ask boxes are available in most of the searches within their 1,000,000 keyword dataset and it's not going to stop anytime soon.
People Also Ask strategy is applicable to all the pages out there.
If you have a big brand then you have high chances of dominating People Also Ask questions.
It's not like a featured snippet, you hold a high chance of standard organic ranking on page 1 of Google.
75% of the time the People Also Ask result is taken from the top 3 results of Google.
If you are having a question term then there is 86% of average possibility that it will generate People Also Ask.
More than 40% of People Also Ask answers are in paragraph form.
If you are looking for a golden opportunity to appear in the People Also Ask box, you can do it by adding video content. Because Google is still finding suitable results.
The average word count for the answer is 41 words, so brevity is the key.
How will you find Popular questions? How will you optimize them? You can use these tips to identify opportunitues:
You need to first find the pages that rank in the People Also Ask box and find the keywords.
Check their keyword ranking.
Examine all the People Also Ask result.
Look for which questions are popular.
Make sure that you are not already the source of the answer.
Check if you appear in the top results and if you are eligible to rank or not.
And last but not the least you have to optimize your page.
Wrapping up
Now that you know how important it is for you to appear in the Google featured snippet, here's some additional but basic things you need to keep in mind.
You should optimize your site for mobile phones, also, add HTML and tags so that you get better results, if you can find the featured snippet opportunity, do that too. furthermore target as many queries as possible, and lastly answer the public question and it will help you unlock tons of potential ideas.