Effective Methods to Get More Subscribers
Last updated on:
Ask yourself this question – How many blogs have you published in the last quarter? And to what percentage have you increased your blog subscribers?
If you feel the numbers are parallel/satisfactory, then it's great! If not, you're definitely not on the right path. Whilst publishing blogs on a regular basis is good, it's no use if they aren't helping you increase your blog subscribers!
"Blogs are a great tool to increase your subscriber numbers – great only if you follow the best practices"
This inability to increase email subscribers via blogs is consistently on the rise and more and more websites are finding it hard to scale the numbers. And that's predominantly the reason why I've come up with this read that has some of the best practices to help increase your blog subscribers.
So, buckle up! Let's hitchhike!
1. Website Popups/Opt-in Forms
You might now be thinking whether you should continue reading this article but trust me, there's no better way to increase your blog subscribers when compared to website popups. Though there are other factors you have to set in order for the action to take place, popups act as the gateway for your user to enter your subscribers base. And you need to make sure that it's totally cool.
If you're quite worried that you might sabotage your user experience, no you're not. Times have changed and internet users nowadays look for something lucrative/extra informative. And adding a popup that promises to do either of these can help increase your blog subscribers.
Since most of the popup builder tools today come with different types of popups and highly customizable options, you should have no trouble creating popups for your website.
All you have to do is, learn how to leverage the existence of popups on your webpage to increase your blog subscribers! And with WordPress there are plenty of optin plugins that make creating and managing your options is easy.
2. Free Stuff & Giveaways
Freebies always work – doesn't matter whether it's you or me – at a point, we'll be tempted to give in, no matter what! And that's how it works for everyone else.
If you're looking forward to your visitors to step in, you need to give them something valuable for FREE!
For example, assume your reader is on a blog that's about the best email writing tips. And your user is quite engaged with your blog and has almost reached the end of your blog post. This is where you display a popup that offers a FREE eBook with 100+ email templates across all categories and scenarios like this.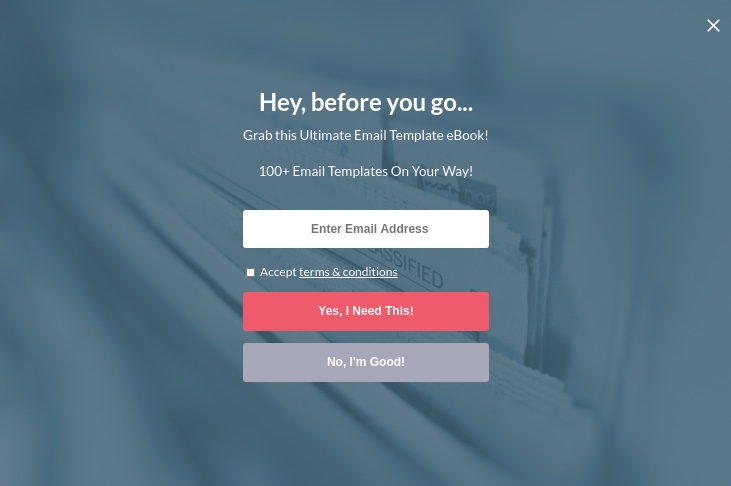 Now, you think your visitor would skip this? There's an 83% chance that they'd go for it! Also, they'd have to sign up for the same. It's actually a win-win situation – your visitors get something useful and in turn, you get a subscriber as well!
Similarly, you can promote your freebies in other ways as well – inline forms, add-ons, exclusive landing pages, etc. Or you can run giveaways with tools like Rafflecopter or RafflePress.
That's how freebies work! Let's move on to the next best way to increase your blog subscribers.
3. Dedicated Landing Pages
Let visitors know why they should become one of your subscribers. Because when your visitor knows more about what they're getting into, they'll be able to make more confident and informed decisions.
Make sure that you include important details when you build a landing page like:
Why they should be subscribing to your newsletter/blogs.
What kind of blogs and content you'll be coming up with.
What makes you special when compared with other competitors in your niche.
What would your newsletter frequency be.
Whether they can opt-out if they want to.
The benefits & free goodies they possibly get in the future and more.
Put in a few words, you should be as genuine as possible. You ought to mention only what's possible. Any false promises or clickbait stuff might work out in the beginning but in the long run, you'll witness subscribers opting out.
When you've successfully managed to convince your audience, you'll start getting subscribers seamlessly.
P.S. To create a landing page/blog, make sure that your copy and page is SEO optimized. Going through the best copywriting practices – should help you out in this regard!
4. Post in Social Forums
Forums are one of the most powerful ways to drive traffic to your website. In this case, posting on social forums helps you drive potential traffic to your website and since you've already set things in place (opt-in forms, dedicated landing page and free goods), you should have no trouble converting visitors into subscribers.
Leverage social platforms like the WordPress forums, Reddit, Quora, Envato forum, Facebook groups and other niche communities. But make sure you don't spam by repeatedly posting stuff about your blogs. Initiate conversations by helping out people in the groups, be genuine and answer questions raised in forums. And once when you've gained presence and reputation, slowly start driving traffic to your blogs.
You'll be quite surprised by the increase in your blog subscribers when you crack this well!
5. Consistency – Tips, Tricks & Hacks
When you're offering something on a consistent basis, your website visitors might be drawn to you. And when the stuff you are offering is of good quality, you'll gradually be getting increased subscribers.
There are a huge number of marketers and websites who have made great strides by publishing blogs/videos consistently. For example, Ahrefs, a complete SEO analysis toolkit used to publish videos only on Wednesdays, twice or thrice every month.
And when they started out, they had very few subscribers on their YouTube channel. But over a period of time, subscribers began to grow and as of now, Ahrefs has an approximate 186k subscribers (gained in a span of 5 years).
That's the power of being consistent. Similarly, if you're running a blog about health tips and bodybuilding, you can come up with a "Healthy Friday Series" where you share great recipes. If what you're giving out is useful and consistent, word will spread and you'll eventually be getting an increased number of blog subscribers.
6. Guest Blogging Does the Job
While you're doing a great deal of work by generating content for your website, concentrate on contributing guest posts to other websites as well. Because when you've written a consistent number of guest posts, you'll start to see increasing external traffic to your blog.
Put more precisely, you'll be getting traffic from places and websites you never thought you would once. But there's one thing you should remember while doing this – never try to drive traffic based on false pretenses.
When your external visitor has come looking for something on your website, make sure that it's available there. If you add a link on anchor text for "best veggie tacos" the url should direct readers to a recipe for veggie tacos, not steak burritos. And when you make sure that every blog post you've linked from follows the same standard, external visitors will be impressed and they'll become your subscribers very soon!
Trust me, it's easier than said. Find niche blogs and content pieces where your blog could provide more information. Talk to the author and you're all set for receiving new subscribers from external sources.
7. Promote on Social Platforms
Every blog you publish, make sure you post about the same on your social platforms as well. Because you never know which one of your posts might get insanely viral. Most businesses who strive hard to scale today make sure that they have active social profiles with significant followers. Twitter, Facebook and Instagram are some of the most popular platforms where you can find hordes of niche users.
Also, make sure you re-share your posts often. Because these platforms are huge and your posts might get saturated and stay invisible. Play with the featured image and content copies so that your users don't get annoyed.
Any non-subscriber who just saw your social post and lands on your webpage should definitely subscribe to your blog if you've carried out the above and below hacks well.
P.S. If you're running a WordPress website, this Social Media Marketing Guide for WordPress or these helpful social sharing plugins could be of use to you!
8. Real-time Social Proof
Leverage what you've built all this time. Make use of something you're proud of. For example, if you've got 1 million blog subscribers, display it out proud on your popup like this here:
When your user gets to see a popup like this, he/she would definitely be curious thinking "What's in there that made these guys get 1 million subscribers?" And that's enough curiosity for driving traffic to your website.
You can also add popups to show actions on your website in realtime. There are plenty of popup plugins with options to display recent comments, recents sales/donations or other user interactions on your website.
And before you display your social proof, make sure the data is authentic. People calling you a hoax is the last thing you'd want to happen.
9. Simple, Clean Content
I probably should have mentioned this and the following at the top of the read. But I wanted to save the most important stuff for the last.
It doesn't matter how well you've carried out the things mentioned above if your blog's readability factor isn't up to the mark.
Because to be honest, people hate reading blogs. And when they're actually trying to read something, it's better that you keep your content copy simple and clean. Here are a few tips to help improve your blog's readability,
Try using H2 and H3 tags in your blog post so that your user would be able to differentiate between topics.
Make sure your paragraphs aren't too long. Stick to the 5 line rule if possible.
Bold & italicize important and noteworthy parts of your blog post you think might help improve conversions or subscribers.
Use a conversational tone to increase engagement and stickiness.
That should pretty much do the job. Always remember that readability is one of the main factors that decide the success of your blog post.
10. Write Content that Resonates
Coming up with content that falls in line with your reader's interest is the key to increasing your blog subscribers. If you get the knack of how to do this right, you need not have to worry about subscribers – you'll see rapid growth.
Come up with unique, interesting blog topics for your audience. Tools like Answer the Public and Buzzsumo help you generate content ideas with extreme ease. When people find that your blog posts are something that interests them, traction comes in slowly which might eventually make them your loyal blog readers. And over a period of time, they might actually give in and become your subscribers.
Cool stuff?
When it comes to increasing your blog subscribers, doing just one thing isn't going to help you create a miracle. It's more like a chain reaction where you have to make sure everything is right – right from creating website popups to promoting your blog posts (and everything in between).
And when you follow the above-mentioned tips and hacks for every new blog you come up with, one or the other post might get super-viral which will help increase your blog subscribers seamlessly – every day!
So, what are you waiting for? Start tweaking your webpage!