80+ Best WooCommerce Extensions & Addons
Last updated on:
WooCommerce is one of the most well know and used e-commerce WordPress plugins. Not only is it a completely free e-commerce solution for WordPress but it is also easy to use, includes support for many product formats, has options for currencies and taxes, offers the ability to integrate multiple shipping methods and has built-in support for PayPal, check, bank transfer and cash on delivery. It's pretty awesome but what if you want more?
WooCommerce is perfectly great on it's one, but what really makes it one cut above other e-commerce plugins is the wide variety of free and premium extensions available. Today we're sharing some of the absolute best WooCommerce extensions for WordPress. These plugins add extra features like WPML translations, advanced shipping, easy style customizations and more to WooCommerce so you can build the store your website needs.
Disclaimer:
WPExplorer is an affiliate for one or more products listed below. If you click a link and complete a purchase we could make a commission.
1. WooCustomizer (Free)
Customize your WooCommerce pages with WooCustomizer. This free plugin is full of features to make your store even better. Use the built-in styling options in the live Customizer, edit/remove tabs on product pages, create sale banners, customize your "Add to Cart" button, edit/remove standard WooCommerce product settings (ex: SKU, title, etc) and more to design even better pages. And WooCustomizer also offers options to edit your cart page, checkout fields and even frontend Admin sales stats.
But for more features you'll want to upgrade to a WooCustomizer pro license. This way you'll have access to a catalogue mode for easy browsing, nearly instant ajax product search, conversion boosting product quick views, a WooCommerce menu cart and even a customizable thank you page. Plus all pro licenses include a year of premium support and updates.
2. Affiliate Disclosure for WooCommerce (Free)
Using WooCommerce to power your affiliate store? That's awesome! Since WooCommerce supports external products, it's a great way to add and promote products from affiliate programs you participate in. But what's not awesome is that WooCommerce doesn't offer any way for you to disclose your affiliate relationships by default – and that's where this free plugin comes in. Affiliate Disclosure for WooCommerce makes it easy for you to follow FTC rules and add a notice to all of your external (affiliate) goods. The plugin even adds a new section to your WooCommerce live Customizer settings – so you can edit the text or placement of your notice and see how it looks before publishing the changes to your site.
3. WooCommerce Product Carousel, Slider & Grid Ultimate
WooCommerce Product Carousel, Slider & Grid Ultimate has built with amazing features and functionalities keeping in mind the usability. This freemium plugin is a solid solution for creating dynamic slides with 3 in free and 15 different themes for Grid, Carousel & Slider in the pro version. You can display unlimited products with advanced shortcode facilities. Having an advanced settings panel and customized ribbon/badge for making things easier is another cool feature.
Moreover, this lightweight plugin supports custom navigation option, auto image resize, and cropping option. Display On sale, Best Selling, Top Rated, and Featured products with Display by ID, SKU, tags, category, month, and year. Most importantly, it's a progressive WordPress slider plugin that has been updated actively and you will have quality support with documentation facility. Overall, it is not just a slider – it's a new way to craft your eCommerce store with great efficiency.
4. OpenPOS – WooCommerce Point Of Sale (POS)
Looking for a way to grow your WooCommerce business and increase sales? Sell your goods online and in-store using WooCommerce and the OpenPOS add-on. This awesome plugin makes it easy to sell your products directly to your customers, whether it's at a brick and mortar store or a popup shop. With OpenPOS you can process purchases and sync you stock in real time. You can even print a receipt for your customers onsite. And the refund or exchange capability makes it easy to keep your customers happy and coming back.
Other awesome features include support for multiple outlets and registers (with assigned cashiers), offline capabilities, barcode scanner support, discounts and coupons, split payment options, session information (see logins, cashier name, location and ip), plus more. All this and there are no monthly fees! OpenPOS really is a great investment for many WooCommerce shops.
5. Product Extras – WooCommerce Product Addons
Allow your customers to personalize your products with the Product Extras addon. This premium plugin makes it easy for you to offer customizations to your customers. Whether it's initials on towels, or build-your-own gift boxes, Product Extras makes it easy. Just use the intuitive "Product Extras" options when creating or editing a WooCommerce product.
Add checkboxes or dropdowns for product options, include conditional rules for product features, add a personal message field, offer gift wrap, display selectable swatches and more. You can even display additional products (just remember to add them as child products). Plus, with Product Extras the final product price is automatically increased as extras are added (or decreased as they're removed). Product extra is also compatible with WooCommerce Subscriptions, Bookings for WooCommerce, WooCommerce Print Invoices, WooCommerce PDF Invoices and many other WooCommerce addons (even some off those mentioned in this list).
6. Abandoned Cart Pro for WordPress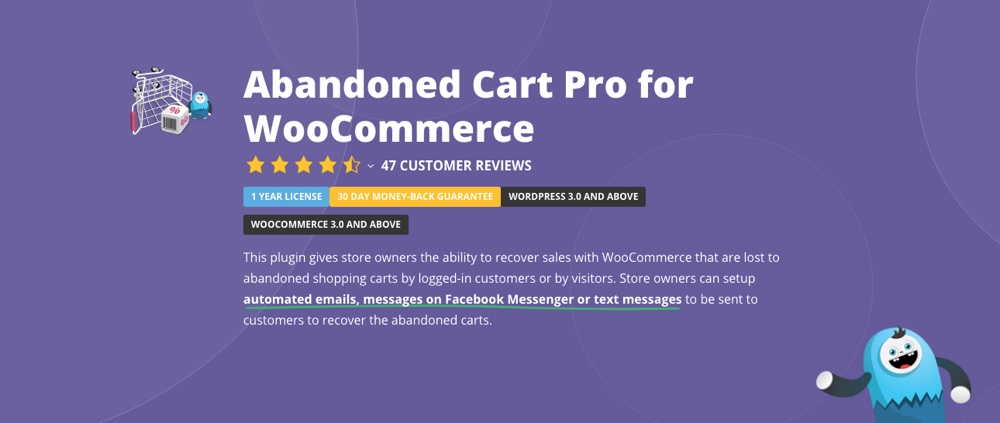 Stop losing sales with the help of Abandoned Cart Pro. This powerful plugins helps you retain customers and recover lost carts Enable settings for cart reminders via email, text or even Facebook Messenger. Best of all – setup is easy. Just install the plugin, style your add-to-cart popup, choose an email template, set the reminder delay and you're ready to go. You can manage your abandoned and recovered orders from the plugin dashboard, as well as view your analytics and stats (complete with graphs and conversion rate).
7. WP Dispensary (Free)
For cannabis businesses looking to easily add a menu for their dispensary or delivery service to their website, WP Dispensary is the perfect open source solution for WordPress. Built to help companies present themselves professionally, the free plugin comes with various menu item types (Flowers, Edibles, Concentrates, etc), along with an easy way to add specific details for each item like smell, effect, flavor, etc. There's also built in shortcodes and widgets that allow you to add your menu easily to any WordPress theme.
The plugin is easy to use and setup so you can do it yourself. Just install and activate the plugin to start creating your dispensary menus. To insert your menu into a page simply copy and paste the shortcode. You can add your menus into any rich text editor (posts, pages and even widgets!)
There are also a bunch of free and premium extensions you can use to add compatibility for WooCommerce, mmjmenu, weedmaps and more. plus the developers of the plugin have even released a custom theme called CannaBiz to go along with the plugin. Checkout more plugin features below, or visit the plugin page to learn more.
8. WooCommerce MultiStep Checkout Wizard
The WooCommerce MultiStep Checkout Wizard is an awesome plugin that guides your customers through the checkout process. By splitting and cleaning up the standard WooCommerce checkout page you can create an attractive, professional and easy to follow process that any customer can understand.
9. WooCommerce Bulk Discount (Free)
The WooCommerce Bulk Discount plugin offers a variety of features that you can use to offer your best customers discounts on products or orders. With this plugin you can easily add incentives for your customers to buy more. Offer fix discounts (such as $5 off when purchasing 5 or more items), percentage discounts (such as 20% off a purchase of 20 or more items) or item specific discounts (more traditional bulk pricing such as 5% off 10, 10% off 20, or 15% off 30 or more). The possibilities are endless and sure to influence your customers to buy more!
10. WooCommerce Custom Product Boxes
Want to offer customers special pricing for creating their own bundle of goods? That's exactly what Custom Product Boxes was built for! This fabulous plugin allows you to create bundle offers for your WooCommerce store where customers get to choose from a variety of products (like 12 assorted cupcakes for $12, a build-you-own gift basket, or even a WordPress developer pick-3 services package).
11. YITH WooCommerce Zoom Magnifier (Free)
If your product images show your item on display in a room (like a chair for sale staged in a sample living room), your products are intricately detailed (like delicately tooled jewelry) or you want to show off the quality of the materials used to create your goods (like a fine leather purse) then the free YITH WooCommerce Zoom Magnifier plugin is for you. With this plugin customers can zoom in on product images – just be sure to upload high quality photos.
12. Stripe for WooCommerce (Free)
This official WooCommerce plugin extends WooCommerce to include support for the Stripe payment gateway. You do nee to have a valid SSL certificate in order to add Stripe and accept credit card payments, but it's well worth the extra effort since your customers will have the option to use their Visa, MasterCard, Discover, American Express, JCB and Diners Club card to make purchases.
13. WooCommerce Amazon Affiliates
Want to refer customers on your website to Amazon products they'll love? Then this is the plugin for you! The WooCommerce Amazon Affiliates plugin makes it easy to add Amazon products to your WooCommerce store with your affiliate links. There is even an built-in module to auto import new items from Amazon based on keyword. Other features include built-in reporting to keep track of referral sales, custom styling options, easy to use shortcodes and much more!
14. WooCommerce Stripe Payment Gateway (Free)
With the WooCommerce Stripe Payment Gateway free WordPress plugin you can accept payments via Stripe. Stripe makes it possible for you to accept major credit cards including Visa, MasterCard, American Express and more as well as Bitcoin. There are no setup fees for Stripe so you can start accepting payments straight away (just be aware that you are charged when payments or refunds are processed).
15. WooCommerce Customer Relationship Manager
The WooCommerce Customer Relationship Manager plugin gives you advances options to keep track of your customers. This plugin makes it easy to add and edit customers, set customer status, import & export customer lists, track and send emails, place and log calls, view customer purchase activity and much more.
16. YITH Infinite Scrolling for WooCommerce (Free)
The YITH Infinite Scrolling plugin works with WooCommerce so you can show your store with infinite scrolling. This way customers can browse your entire inventory from your main store page. While this might not be optimal for stores with hundreds of products it does make a lot of sense if your store isn't so large.
17. FacetWP Advanced Filtering
FacetWP is a powerful search tool for WooCommerce and WordPress in general. With FacetWP your customers can specify their search for products using various facets, such as categories, tags, etc. The plugin is ajax-based so search results are quickly loaded on the page so your customers aren't left waiting.
18. WooCommerce Multilingual WPML Integration (Free)
Need to translate your WooCommerce store into multiple languages? With the WooCommerce Multilingual integration plugin you can easily use WPML to translate your WooCommerce store pages & products just like the rest of your WordPress site. Note: this plugin requires you to have your own copy of the premium WPML plugin.
19. WooChimp – WooCommerce MailChimp Integration
WooChimp is a premium MailChimp integration for WooCommerce that makes it easy for your to add MailChimp subscribers when they signup at checkout to complete a WooCommerce purchase. Plus with WooChimp you can also create subscriber groups, insert forms on any page with the included widget & shortcode and use the campaign targeting and advanced reports to optimize your conversion rate.
20. WooCommerce Conversion Tracking (Free)
The WooCommerce Conversion Tracking plugin makes it easy to track and monitor your advertising campaigns for your WooCommerce store. The plugin adds tracking codes to your cart, user registration and checkout success pages then it creates valuable reports that you can use to keep track of your conversions.
21. YITH WooCommerce Compare (Free)
Looking for a way to allow customers to compare prices among similar products in your store? Give the YITH WooCommerce Compare plugin a try. This free plugin adds options a Compare button on item pages so users can see a predefined comparison table of products your have created, or you can add a comparison widget so customers can click to choose which items they want to see compared.
22. WooCommerce Prices By User Role
In order to offer dynamic pricing to your various customer groups you're going to need a plugin, and WooCommerce Prices by User Role is just the plugin to extend WooCommerce for you. This plugin makes it possible for you to create user role based pricing as well as custom discounts specific to each grouping. Other handy features include the ability to hide prices and the "Add to Cart" button from non-registered users, display a saving percentage for specific user roles, create product markups and more.
23. WooCommerce Wishlists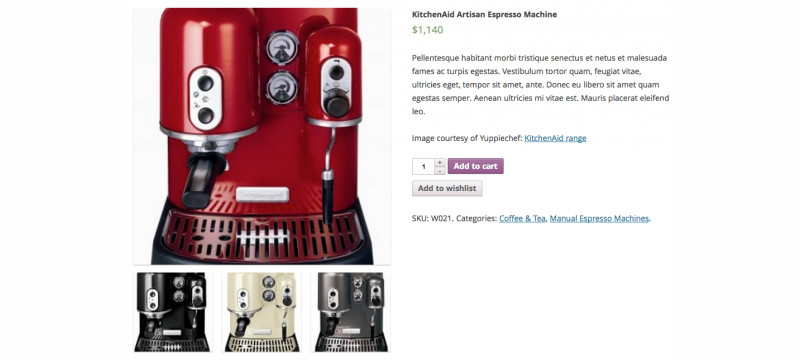 Want to add a wishlist to your online store? No problem! The premium WooCommerce Wishlists add-on makes it easy for customers to create an unlimited number of wishlists, which they can make public to share with friends (like a wedding registry or Christmas list for Santa) or private. Wishlists support all product variations including groups and can even be shared to social media.
24. WooCommerce Recover Abandoned Cart
Customers abandon shopping carts for a variety of reasons – window shopping, closed browser, walked away from their computer, etc. What do you think it would mean for your online business if you could convert every prospect into a paying customer? What do you think would happen if no one abandoned cart? It would mean more money and happier customers for your business.
To get them back try using the WooCommerce Recover Abandoned Cart plugin. It works by sensing when a cart has been abandoned, following up with the customer by sending an email with a shopping cart link. You can even entice the user by attaching a coupon to the follow up emails. If all goes well the customer will click on the link and complete their purchase.
25. ShipStation Integration Free Add-on for WooCommerce
ShipStation Integration is WooCommerce's official plugin for streamlining your order fulfillment process. ShipStation can sync with orders from so you can follow the whole process from order, to label creation and customer communication. Plus there are plenty of options for shipping service mapping, custom order rules, return labels, reporting and more (note: a ShipStation monthly plan is required for this plugin).
26. Request a Quote Add-on for WooCommerce
Request a Quote is a premium quote and proposal manager for WooCommerce. This plugin adds features so you can include a "Request a quote" in your WooCommerce store. This is great if you sell in bulk or if your store offers fully customizable items (like websites, car customizations, home remodeling – you get the idea). The advantage it that the plugin makes it extremely easy for users to make requests and for you to manage and respond to them right from WordPress making the whole process more efficient and effective.
27. WooCommerce Customizer (Free)
The WooCommerce Customizer plugin makes tweaking cart button text, labels, products per page, placeholder images, checkout text and more super easy thanks to a customization panel it added to WooCommerce. It uses PHP filters built into WooCommerce so you can make changes without having to know any code.
28. WooCommerce Fancy Product Designer
The Fancy Product Designer is a premium plugin to add powerful product customization options to your website. This way you can offer fully customizable products with colors, text, sizes, images, and more with an easy to use preview so customers know what they're getting (like Zazzle or TeeSpring). Plus you can add variable pricing so if it costs more to create a certain style you can add an up-charge for it.
29. WooCommerce Checkout Manager (Free)
Customize your WooCommerce checkout page with the free WooCommerce Checkout Manager plugin. This handy plugin adds options to extend (or hide) fields on your checkout page as well as make fields required, limit fields based on user role, retain information for particular fields, add a date picker, set a default state, create conditional fields and much more. This is an exceptional tool if you need to collect extra customer information for State or VAT taxes, if you want customers to register their purchase at checkout (like for premium themes or plugins), or if you want to add custom discount fields for certain customers (based on their user role).
30. WooCommerce Point of Sale
Want to sell products to customers in person, face to face, in your real life store? No problem. With the WooCommerce Point of Sale (POS) plugin you can make sale in your physical store using WooCommerce, all you need is an internet connection and a method to accept payment. The plugin also includes support for adding local taxes, variable products, previous orders, barcode support, order notes, discounts/coupons, email receipts and you can even see a register report at the end of the day.
31. Enhanced E-commerce Google Analytics (Free)
Want to see your Google Analytics for your WooCommerce store with the added Enhanced e-commerce feature? Give this plugin a try. The Enhanced eCommerce Google Analytics plugin adds four reports: shopping behavior, checkout behavior, product performance and sales performance. With this you can optimize your product pages, sales tactics and more.
32. Klarna for WooCommerce (Free)
Klarna for WooCommerce adds a new payment method for customer checkout. This official Klarna WooCommerce extension replaces the default WooCommerce checkout with Klarna's so customers and shop with their email and zip code. Klarna gives shoppers the ability to shop on a variety of websites, checkout and then pay for all of their purchases on one monthly invoice.
33. WooCommerce Menu Cart (Free)
The WooCommerce Menu Cart does just what it says – it adds a WooCommerce shopping cart to your theme's main navigation menu. There are options for adding an icon, item count and cart total as well as for floating your cart to the left or right. You can also tweak the styling with a bit of custom CSS as it will take on the default styling of your current menu.
34. WooCommerce Dynamic Pricing & Discounts
WooCommerce Dynamic Pricing & Discounts gives you the power to add custom prices and incentives to convince your customers to buy more. This plugin gives you comprehensive control over the prices on your website, allowing you to implement a number of rules to override the default prices. This allows you to offer discounts for holidays or bulk purchases, or give loyal customers promotional pricing for lifetime spending. Use options for quantity discounts, special offers, matched items, repeating special offers, percentage discounts, conditional promo application and much more.
This is done by configuring conditional pricing strategies, allowing you to set exact prices for a seemingly unlimited number of scenarios. For example, you can set rules that determine when a pricing strategy is activated based on date, total spend, and whether specific items are in the customer's cart. You can also stack these rules for increasingly sophisticated pricing strategies. If you want to limit one promotional price per order, you are able to rank your pricing rules in a hierarchy. So if the top one is activated, the rules further down the list can't be. Finally, you can choose whether the discounts are applied before or after tax.
Pricing can have a big impact on the amount you sell, and if you want an impressively sophisticated solution for handling all your pricing strategies, look no further than the WooCommerce Dynamic Pricing & Discounts plugin.
35. WooCommerce Google Analytics Integration (Free)
Google Analytics is a powerful tool for analyzing reader behavior, popular content and traffic sources for your website. But with the WooCommerce Google Analytics Integration plugin you can see all of this information and more for your WooCommerce store. The plugin makes it possible for you to see how your customers are finding your products, which are more popular and you can even integrate it to see which referrals are converting into sales.
36. YITH WooCommerce Quick View (Free)
Have you ever visited an online store that has a quick view to open a lightbox for an item so you can see the item details, additional photos and even add it to your cart without having to leave the page? That's exactly what YITH WooCommerce Quick View adds to WooCommerce. It's easy to install and setup and will make your customers' shopping experience much easier.
37. AfterShip WooCommerce Tracking (Free)
The AfterShip WooCommerce Tracking plugin is an easy way to manage the location of your goods to be sure they are delivered on time and to the right location. The plugin adds fields for Tracking Number and Carrier to your admin panel so as soon as you ship an order simply key in the information so the customer can see it on their order history page. Over 200+ carriers world wide are supported and it's free to track all of your shipments.
38. Display Product Multi-Layout for WooCommerce
Display Product Multi-Layout for WooCommerce is a quick and easy way to add product display options to your WordPress theme if it doesn't already support WooCommerce. The plugin adds WooCommerce options for page setup, button styling, color options, custom button text, grid layout, table layout, carousels, filters and more.
39. WooCommerce PDF Invoices (Free)
With the free WooCommerce PDF Invoices Free WordPress plugin you can create simple PDF invoices for all of your WooCommerce sales. The plugin creates an invoice automatically, attaches it to an email to your customer or sends it to their Dropbox, Google Drive, OneDrive or Egnyte account.
40. WooCommerce All-In-One-SEO Pack Integration (Free)
The WooCommerce All-In-One-SEO Pack Integration plugin is a free and simple way to add SEO options from the All-In-One-SEO Pack plugin to your WooCommerce store (note: you must have All-In-One-SEO installed and active for this plugin to work). It adds meta details to your product pages for title, description, keywords,  menu title, title attributes and the option to disable product.
41. YITH WooCommerce Ajax Product Filter (Free)
The free YITH WooCommerce Ajax Product Filter makes it quick and easy for your customers to filter your store products without having to leave the page. Customers can filter by labels, lists, color and dropdown to see which of your products meet their exact needs.
42. WooCommerce Currency Switcher
If you operate a store that serves multiple countries chances are you'll want a way to display your prices in local currencies. The WooCommerce Currency Switcher makes this super easy! Just install and configure your currencies to be converted by Google, ECB or by hand. There's also an included widget and shortcode to add your currency conversions where you think customers will find them most useful. Bonus: you can also try the free version (which has fewer features and options) of this plugin to see if it's right for you.
43. Booster for WooCommerce (Free)
Want to add a huge amount of features to WooCommerce in one click? Just install Booster for WooCommerce. This free but powerful plugin includes a surprising amount of WooCommerce add-ons including currencies, exchange rates, price formats, name your price option, wholesale pricing, custom button & price labels, bookings support, crowdfunding, automated SKUs, mini checkout cart, custom payment gateways, additional admin tools, WPML translation booster, WooCommerce export tools and so much more. It's pretty awesome.
44. WooCommerce Sequential Order Numbers (Free)
Want your orders created in numerical order? Don't worry – that's what the free WooCommerce Sequential Order Numbers plugin is for. Once installed this WordPress plugin ensures that your orders are all in, well, order. If you already have existing orders the plugin will begin from your highest order number and proceed sequentially. If you have no orders it will start at 1. Easy and effective!
45. WooCommerce Simple Auctions
WooCommerce just got better with auctions – simply install WooCommerce Simple Auctions plugin and extend WooCommerce to become true auction solution. By using this WooCommerce extension you can easily create auction website or make Ebay clone with regular, reverse and sealed auctions along with normal products.
The WooCommerce Simple Auctions Plugin features powerful wp-admin tools like page with all auction activity, auction history where you can manage bids, setup automatic relist or manually relist auctioned items. Your bidders will be notified by email notifications (with editable templates) about status of their auctions, users can also watch auctions by checking their auctions page or their auctions activity page.
Plenty of included shortcodes and widgets enable you to nicely setup your WooCommerce auction website. The plugin also features advanced sorting related to auctions – you can sort auctions by end date, current bid, activity, ending soonest and buy now price. Plus if you enable ajax live bid check bidders can watch auctions change live without need to reload auction page, plugin automatically refreshes current bid and auction history table.
With WooCommerce Simple Auctions you get simple yet powerful auction solution which is easy to setup and maintain – you can have you auction site ready in less than 30 minutes. Get your own WordPress auction website ready today – and be sure checkout more plugin features below!
46. YITH WooCommerce Featured Video (Free)
The YITH WooCommerce Featured Video plugin does just what it says – adds the ability for you to use a featured video on WooCommerce products. Simply paste in the URL to add a YouTube or Vimeo video showcase to your products to showcase how your product works (which will hopefully drive more conversions).
47. Subscriptio – WooCommerce Subscriptions
Subscriptio WooCommerce Subscriptions makes it possible for you to sell subscriptions to your customers. This plugin adds recurring payments with the options for setup fee, a free trial and an expiration date to help you manage your subscription offerings. The subscriptions include options for pausing, multiple subscriptions, one off fees and more.
48. YITH WooCommerce Catalog Mode (Free)
The YITH WooCommerce Catalog Mode free WordPress plugin assembles your entire WooCommerce store inventory into an easy to read catalog format. This is a very useful plugin, especially in cases where you might need to take your store offline for a bit for routine maintenance or site updates. In this case while your main store might not be accessible to customers they can still view your online catalog and contact you with questions or order requests.
49. WooCommerce Table Rate Shipping
Table Rate Shipping for WooCommerce is a premium WordPress plugin that gives you the ability to add multiple shipping rate options to your WooCommerce store. This is a great way to offer consumers multiple shipping options at checkout.
Who doesn't love shopping online? It's easy and you can find pretty much anything you want. Make life easier for your frequent shoppers by adding Table Rate shipping for WooCommerce. With this awesome plugin you can offer your regulars free shipping over a certain amount,  a choice between standard or 2-day shipping, special rates based on weight or dimensions and much more. Table Rate Shipping for WooCommerce makes it easy to add helpful shipping options for your customers.
In addition to being able to add tons of shipping options at checkout, you can also specify which options are available based on a user's order or based on the items in their cart. This is a great way to run special discounted shipping on featured products, free shipping for big orders and more. You can also use the Table Rate Shipping for WooCommerce plugin options to set rules based on weight, quantity, dimensions, destination and of course price.
50. WooCommerce Extra Product Options
The WooCommerce Extra Product Options plugin is a versatile product creator for WooCommerce. With this plugin you can build product pages to include conditional product variations, flexible pricing options and product page customizations. The plugin adds a ton of options to WooCommerce including checkboxes, lazy loading for images, fixed and percentage price increases, a form fields builder plus much more.
51. YIKES Custom Product Tabs for WooCommerce (Free)
YIKES Custom Product Tabs for WooCommerce is a great tool for extending the basic WooCommerce plugin to include additional custom tabs on product pages. From the product edit screen admins can add tabs (on a per product basis), reorder tabs and of course delete them. This is handy if you want to add a custom location tab with a Google Map, a special with a table of additional product information, or even a tab with directions on using the product.
52. WooCommerce Product Slider (Free)
The WooCommerce Product Slider plugin is an easy way to add a responsive WooCommerce product slider and carousel to your website. Simply install the plugin and use the included shortcode and widget to add product showcase sliders and carousels to any post, page or widget ready area.
53. YITH Essential Kit for WooCommerce #1: Free Add-ons Bundle
Love the YITH suite of free WooCommerce extensions, but don't want to install them all one by one? Get their FREE plugin bundle! The YITH Essential Kit #1 currently includes add-ons for ajax search, product filters, colors/labels variations, product comparisons, product image zoom, WooCommerce quick view, infinite scrolling, wishlists, quotes, wait lists, catalog mode, advanced reviews and tons more.
54. WooCommerce Lucky Wheel Discounts
Add a fun new way for customers to save at your store (plus add a sense of buyer urgency) with a spin to win coupon or discount. The premium Lucky Wheel plugin for WooCommerce includes easy options for you to add a coupon "wheel" to your site – all customers have to do is subscribe with their email address and the plugin will generate a unique code to be sent to them. Best of all the plugin sync with MailChimp so you grow your newsletter list and new customers save some money – it's a win win.
55. Square for WooCommerce (Free)
Accept payments for your store products online and in store with the Square add-on. With Square you can grow your business faster, having the capability to accept payments any time and any place. Plus, since the plugin integrates with your inventory you'll instantly see any product changes in Square, so you always know the current name, price, stock number, etc.
56. WordPress WooCommerce Multi Vendor
Start your own marketplace with WordPress and the Multi Vendor plugin for WooCommerce. This powerful marketplace plugin gives you the ability to add multiple vendors to your WooCommerce store, each with their own sell profile and the ability to manage their own shipping. You (as the admin) will still have full control over the entire WooCommerce powered store plus the ability to approve sellers, set commission rates and enable auto-publish for trusted sellers.
57. WooEvents Calendar and Events Booking
Create a calendar of your upcoming events and sell tickets online with WooEvents. The plugin adds useful options for your calendar including event date, location, speakers, schedule, Google map, images, social share and integration with calendar apps (like Google Calendar or iCal). But most importantly you can set a price and sell tickets using WooCommerce. This is a great way to manage tickets for community events, carnivals, fundraisers, concerts and more.
58. WooCommerce Pay With Amazon (Free)
This free plugin integrates Amazon Payments with your WordPress installation. With this plugin customers can use Amazon to complete their order. The checkout process still takes place on your own site, but there is the added benefit of Amazon Payment's fraud protection ad well as built-in mobile optimization.
59. YITH WooCommerce Ajax Search (Free)
The free WooCommerce Ajax Search plugin makes it easy for your customers to search your WooCommerce store and see instant ajaxed results. By adding a "live search" like this it's much easier for customers to search through your current inventory, especially if your store has hundreds or thousands of items.
60. WooCommerce Social Login
The faster you capture your buyer's details, the better the experience and the quicker the checkout. What better way to speed up checkout than allowing users to create accounts, login and checkout via their favorite social networks?
Supporting major social networks, custom redirect URLs, auto-integration, once-click registration, drag and drop UI, multiple login instances and pie charts to track registration activity, WooCommerce Social Login plugin is a robust tool that helps you to achieve a lot with little effort. The plugin comes with great support, full documentation, tutorials and has a near perfect buyer rating.
61. WooCommerce Checkout for Digital Goods Add-on
WooCommerce Checkout for Digital Goods allows you to skip the unnecessary fields, so you can close the deal faster. After all, asking for physical address to send an eBook via email is just plain unnecessary. If you're selling downloadable digital products customers expect to get the product as quickly as possible. This plugin does not require any kind of configuration to streamline your checkout page – just install and play!
62. WooCommerce Catalog Mode
On the internet where the competition is just a click away. Standing out counts more than you want to believe. Add functionality and differentiate yourself using the WooCommerce Catalog Mode, which replaces the default WooCommerce shop with a catalog view shop.
In catalog mode, the "Add to Cart" button is removed and you can choose to show the price or whatever you want in its place. Catalog mode will allow you to show more products and capture interested prospects only. Since prospects cannot add the products to a cart, they will contact you instead (or do whatever you want them to).
63. WooCommerce Online Products Designer Extension
Give your customers the opportunity to customize product designs easily before checking out. After installing (easy and straightforward), you can use WooCommerce Products Designer to create your own custom designs, grab pictures form social networks such as Instagram or take advantage of the unlimited clipart as well as custom fonts.
The customer can create awesome designs by choosing from your pre-made templates, uploading their own designs or making unique designs from a blank slate. The WooCommerce Products Designer plugin also supports multiple languages and includes premium support.
64. Galaxy Funder WooCommerce Crowdfunding System
Another awesome plugin from FantasticPlugins, Galaxy Funder is the tool you need powering your crowd funding site. It gives you all the options you need to transform your WooCommerce store into a powerful crowd funding portal.
It's easy to setup and use. For instance, Campaign creation is just like product creation in WooCommerce, so you ought to have lots of fun. Galaxy Funder comes with a couple of cool features such as a shortcode generator, reward/perk system, customizable design (using CSS), fully responsive, translation ready and WPML compatibility among others.
65. WooCommerce Delivery Time Picker for Shipping
Marketing does not end when the buyer gets to your e-store. It doesn't end when they make the purchase. The customer service you offer your buyers is a huge part of your marketing, and this plugin helps you to take your after-sale customer service to the next level!
This WooCommerce add-on lets your customers to choose the delivery date and time for their products on the checkout page. You can "…restrict dates and date ranges for shipping…", so don't worry about customers requesting shipping on holidays, weekends or any other time you cannot deliver.
66. WPB WooCommerce Product Slider Free Plugin
The WPB WooCommerce product slider is an easy way to a responsive slider to your shop. Choose from featured products, latest additions, specific category, tags, or create a custom list of product ids. You can even display the rating, price and add to cart button.Just use the shortcode to insert your sliders on any post or page. The plugin is also translation and RTL ready.
67. WooCommerce Product Badge Manager
Add custom badges to your store with the WooCommerce Product Badge manager. With this plugin you can design your own badges for categories, product attributes, popularity, sales, etc. Once created, display you badges on product pages, archives or even filters.
68. Product Gallery Slider for WooCommerce – Twist
The Twist Product Gallery Slider is an easy way to update your product pages. Just ins tall the plugin and enable horizontal or vertical gallery sliders for your items. Just be sure to add lots of product images! The plugin also supports videos, autoplay and include lightbox customization options.
69. WooCommerce Product Filter
Potential customers should be able to find the products they want straight away – if they can't, don't expect them to spend more than a few seconds searching for it. With this in mind, a cluttered store can cost you serious sales. This is a common headache for anyone running an eCommerce store with lots of SKUs.
Good news, though: the WooCommerce Product Filter plugin can help solve this problem. The plugin adds a user friendly filter to your shop, allowing visitors to home in on the products they want with a few simple mouse clicks. The plugin's filters are actually quite sophisticated: visitors can use the filter to find products in certain categories, between specified price points, and also to find size/color variations.
WooCommerce Product Filter comes with an impressive range of styling options, allowing you to configure the filter you want for your store. This includes columned filters, masonry-style filters, and widget filters. You also have the choice between dropdown menus, radio buttons, and check boxes. If you want to make your eCommerce store easier to browse, the WooCommerce Product Filter plugin really is a must.
70. WooCommerce Bulk Edit Plugin
If you stock a lot of products in your eCommerce store, managing them all can be tough. Imagine having to go through over 1,000 products manually to make small adjustments to the prices. There's got to be a better way, surely?
Well there is! WooCommerce Advanced Bulk Edit makes managing huge volumes of products a breeze. The plugin adds a master spreadsheet to your website's backend. Any changes made to items in this spreadsheet will be reflected on the live version of your website.
The plugin supports 44 fields, all of which can be edited. Let's say a manufacturer makes a small update to one of the models you stock. In just seconds, you could find the product, edit the name, description, and price, without ever clicking through to the product page. This can save substantial amounts of time. The plugin supports a powerful filter system, allowing you to find the products meeting your specified criteria with ease.
If you face a price hike across the board, it could take you most of the day to update all prices manually, even when using the handy spreadsheet. With WooCommerce Advanced Bulk Edit you can set bulk prices across your entire product range – this could be a fixed value price change or a percentage-based price change. You can even configure your sales prices this way.
71. WISDM Customer Specific Pricing
As a WooCommerce store owner, you might want to set different prices for different customers. Discounted prices can work wonders for special roles like contributor or shop manager. Also, you may have groups of VIP or platinum customers for whom you would want to set custom prices. Customer loyalty only translates to more sales after all.
How do you get all of this done without having to turn your WooCommerce code inside out? Customer Specific Pricing Extension for WooCommerce.
Customer Specific Pricing is a WooCommerce extension that enables the store admin to set different prices for individual customers, roles (subscriber, customer etc) and groups. It will help you show the customer, role or group only the custom prices that were set for them, and not the WooCommerce sale or regular prices.
What's more, it also allows you to import and export all your customer data. You can export a .csv file of your customers, assign custom prices to the customers, roles or groups and import it so that you could bulk set prices for each customer, role or group without having to do it manually which is time consuming.
In a latest addition to its wide range of features, the plugin received an update that introduced Pricing Manager. This particular feature allows the store admin to set custom prices for a certain customers, roles or groups for one or multiple products all at once from a single window.
72. WooThumbs Product Imagery
WooThumbs is a premium WooCommerce extension that adds product gallery options to your store. With this handy plugin it's easy to add galleries and variations to your WooCommerce products.
WooThumbs is the perfect solution for optimizing your WooCommerce Product Imagery. Your customers will be able to experience your products like never before. Image zoom, multiple images per variation, fullscreen image galleries, and product videos are just some of the fantastic features. It's easy to make WooThumbs match the style and layout of your theme with a multitude of styling options.
WooThumbs is also responsive. You can adapt the layout at a specific breakpoint, making it look perfect on any device. Give your customers what they want. Let them view your products in all their glory. Have them craving ownership by enhancing your product imagery with WooThumbs.
73. WISDM Scheduler
Boost Sales on Your WooStore with WooCommerce Scheduler! Introducing unique products for a limited amount of time is one of the surest ways of picking up sales on your WooCommerce Store. However, despite being the most popular e-commerce platform for websites across the world, WooCommerce does not have a built-in setting for this functionality.
Overcoming this shortcoming is the WooCommerce Scheduler plugin, which allows you to add and sell products on your online store for a limited duration. The plugin can be used to add sale-time limits to existing, as well as new products, by simply choosing the dates while editing the product.
Once the dates and timings are set, a countdown timer is displayed near the product which generates a perceived sense of scarcity in the minds of your customers. This stimulates an urgency to buy, and hence possess, the product at the earliest, which leads to a purchase 7 times out of 10!
Also, Creating limited edition products is a great way of showcasing novelty products that are different from the usual fare on your WooCommerce Store. Not only does this play on the consumer's psyche of possessing a unique product that is available for a short duration, it also nudges buyers on the fence towards making a purchase, as they are convinced that these products will no longer be available after a given amount of time.
In the customer's mind scarcity equals attractiveness, which is a tried and tested method of marketing. All the WooCommerce Scheduler plugin does is ensure that getting there to set up these products is quick, painless, and easy.
74. TI WooCommerce Wishlist
TI WooCommerce Wishlist is a powerful but simple Wishlist solution for your WooCommerce store. Using WooCommerce wishlist is a great way you build loyalty to your store site, grow audience and understand the needs of your customers.
TI WooCommerce Wishlist will be helping you from the very first steps by welcoming you with the setup wizard. You'll be fully set in a few clicks. However, if you need some extra adjustments the plugin comes with plenty of options. You can adjust button styles separately for shop and product page, each element in wishlist page table, login and processing options and so on.
Once you complete setup, Wishlist will start tracking customers behavior in wishlists and providing you with analytics. You'll be able to see sales to product popularity and other important stats.
Shoppers like to share their wishlist with friends and family. This is why the TI plugin comes with social share functionality. But with the exclusive "Follow" feature they are able to follow each other (or any other public) wishlists and stay informed about any changes in wishlists. The plugin includes recent/popular wishlists shortcode and widget to help you gain additional attention to public wishlists.
When you gain leads and analytics data you can send promotional emails to all or specific customers using predefined email templates. For example, you could send a discount to all customers who added a specific product to their wishlists. In just one click!
TI WooCommerce Wishlist is responsive, translation ready and works well with many popular WordPress plugins. This includes WPML, WP Super Cache, WP Rocket, W3 Total Cache and WooCommerce – Gravity Forms Product Add-Ons. But these are just a few features of this powerful plugin, check full list below.
75. Woo Credits
Woo Credits is a great WooCommerce extension that allows WooCommerce store owners to easily create, sell and accept credits in their WooCommerce driven shop. Woo Credits Platinum works with Simple, Variable and Subscription type products.
Store admins simply create Credit Bundles and then have the option to assign each product a unique "Credit" price. The functionality is very similar to iStockPhoto or other credit based sites. Customers first purchase Credits in bulk, then redeem those Credits towards products in the store. Woo Credits also works perfectly with "Virtual" and "Downloadable" products giving WooCommerce store owners even more flexibility to earn revenue and repeat visitors to their respective stores.
In addition to these great features, WooCommerce admins can choose to run a "Credits Only" store. Simply select the option in the plugin settings. Running a "Credits Only" store will hide all currency prices and only let customers check out with their credit balance. A currency option will then reappear when customers replenish their Credits. WooCommerce admins can market and sell their Credit Bundles by using the "buy_credits" shortcode on any page or post.
WooCredits also offers Visual Composer template add-ons available for purchase which are pre-designed blocks to help market your Credit Bundles. Other shortcodes available include "user_credits" which displays the credit balance of users who are logged in. Admins also have the option to set credits to expire and can show how long the credits are good for by using the optional parameter "show_expiry=yes" in the "buy_credits" shortcode.
76. WooCommerce Product Feed Manager
WooCommerce Product Feed Manager generates a product feed to sync your products with your merchant center – including Google Shopping, Amazon Product Ads, Pricegrabber.com, Become, etc. You can quickly add all your product (no limitation) from your WooCommerce store to different dealer shops. WooCommerce Product Feed Manager has setups that meet the requirements from various merchant stores.
The plugin is compatible with the latest versions of WooCommerce. Also, this plugin supports any WooCommerce theme available on the market. This plugin won't give you any problem when you want to design your website. You can tweak the content of every field to maximize your revenue from your products in merchant shops. You will get the option to generate a custom feed, add dynamic attributes as you need, and add static field values to your product feed when needed.
Also, you get the option for category mapping and freedom to fully marge your shop category with merchant stores category. You can change the title depending on your merchant category also.
77. WooCommerce Compare Products
Compare products in your WooCommerce shop without ever leaving the page. Create compare groups to organize the products, and then setup a list of subcategories and features as you would like them to appear. The features can be comprised of predefined WooCommerce Attributes, or custom content including HTML. The additional settings page allows you to control many of the plugin's features. Including thumbnail size, location of the preview basket and compare links, how the table is viewed, and so much more.
When setup is complete, customers are able to select products of their choosing for comparison. While browsing your inventory, a preview basket can be seen floating at the bottom of the browser. You can also opt to show the preview box as a widget in the sidebar, or embedded in the content at the top or bottom of the shop archive. When ready, the customer can click the 'Compare' button and be directed to the comparison page, or shown the table in a popup container.
No matter how you view the table, it will adjust according to screen size and width of the table. This means it will scroll appropriately if you have several items being compared. Or if are viewing the list on a smaller mobile device. It is comprised of features and (optional) categories at setup, but can be narrowed to show only different rows. Customers can also directly add their chosen product to the cart right from the compare table.
78. Dokan Multivendor
Dokan is not just an eCommerce solution for WordPress. It's the one-stop Multivendor solution for entrepreneurs looking for the ultimate deal! Start your perfect eCommerce website with an unlimited number of vendors and create any product type even with a limited budget. Dokan has you covered in every way! It only takes a couple of minutes to get started and create something magical.
Dokan was created to be easy to use, with new entrepreneurs and small businesses in mind. You will find that managing payments and subscriptions are actually as simple as ABC! Intuitive design and interface make things flawless for rookies in eCommerce.
Dokan also has advanced marketplace features that let it seamlessly manage itself. Your vendors will have detailed individual frontend dashboards, personal store pages, and the ability to manage everything on their own. And you will only have to perform as minimally as reviewing the orders. Imagine the amount of time and energy it saves you!
Set flexible commission rates and automatic revenue splits for all sellers. Your vendors will absolutely love all the amazing features.
Maybe you want to create something like eBay? Dokan Simple Auction lets you create stores of auctionable products. With Dokan's exclusive features you can also create serviceable products, like hotels, resorts, taxi cabs, and more, that customers can book as they like.
Worried that you won't be able to sell to a non-English speaking audience? Dokan is multilingual ready. Make your dream marketplace no matter where you live! What's more! Dokan comes with a free theme to get you started right away.
79. WooCommerce Product ExportFeed
Starting an eCommerce site with WordPress is relatively easy when compared to actually running your business. Meaning reaching potential customers for your products and getting them to buy them. So if you are a beginner in the field of eCommerce business
One important consideration is that the more sales channel you add to your sales funnel, the more customers you will have. But adding all of your products to one or more of these channels will give you a tough time. If you are listing your products manually, it will be a time consuming and cumbersome process along with the chances of errors that you may make and the consequences of them. Also, managing your product feed and updating the product information will be a hassle.
Instead you can use tools like ExportFeed to help you create your product feed for all your products. Or selected some products based on keywords, price, category or such. As ExportFeed has pre-loaded all the feed specification templates for popular search engines, you will save time for feed creation and ensure acceptance of products on merchants like Google Shopping, Amazon, Facebook Shop, eBay, Pricefalls and a lot of others.
80. Moodle Integration
Employ the power of WooCommerce with this Moodle-WooCommerce Integration plugin! Moodle certainly is one of the most popular learning management systems out there. But Moodle users have often struggled to find a good solution to their e-commerce woes. This plugin integrates Moodle with WooCommerce so as to allow Moodle users to utilize the benefits of one of the leading e-commerce platforms — WooCommerce.
What the plugin essentially does, is synchronize your Moodle courses onto WooCommerce as products. As a Moodle administrator, you can make these products paid, and set a price for each course. Interested students can then sign up for the course upon purchasing it.
Use WooCommerce features such as sale prices, discount codes or coupons, or can easy couple this plugin with other payment gateways, search engine optimization or marketing plugins to boost course sales.  A powerful feature the plugin is an option to upsell using the bundling functionality. Instead of associating one course per product, you can bundle together two or more courses and sell them as a single product at a discounted price.
Course categories in Moodle can also be synchronized as product categories in WooCommerce. Alternatively, product categories can be manually created and assigned to products. plus when a student purchases a course and registers on WordPress, a student account is automatically created in Moodle. With the same credentials – and the student is enrolled for the course purchased. And subscription products can be created using the WooCommerce Subscription extension. Using this extension, courses can be sold on a subscription basis.
81. IcyMobi App
Made by Inspius, a leading web and mobile app development agency in Singapore, IcyMobi was launched in August 2016. Built on Ionic platform, IcyMobi can help users to transform their E-commerce websites to M-commerce apps both on iOS and Android quickly and without any prior programming language. The vision is to build an ecosystem around IcyMobi so that designers and coders can build new designs and plugins for IcyMobi and earn for their work.
Since the launch, a lot of releases and updates have been made, most inspired by requests from users. IcyMobi now supports major payment gateways across geographical regions such as PayPal, Stripe, Mollie and Omise. Push notification helps store owners to notify consumers latest news, attractive discounts and big promotions for grab.
82. Genesis Connect for WooCommerce (Free)
Love your Genesis theme but wish your WooCommerce store matched? With Genesis Connect for WooCommerce all of the built-in shop templates included with WooCommerce are replaced with Genesis supported versions. Plus the plugin also works with Genesis Simple Sidebars & Genesis Simple menus to make them compatible with WooCommerce as well.
83. WooCommerce Pretty Emails
Customize your store emails with the WooCommerce Pretty Emails plugin. Create email templates that match the rest of your business by customizing the fonts, colors, text size, banners, width, headings, borders, product thumbnails, social links and more. This way customers making purchases will know your emails when they see them!
84. Beeketing WooCommerce Marketing Automation (Free)
Looking for tools to automate your marketing process? Then this one is for you. Built to seamlessly integrate with WooCommerce, Beeketing is a pack of WooCommerce marketing extensions for online store owners. It helps you set up the sales funnel and leverage the conversion rate automatically without any continuous manual intervention. You can use the Beeketing suite to promote products via up-sell and cross-sell offers, scalable discounts based on cart purchases, exit-intent targeted discounts, personalized product recommendations and way way more. It's a quick and easy way to improve your marketing and conversion rate.
Wrapping Up the Best Extensions & Add-ons for WooCommerce
Hopefully you've found at least one or two add-ons that you can use to make your WooCommerce store even more powerful. We've listed the best free and premium plugins we could find, but if you think we missed one just leave a comment. And if you do give one of these plugins a try let us know how it works out and share your experience with our other readers!