35 Best Church & Nonprofit WordPress Themes
Last updated on:
Nonprofit and church related organizations require affordable website options that allow them to keep the bulk of their resources available for the work they were created to do. WordPress is fast, easy to learn and use, and offers a vast number of website theme options. Plus WordPress is probably one of the most affordable website options available since any level of user can purchase and upload a theme to create their website (no developer required).
For a nonprofit or church WordPress theme, there are a few features you must have. It's very important to have organized information. Visitors should be able to easily understand your message or purpose. A layout with focused key features (such as mission, programs, services, etc.) and a responsive layout are ideal. A built in donation system is also a great feature to look for, but think of this as a bonus since you can always install a donations WordPress plugin later on.
Keeping all of the above in mind, I searched high and low for awesome theme options that I thought you might like. Check out our top picks for 30 of the greatest nonprofit and church related WordPress themes below!
Disclaimer:
WPExplorer is an affiliate for one or more products listed below. If you click a link and complete a purchase we could make a commission.
1. Jubilee
Jubilee is a fast church WordPress theme with creative flair. Choose from organic, angular or square shapes to give your church website the "today" look you want. It has a "sticky" menu and mobile-friendly design to make browsing it a pleasure for visitors. Jubilee is a beautiful, easy to use theme made to help get more people through your church doors. This WordPress theme uses the free Church Content plugin for publishing sermons (podcasting is possible), events, campus locations and team profiles. It is highly customizable and sports a built-in homepage builder with live preview that couldn't be easier to use.
2. Earth
The Earth nonprofit theme created by WPExplorer, was created with eco and environmental agencies in mind, but is great for all nonprofits. This theme has a front-end drag & drop page builder, Aqua Resizer script for images, custom widgets, and more. This easy to use theme also comes with a built in Ajax calendar and 3 unique calendar page templates (calendar, list, and events grid).
3. Saved
Saved is a sophisticated yet easy to use church WordPress theme. It's most impressive feature is the real-time homepage builder. Instead of having to buy a complicated page builder plugin, you simply enter the Customizer and arrange widgets. The homepage itself is a widget area that you can drag any widget into. The church-centric widgets that the theme comes with are specially designed for use on the homepage. Your church website will have a very custom appearance with the Saved WordPress theme.
As a WordPress theme for churches, Saved has features for things like sermons and events. The post types for these come from the Church Theme Content plugin which is the highest rated sermons plugin on WordPress.org. It's free. You can publish audio, video and text sermons. They can be classified by series, topic, speaker and book. Automatic archives are available to visitors for browsing by these taxonomies or they can view sermons from newest to oldest.
Events can be shown in a monthly calendar as well as in a list format. Recurring events can be configured to save you time. Other helpful features Saved provides for creating a church website are locations with maps, staff profiles, ministry listings and testimonies. You can also podcast your sermons and customize colors and fonts. Saved is a mobile-friendly church WordPress theme. It passes Google's mobile test with flying colors for the benefit of phone users and your church's search engine ranking.
4. Outreach Pro
Outreach Pro is a clean and simple nonprofit and charity WordPress theme created by StudioPress. The theme is a great website option for charities, churches, nonprofits, auxiliary groups, environmentalist groups, school fundraisers, evangelists and more.
This theme is a perfect start to a website for a nonprofit. Outreach includes a great homepage that includes a featured slider, important page links, and a callout section. This way you can add your most important information to the page users see first. As a nonprofit you might want to include links to pages about your organization, your mission, when and where you meet, staff or member bios, or maybe a link to your current fundraiser or crowdfunding project. You can also insert various media files to any post or page using the WordPress media library to add sermon recordings, pdf event flyers or even promotional videos to share with your readers.
Outreach Pro is a child theme built for the Genesis Framework. This means that right out of the box Outreach Pro includes options for fonts, posts per page, threaded commenting, advertising, auto-image resizing, various widgets and more. Plus the theme has extra features that are all it's own including color skins, header social icons and a custom header.
5. PoliticalPress
PoliticalPress is a responsive politics and campaign related WordPress theme available on ThemeForest. This theme is a great way to garner support for your party or representative. In politics, image is everything so having a top notch website is a must. PoliticPress delivers on all fronts. The theme is sleek and elegant but completely functional. The homepage is bold but not overwhelming, and includes important highlights you want to share with your readers (like recent blog posts, and new gallery items). The campaign trail slider is a great addition to the homepage as it shows users exactly where you or your organization will be in the upcoming months (with custom taglines and images added for each date).
You can easily add all of the information you need about your candidate or your cause using PoliticalPress' included page template for a biography page. The theme also includes support for the free All-in-One Event Calendar WordPress plugin by time.ly so you can add a fancy filterable calendar with all of your upcoming appearances, speeches, fundraisers and other events.
6. Biosphere
Support your eco and environmental causes with Biosphere. This bright and cheery crowdfunding theme makes it easy to add each of your different projects, add galleries, and collect donations. Plus the theme includes support for BudyPress social networking, WooCommerce e-commerce shops, and more!
7. Exodus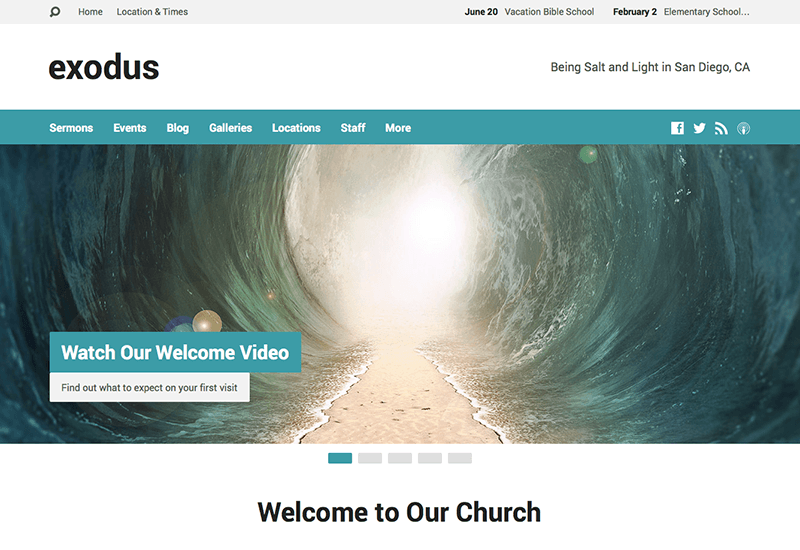 Exodus is a modern church and nonprofit style premium WordPress theme created by ChurchThemes.com. The flexible design and great features make this theme perfect for religious and community groups, nonprofits and even small businesses.
Creating and managing your website shouldn't take hours and hours on end. And with Exodus it won't. ChurchThemes.com has built in great options that make setting up your website easy. Plus adding content is a breeze. The included custom post types for events, sermons, locations, staff, galleries and blog ensure that you add your content where it belongs so your readers can quickly find what it is they're looking for. Exodus also support multiple post formats including text, audio and video sermons as well as useful meta options like recurring events or event locations.
Want to customize the look of your theme too? No problemo – the built-in WordPress Theme Customizer takes the guesswork out of color tweaks and font changes. Simply navigate to the Customizer from the WordPress dashboard and make your design edits (just clicks, no code). The best part is that you can see your changes in a live preview before you commit to them. Other theme features include a custom homepage layout, unlimited pages, custom logo upload, a flat design, section banners, advanced search and more. Exodus even includes custom church type widgets for adding sermons, events, people, giving, galleries and more to sidebar or footer.
8. Evangelist
Evangelist is  lovely church and nonprofit WordPress theme. This theme is perfect for charities, community groups, churches and other non-profits. A key feature is the events calendar. Most churches and charities are built around the community of people that actively participate. With the color coded detailed events calendar you can keep members informed about upcoming meetings, events and fundraisers. There is even an upcoming events section that you can add to your homepage so visitors can quickly see what's going on. Another notable feature of Evangelist is the option to upload audio files. This could be used for adding downloadable sermons, songs, playlists, meeting memos, podcasts and more. Each is displayed with a title, and play/download buttons.
9. Forgiven
Forgiven is an elegant and modern church style WordPress theme, with many useful features any social or religious group will love. A page customizer, drag & Drop builder, premium Revolution Slider, powerful sermon options, WooCommerce e-commerce store support, custom events and staff pages plus more are all reasons why this theme would be great for your church site.
10. Maranatha
Maranatha is a church WordPress theme with a stunning, long-scrolling homepage and every feature that a church website needs. It's very mobile-friendly and uses a "sticky" menu that attaches to the top of the screen while you scroll so that it is always within reach. This is especially helpful for users on phones. The homepage features multiple sections with photo backgrounds and a parallax-inspired effect. Use these to highlight your church's main content such a welcome message, your location, sermons, events, etc. It's very customizable – just drag and drop.
Speaking of customization, you have control over colors, fonts and much more. Upload your logo or use text with a custom typeface. A selection of high quality fonts are included. And since it uses WordPress's Customizer feature, you can see your changes in a live preview before rolling them out to your visitors (see the demo for example customizations). You can bring your church website up to date with a design matches your church's personality with this WordPress theme. Also notice the thin-line rounded buttons and narrow content area for more comfortable reading. Maranatha is designed for today's users.
This church WordPress theme uses the highly rated Church Theme Content plugin for managing sermons, events, people and locations. You can publish sermons as audio, video and text – plus, include PDF notes. Categorize sermons by series, topic, book of the Bible, speaker and tag. Its index templates make this church theme unique over others. You can use them to create a page listing your latest series, a topical index, a sermon archive by date and more. Other features are a full event calendar and a template made for listing your ministries.
11. Resurrect
Resurrect is a responsive church and nonprofit premium WordPress theme developed for regular people – you don't have to be a design or coder to use Resurrect to create your website. ChurchThemes.com made it easy for you to build the perfect website for your church or nonprofit using the built-in homepage template and custom widgets. Then there's the Theme Customizer which makes it quick and easy to edit colors, slider settings and other changes and view them live before saving. Resurrect also includes custom post types for events, people, locations and sermons in addition to the blog to make adding and organizing your content simple.
What good is great content if your readers can't find what they're looking for? Resurrect features options for searching sermons by topic, series, speaker or date. Plus you can add categories and tags to your posts so your readers and members can view the topics that interest theme. Other great options include staff profiles, recurring events support and multiple location support (this is a great feature if you have more than one location, a set of locations where you regularly meet, or important recurring event locations).
Resurrect has many other great features we've listed below such as plenty of customization options (color schemes, backgrounds, fonts etc). plus it's easy to get started with the online theme documentation, included sample data, and the great support you'll receive from the ChurchThemes.com staff. This plus more is what makes Resurrect a great theme for any nonprofit!
12. Maisha
Maisha is a stunning charity and nonprofit styled WordPress with features for donations, newsletter integration, BuddyPress social network and WooCommerce shop. Best of all this theme is easy to use, so your charitable website can be up and running asap. The theme was built with full support for the popular Give WP plugin. This means you can collect charitable donations from your patrons right on your website. Want to offer products or services to fundraise? No problem – Maisha is also compatible with WooCommerce so you can easily build your own online store.
When using the theme you can easily make customizations from the live WordPress customizer. Use options for your layout, sliders, video, logo, color scheme and much more to design your website to fit your branding. The theme is also translation ready and includes RTL support, so it should work great with most languages.
13. Legislator
Legislator is a powerful political style WordPress theme perfect for politicians and governmental agencies. 6 color skins, responsive design, custom page templates, MailChimp integration, filterable portfolios & galleries,custom events and more are just a few of the awesome options included with this theme.
14. Real Church
Real Church is a drag & drop religious WordPress theme that would be great for any church, social or other group. The theme includes lots of great options that make creating your organization's website easy. Just use built-in features for custom fonts, 3 blog layouts, 6 footer layouts, unlimited colors, unlimited sidebars and lots of custom post types (events, sermons, galleries, portfolios, etc.) to get started.
15. GiveAHand
Give A Hand is a creative charity and nonprofit WordPress theme bursting with bold features. The drag & drop builder is super easy to use, custom parallax sliders make your pages stand out, social integration makes it easy for your readers to spread the word about your cause, and PayPal donation support means that you can raise funding right fro your own site.
16. Risen
Risen is a flexible church and nonprofit WordPress theme available on Themeforest. This theme is packed with great features like multiple color schemes, sermon archives, custom fonts, custom widgets and more so that you can create a website to match your mission. The theme is responsive, so it looks great on desktop and mobile devices. You can choose from a light or a dark color scheme, choose from hundreds of custom fonts and even upload a custom background (or pick from unlimited colors). This way you can create custom look in no time at all.
One of Risen's best features is the Sermon (or multimedia) post type. This post type supports many media formats so you can add tons of information to your website for your congregation, followers and members to access whenever they'd like. Upload videos, audio files, MP3 downloads, and even PDFs. You can share sermons, prayers, event videos, and just about anything else you'd like, or you think your readers would find interesting.
Another notable feature is the Church events calendar. Here you can add your service times, special events, office hours, volunteer opportunities and more. Also, Risen's custom widgets make it easy to add quick links to your calendar, sermons and events on any page so your readers always know whats new and what's going on.
17. Charity WP
Charity WP is a premium WordPress theme created specifically for non-profits, non-governmental organizations, charities, or fundraising campaigns. This theme already includes 1 click demo importer. The theme also includes 6 homepage demos, a robust donation system, events management, countdown clock, separate campaign menu, and a progress bar for both you and your funder to follow. And a "Donate now" button is always ready for your visitors to click. They are just asked for some simple information then you can get your fund via many payment methods such as Paypal, Stripe or AuthorizeNet. Very quick and convenient!
18. Pena
Pena is versatile, modern & easy-to-use charity theme inspired by the "Living on One Dollar" documentary. Theme demo is therefore built using real content related to the Documentary and its mission. We hope that this will also help to spread the word and in that way support this great cause. If this theme succeeds to motivate at least one person to help and donate to this noble cause it would make us very happy.
Theme itself is built using standard WordPress features; pages, posts, widgets, child-pages etc. There is no need for heavy page builder plugins to create layouts presented in the demo. Pena offers different blog layouts, different header options, extensive color options and more. It comes with many beautifully styled page templates. The theme visually supports Give plugin that is the most popular, flexible & easy to use WordPress plugin for accepting donations.
19. NonProfit
NonProfit Theme by Organic Themes is a great option for many nonprofits. The custom headers and backgrounds, and multiple homepage options, give you an easy way to make your website stand out.
20. Elevation
Elevation a perfect Theme for the Charity Websites. It was created to simplify the process of making a great website. The theme is suitable for making a nonprofit website plus it comes with a lot of customizable and flexible features. For example, Main Causes, Awesome Gallery, Event Section, Partner Section and so on. The theme authors have integrated it with a working PayPal donation button too. Your visitors can donate any amount with PayPal. You will get most of all necessary section and feature for a charity or fundraising website.
Showcase upcoming events on your homepage and invite your audience to attend. It's necessary to show real faces behind a charity or nonprofit organization, so the theme has an added volunteers section. It was developed using a custom post type. Add as many as you need and showcase them on the homepage. There is also an option for video on the homepage. If you have an official video then it's a great idea to make it visible to others. Upload it on video sharing website like YouTube orVimeo and then add the link to your video for the homepage.
21. Charity Quick Edit
Charity is a quick edit premium WordPress theme created by Templatic. This easy to use theme gives you the ability to create a custom looking website in minutes. The QuickEdit Charity theme from Templatic is a great resource for any nonprofit, thanks to the easy visual builder that allows you too change layouts, colors and other page elements with a click of a button. No coding required! Plus, the added WooCommerce compatibility means that you can sell products or accept donations right from your own website. Other great theme features include WPML support for language translations, pricing tables, portfolios, tons of page builder blocks, newsletter integration, social links and lots more.
22. Foundation
Foundation by Organized Themes is a feature loaded nonprofit theme. This theme has a great newsletter and donation bar on the homepage, as well as built in mail chimp, SEO, and staff page options. The theme is also translation ready and comes with custom widgets and integrated social media.
23. Philanthropy
Philanthropy is an eye catching nonprofit and crowdfunding premium WordPress theme. This theme is a great way to garner support and funding for your cause – whether it's saving the whales, building wells or providing relief Philanthropy is a great foundation for your website. The included page templates and easy to use Fuse framework make adding content and tweaking elements of the theme easy.
In addition, Philanthropy includes lovely custom sliders so you can add inspiring photos to your homepage, donation pages and more. And speaking of donations, this theme includes useful donation page templates where you can explain your organization's projects, goals, add in galleries, display your current level of funding and include links to PayPal to collect whatever your readers are able to give. That's not all, this theme is also fully responsive and retina ready, includes lots of shortcodes, has a useful events calendar (with recurring events capabilities), unlimited color options (just use the color pick to find your perfect shade), Google fonts support and more.
24. Eco Nature
Eco Nature is a bright and cheery ecology and conservation type premium WordPress theme from Themeforest. This theme was created to help your nonprofit spread the word by making it easy to design your own website. Use the included custom post types for projects, profiles, and more to add content in a jiffy. Another great feature of Eco Nature is the built-in PayPal and WooCommerce support. This means that you can add PayPal donation buttons to your projects, as well as start up your own online store to fundraise.
The theme can do lots more. You have the option to create single or multi-page website layouts, use shortcodes to add plenty of style (there are 99 shortcodes for things like counters, callouts, icons,etc.), create custom forms for questionnaires & contact forms, and even add custom widgets for your Flicker, Facebook, Twitter and more.
25. Advocate
Advocate is a nonprofit WordPress theme on ThemeForest. This theme is great for all types of nonprofits – including environmental agencies, political affiliations, charities, activists and more. A few of the most notable features are the events calendar plugin, donation page, many gallery and portfolio layouts, and unlimited color options.
26. Candidate
Candidate is a modern and professional political style premium WordPress theme. This theme would be perfect for promoting a political figure, charity, nonprofit or other campaign. Simply install, add your content and you're ready to go!
A great feature of this theme is the integrated plugins. The WooCommerce CrowdFunding System gives your the option to add your campaigns and projects to your WooCommerce store. Plus with Visual Composer and Easy Form for Visual Composer you can create any page, post or form that you could possibly need – from candidate profiles to staff applications. Other theme features include plenty of page templates, custom widgets and shortcodes, Iconic Fonts integration, MailChimp support and more.
27. OrganicWeb
Organic Web is an environmental theme on ThemeForest. Custom widgets for ads and donations help maximize your nonprofit's fundraising, and custom page types and shortcodes allow you to make the site you need. An automatic generated slider on the homepage is another great feature.
28. Lifeline
Lifeline NGO is a responsive WordPress theme from Themeforest that you can use for your charity, church or nonprofit website. With great features including the premium Revolution Slider, 8 homepage layouts, and WooCommerce integration you can create any nonprofit site you need.
29. Savior
Savior by ThemeBuddies is an awesome nonprofit theme. Key features include a featured slider, events blog (with custom dates), a built-in contact form and a custom admin panel. Multiple galleries and custom widgets are also great options within this theme.
30. WordPress Aid
The WordPress Aid nonprofit WordPress theme on Themeforest is a great nonprofit and charity theme. This stunning theme has many unique features – donations ticker, call to action, emergency alert box, and more. Unlimited color options and awesome admin panel (using the OptionTree Plugin) put this theme over the top, and give you the ability to fully customize your site.
31. Campaign
Campaign Political WordPress theme on ThemeForest is loaded with great styles and features. The theme comes with a built in events calendar and WP Email Capture. Options such as 6 backgrounds, 4 color schemes, 2 body styles and more combine to make this theme easy to change and style to your liking.
32. Bethlehem
Bethlehem is a Church WordPress that can be used by non-profit and charitable institutions to raise donations or by social entrepreneurs to crowd fund their projects using Give which is the WordPress plugin for managing donations. The them can be used by store owners to sell products online using WooCommerce. It can be used by event management companies to list and manage their events using Tribe Events Calendar. Plus the theme also offers Church related features like Sermons, Ministries, Stories and Team. And it comes with 3 different demos with 8 different header styles and 3 footer styles.
33. Blessing
Blessing is a religious and nonprofit WordPress theme. The key elements of this theme are the exquisite events calendar and endlessly useful newsletter subscription module. For any organization, it's important to keep everyone involved and make sure they have easy access to a schedule. This ensures timely soup suppers, fundraisers, auctions, meetings, dress rehearsals – whatever. Blessing's built in event calendar is perfect for just that. You can add all the relevant information for each event – date, time, location (event a map),  etc. You can even set up recurring events for things like weekly meeting or annual parties. This is a great feature you'll want to take advantage of!
Additionally, Blessing comes with a mail subscriber to keep members informed and up to date on current news and events. You can easily send out an email to notify members of a new event, since the subscriber is integrated with the events schedule. Other great features of blessing are lots of shortcodes, post types, widgets, and an advanced Theme Options Panel to customize the theme. Blessing also includes the Revolution slider and the Flex slider – both very powerful and useful sliders. Plus Blessing is full responsive, localized, and comes with a contact form constructor.
34. Epic
The Epic Church theme by Organized Themes is an awesome responsive theme designed with churches in mind. Custom widgets for podcasts, mail chimp integration, and a a localized translation file make it easy to distribute your message.
35. Act
Act is modern, unique responsive nonprofit WordPress theme. It's coded to be easy to use for everyone without knowledge required at all. You'll be able use the theme using the demo installer and also with the help of documentation. The documentation that within the theme package itself covers all the necessary steps so it'll be much easier to install your website.
The theme has more useful features inside it. You can use each of the options, while modifying your website. One of the most important features is the Vsual Composer. Thanks to these features, you can build your website with shortcodes in a simple and short way without coding anymore.
The other important feature is the Crowdfunding option. Act is created for charities and nonprofits so the option is included accordingly. You can launch a campaign to get funding from people with this feature. In addition to the crowdfunding option your can provide multiple payment types for your donors because there are four available, which are Stripe, Paypal, Authorize.Net and Offline. For example, anyone who would like to donate can pay by cash or by credit card with the help of the four options.
One another significant feature that you can see about Act is the compatibility with all kind of mobile phones or ipad devices. No matter what kind of devices you're using, you'll get the higher standard of visibility with full success because the theme.
---
Hopefully you find the perfect theme for your charity, nonprofit, church or political website. If you've used any of these themes let us know what you do (or don't) like about it. And if we missed a theme you leave us a note in the comments section!