30+ Best Church & Non-Profit WordPress Themes
Last updated on:
Nonprofit and church related organizations require affordable website options that allow them to keep the bulk of their resources available for the work they were created to do. WordPress is fast, easy to learn and use, and offers a vast number of website theme options. Plus WordPress is probably one of the most affordable website options available since any level of user can purchase and upload a theme to create their website (no developer required).
For a nonprofit or church WordPress theme, there are a few features you must have. It's very important to have organized information. Visitors should be able to easily understand your message or purpose. A layout with focused key features (such as mission, programs, services, etc.) and a responsive layout are ideal. A built in donation system is also a great feature to look for, but think of this as a bonus since you can always install a donations WordPress plugin later on.
Keeping all of the above in mind, I searched high and low for awesome theme options that I thought you might like. Check out our top picks for 30 of the greatest nonprofit and church related WordPress themes below!
Disclaimer:
WPExplorer is an affiliate for one or more products listed below. If you click a link and complete a purchase we could make a commission.
1. Exodus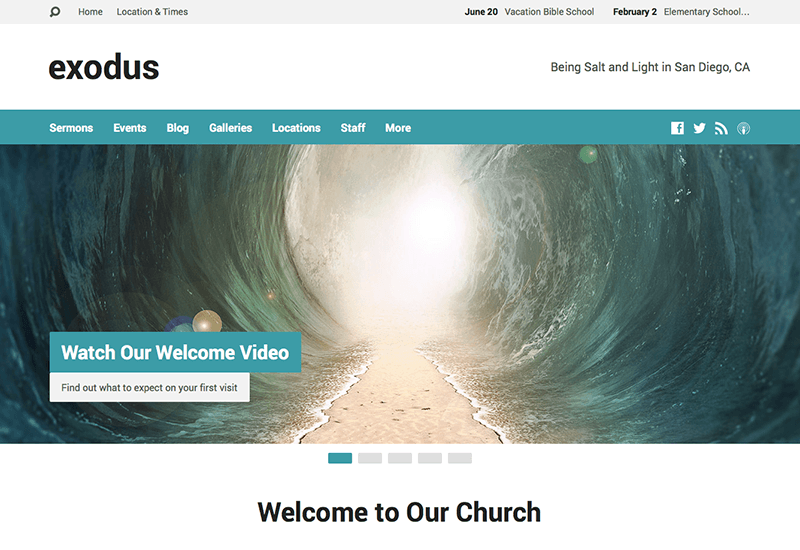 Exodus is an awesome church and charity style WordPress theme created by ChurchThemes.com. These folks really know what they're doing, since what they specialize in is church themes! Theme highlights include a responsive & retina ready design, dark & light color schemes, custom church widgets, built-in iTunes podcasting, staff pages, galleries and so much more.
2. Earth
The Earth nonprofit theme created by WPExplorer, was created with eco and environmental agencies in mind, but is great for all nonprofits. This theme has a front-end drag & drop page builder, Aqua Resizer script for images, custom widgets, and more. This easy to use theme also comes with a built in Ajax calendar and 3 unique calendar page templates (calendar, list, and events grid).
3. Charity+
Char by Themes Kingdom is a great theme for any charity or nonprofit website. The theme comes with a built-in events section, so it's easy to add and promote your organization's upcoming events. Other neat theme features include unlimited colors, support for the WordPress Customizer, custom widgets and MailChimp support (among much more).
4. Outreach Pro
Genesis by StudioPress is a powerful website building tool, and with so many child themes available you can bet there are plenty of options for nonprofits – including their Outreach Pro theme. This Genesis child theme is a perfect fit for any charity website thanks to features such as clean design, responsive support, 5 color skins, and social media integration.
5. PoliticalPress
PoliticalPress is a perfect fit for anyone campaigning or trying to gain political support. The theme includes lots of features like candidate bios, All-In-One Event Calendar support, built-in galleries, custom widgets and plenty of theme and color options. You'll be on your way to the White House in no time!
6. Biosphere
Support your eco and environmental causes with Biosphere. This bright and cheery crowdfunding theme makes it easy to add each of your different projects, add galleries, and collect donations. Plus the theme includes support for BudyPress social networking, WooCommerce e-commerce shops, and more!
7. Campaignify
Elegant and minimal, Campaignify is a lovely crowdfunding WordPress theme to help you and your friends raise money for various charity events. Anyone can add a campaign to your site (like Kickstarter), and then you can help promote it. Plus the theme makes it easy to create and customize your site with custom shortcodes, widgets and page templates.
8. Evangelist
Evangelist by Themefuse is an awesome religious WordPress theme. This theme includes support for downloadable files for your followers, so if you want to upload a sermon recording, a bible study pdf, meeting memos, a meditation playlist or anything else you can! Plus the theme includes a detailed calender and a newsletter signup, so your members will never miss an event.
9. Forgiven
Forgiven is an elegant and modern church style WordPress theme, with many useful features any social or religious group will love. A page customizer, drag & Drop builder, premium Revolution Slider, powerful sermon options, WooCommerce e-commerce store support, custom events and staff pages plus more are all reasons why this theme would be great for your church site.
10. Franklin
Franklin is a charity and nonprofit WordPress theme built for crowdfunding. Gain support and raise money for your favorite charities using this theme's built-in support for the Crowdfunding plugin by Astoundify. Plus the theme is easy to personalize with the included 8 textures, 6 color skins, custom widgets, donor options and more.
11. Resurrect
Resurrect is a bold church and charity WordPress theme that was developed by ChurchThemes.com. They packed in plenty of quality features to make your blog and website stand out. Use theme options for color skins, background images, custom homepage, sermon options (text, audio, video, or pdf) and more to create your perfect website for your members.
12. iChurch
iChurch is a religious WordPress theme from Themeforest that makes it easy to get your church website up and running fast. Custom events module, events calendar, staff pages, galleries, powerful sermons module and more all make this theme quick and easy to setup and start using. Plus the them is full responsive and is touch friendly, so your followers can check your website while on the go.
13. Legislator
Legislator is a powerful political style WordPress theme perfect for politicians and governmental agencies. 6 color skins, responsive design, custom page templates, MailChimp integration, filterable portfolios & galleries,custom events and more are just a few of the awesome options included with this theme.
14. Real Church
Real Church is a drag & drop religious WordPress theme that would be great for any church, social or other group. The theme includes lots of great options that make creating your organization's website easy. Just use built-in features for custom fonts, 3 blog layouts, 6 footer layouts, unlimited colors, unlimited sidebars and lots of custom post types (events, sermons, galleries, portfolios, etc.) to get started.
15. GiveAHand
Give A Hand is a creative charity and nonprofit WordPress theme bursting with bold features. The drag & drop builder is super easy to use, custom parallax sliders make your pages stand out, social integration makes it easy for your readers to spread the word about your cause, and PayPal donation support means that you can raise funding right fro your own site.
16. Risen
Risen is a popular church and nonprofit that includes great options for any organization. Custom colors, sermon archives, custom fonts, custom widgets, multimedia support, advanced calendar (with location & direction support) and more are just a few of the features included in this lovely theme.WordPress theme that
17. Born
Born is a great church theme on ThemeForest. This media and events focused theme, makes it simple to add events and share them with your visitors. Custom post types, numerous color options, and clean code make this theme a winner.
18. Epic
The Epic Church theme by Organized Themes is an awesome responsive theme designed with churches in mind. Custom widgets for podcasts, mail chimp integration, and a a localized translation file make it easy to distribute your message.
19. NonProfit
NonProfit Theme by Organic Themes is a great option for many nonprofits. The custom headers and backgrounds, and multiple homepage options, give you an easy way to make your website stand out.
20. Ezekiel
Ezekiel by MintThemes is simply a great theme for churches. The clean and minimal design makes the site easy for visitors to navigate. Custom post types, widgets, sermon podcasts, news, photo galleries, events, and the ability to add MP3 files all make this a great church oriented option.
21. Politician
The Politician WordPress theme on ThemeForest is great for political nonprofits. The party specific color schemes, and strong clean layout present your organization in a balanced and impressive manner. Custom widgets, shortcodes, and unlimited side bars are just a few features of this great responsive theme.
22. Foundation
Foundation by Organized Themes is a feature loaded nonprofit theme. This theme has a great newsletter and donation bar on the homepage, as well as built in mail chimp, SEO, and staff page options. The theme is also translation ready and comes with custom widgets and integrated social media.
23. Glory
Glory church WordPress theme on Themeforest is great for use by churches and other religious nonprofits. The theme includes 4 custom post types (events, video, audio, and gallery), homepage slider builder, custom widgets, and an Ajax contact form.
24.Moses
The Moses church WordPress theme by MintThemes is a clean and simple church theme. this organized theme has two levels of drop downs to make navigation easy, 5 page templates, 4 custom post types, 3 custom widgets, and is podcast and MP3 friendly.
25. Advocate
Advocate is a nonprofit WordPress theme on ThemeForest. This theme is great for all types of nonprofits – including environmental agencies, political affiliations, charities, activists and more. A few of the most notable features are the events calendar plugin, donation page, many gallery and portfolio layouts, and unlimited color options.
26. eNews
eNews blog WordPress theme by ElegantThemes is not labeled a nonprofit theme, but it is perfectly suited to be used as one. With 5 color schemes, various shortcodes and page templates, and an easy to follow layout this theme would be a good option of a nonprofit or church.
27. OrganicWeb
Organic Web is an environmental theme on ThemeForest. Custom widgets for ads and donations help maximize your nonprofit's fundraising, and custom page types and shortcodes allow you to make the site you need. An automatic generated slider on the homepage is another great feature.
28. Lifeline
Lifeline NGO is a responsive WordPress theme from Themeforest that you can use for your charity, church or nonprofit website. With great features including the premium Revolution Slider, 8 homepage layouts, and WooCommerce integration you can create any nonprofit site you need.
29. Savior
Savior by ThemeBuddies is an awesome nonprofit theme. Key features include a featured slider, events blog (with custom dates), a built-in contact form and a custom admin panel. Multiple galleries and custom widgets are also great options within this theme.
30. WordPress Aid
The WordPress Aid nonprofit WordPress theme on Themeforest is a great nonprofit and charity theme. This stunning theme has many unique features – donations ticker, call to action, emergency alert box, and more. Unlimited color options and awesome admin panel (using the OptionTree Plugin) put this theme over the top, and give you the ability to fully customize your site.
31. Campaign
Campaign Political WordPress theme on ThemeForest is loaded with great styles and features. The theme comes with a built in events calendar and WP Email Capture. Options such as 6 backgrounds, 4 color schemes, 2 body styles and more combine to make this theme easy to change and style to your liking.
Hopefully you find the perfect theme for your charity, nonprofit, church or political website. If you've used any of these themes let us know what you do (or don't) like about it. And if we missed a theme you leave us a note in the comments section!