Best Plugins to Add a Contact Page to Your WordPress Site
Last updated on: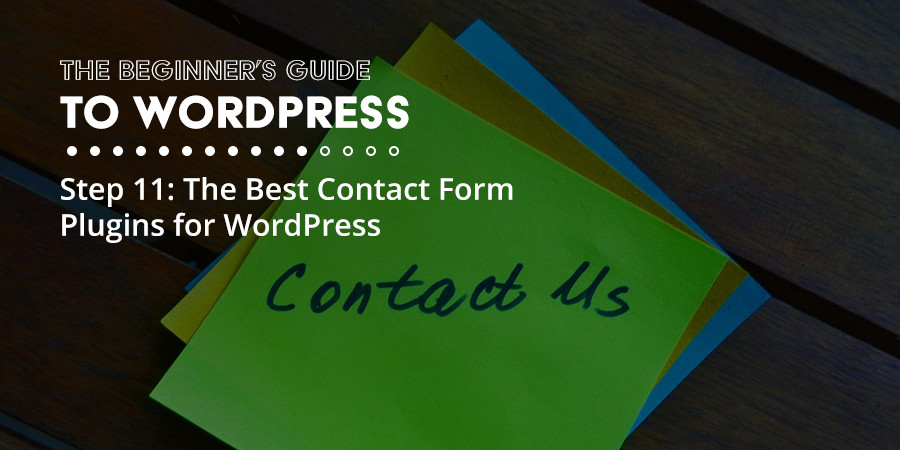 Whether you're a blogger, freelancer, or a small business owner, there's a good chance that making connections with potential clients or customers is a high priority. Imagine that a potential customer enters your contact page, and all you have to show them is an email address. This is neither professional, nor is it likely to be convenient for the customer.
A contact form is the perfect way to prevent this scenario. This solution will let your customers get in touch with you easily, and creating such a form doesn't have to be hard. With WordPress, all you require is a plugin. Forging relationships with customers isn't always easy, but a neat, professional contact form can help you make the right first impression.
In this article, you'll learn why contact forms are important for your WordPress site. Then we'll introduce you to four of the best contact form plugins for your website, and explain how each one's features can be beneficial. Let's get started!
Why Contact Forms Are Crucial for Your WordPress Website
A contact form is displayed on your website, and enables people to get in touch with you about your products and services. You may at first wonder why you should go through through the hassle of adding a contact form, when you could simply display your email address instead.
However, including your email address on your website can bring unanticipated problems. For one, it encourages spam emails, which is a popular way to spread viruses and malware that can infect your company's computers. Plus, it's not as convenient for customers, who now have to leave your site and sign into their email account just to inquire about a product.
On the other hand, contact forms are beneficial because they:
Force customers to input data: You can tell the user exactly what information you're looking for (such as their phone number, address, etc).
Can help business operations: If you include a drop-down menu on your contact form, the query can easily be sent to the department best equipped to deal with it.
Enhance aesthetics: A contact form simply looks more professional and engaging than the alternative.
Overall, contact forms can help reinforce the professionalism you've hopefully displayed throughout the rest of your website. Also, they're almost as easy to set up as adding your email address!
4 of the Best Contact Form Plugins for Your WordPress Website
Your Contact Us page is an integral part of your website, but merely having this page is not enough to get potential clients, customers, or investors on board. In order to do that, you must make the page eye-catching, responsive, and clear. Let's take a look at some contact form plugins that can help you achieve this.
1. Contact Form 7 (Free)

With over three million active installs, there's no arguing that Contact Form 7 is the most popular plugin on this list. Its ubiquity is partly thanks to how quickly it can get a new contact form up and running. Plus, it's especially useful for beginners since it comes equipped with a ready-made form.
If that's not enough, the plugin is also loaded with a variety of form field options. These include drop-down menus, checkboxes, radio buttons, reCAPTCHA, and more. If you're looking to add additional fields to Contact Form 7, you may require a basic understanding of HTML.
However, the base plugin offers just about everything you'll need, and has the added bonus of being free. If you're looking for a basic contact form that has plenty of field options, Contact Form 7 could be the plugin for you.
2. Ninja Forms (Free/Premium)
Ninja Forms is one of the more feature-rich WordPress plugins on the market. It can be used to create a wide array of different forms, including contact forms, subscription forms, surveys, and more.
Creating a contact form with this plugin is relatively easy, thanks to the built-in drag-and-drop builder. There are a ton of options, although the user interface can be a little confusing to beginners due to it's highly customizable nature. For example, you could easily create a form without a Submit button on accident. So you need to be careful to test your form thoroughly.
Fortunately, the base plugin is free to download. Plus, there's a premium version you can purchase that offers additional customization options, such as the ability to send out specific email notifications once forms are submitted. If you like the prospect of creating highly interactive forms with very little effort, you should consider Ninja Forms.
3. WPForms (Free/Premium)

Unlike Contact Form 7, WPForms places a huge emphasis on usability, and requires no coding on your part to make any additions to your form. WPForms Lite is free to download from the plugin directory, but offers limited functionality. The premium version, however, comes equipped with useful features such as smart conditional logic, the ability to collect payments, better spam protection, and more.
All these features work with the bundled drag-and-drop page builder, which makes creating a contact form much easier. If that's not enough, there are also dozens of pre-built templates which can speed things up even more. If you want a plugin that's easy to use and works out of the box with no coding skills required, and you're willing to pay for the premium version, then WPForms is the way to go.
4. Formidable Forms (Free/Premium)
Formidable Forms is rapidly increasing in popularity among WordPress users. This plugin allows you to quickly create contact forms, and comes with just about all the features you'll need. With this plugin, you can easily customize the forms you create, including their design and the options for each field.
The free version is quite powerful on its own, although its features are somewhat limited. Still, it offers a range of pre-built templates, and provides you with a powerful drag-and-drop builder to help you create a form from scratch. Plus, you'll be able to save your forms for later use. If you need additional functionality, you can always check out the premium version as well.
---
A contact form is an essential element of most contact pages. Unfortunately, many people fail to realize the importance of forms, or avoid them altogether because they believe they're too complex to implement. However, forms not only look professional, they also improve productivity and make it easier for people to get in touch with you.
What's your favorite contact form plugin from the list above, and why? Tell us your thoughts in the comments section below!