SiteGround Web Hosting Review
Last updated on: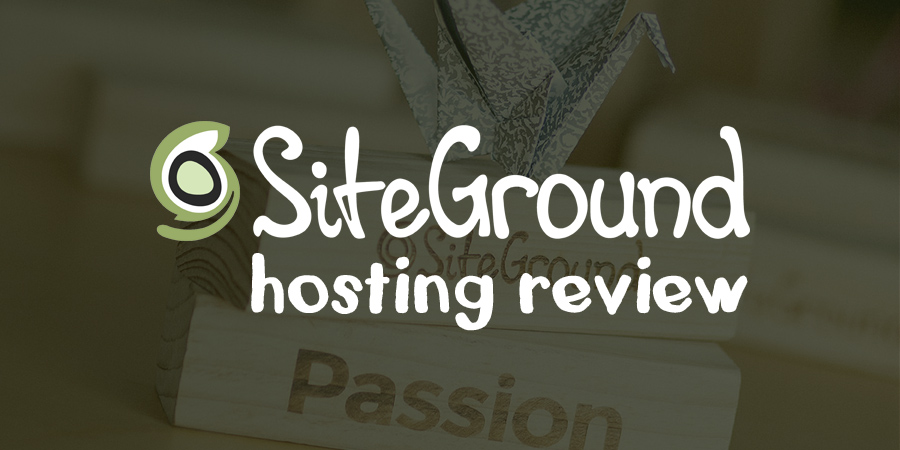 We already seen what WordPress Managed Hosting services can do for people who need a helping hand in the process, either because they need to focus on their designs or projects or because they don't have proper knowledge on the matter. Be it as it may, WordPress Managed Hosting services are not for everyone. There are some of us who want to meddle with code from time to time or just want to optimize our sites in a way that's not possible on managed services. For that kind of users, general hosting services can be a good alternative. Today I'm going to review SiteGround, a general hosting service based on the popular cPanel software.
SiteGround Hosting Features
SiteGround offers plenty of options for hosting your WordPress site, or any website for that matter. Choose from shared, cloud, dedicated, reseller or even premium enterprise hosting – there's a plan for every size website. And of course, you can always choose a managed WordPress plan.
They also offer options found on other managed WordPress Hosting services. The beauty of SiteGround is that you can either choose to be helped or do everything by yourself.
Once you make up your mind on what is your profile you can go ahead and work with the main dashboard. For this article I'm going to do all by myself as this is one of the good things about SiteGround in that they won't limit what you can do with your files and/or stuff you upload.
The Account Dashboard
The main dashboard will allow you to configure your primary domain, your account DNS and your cPanel credentials.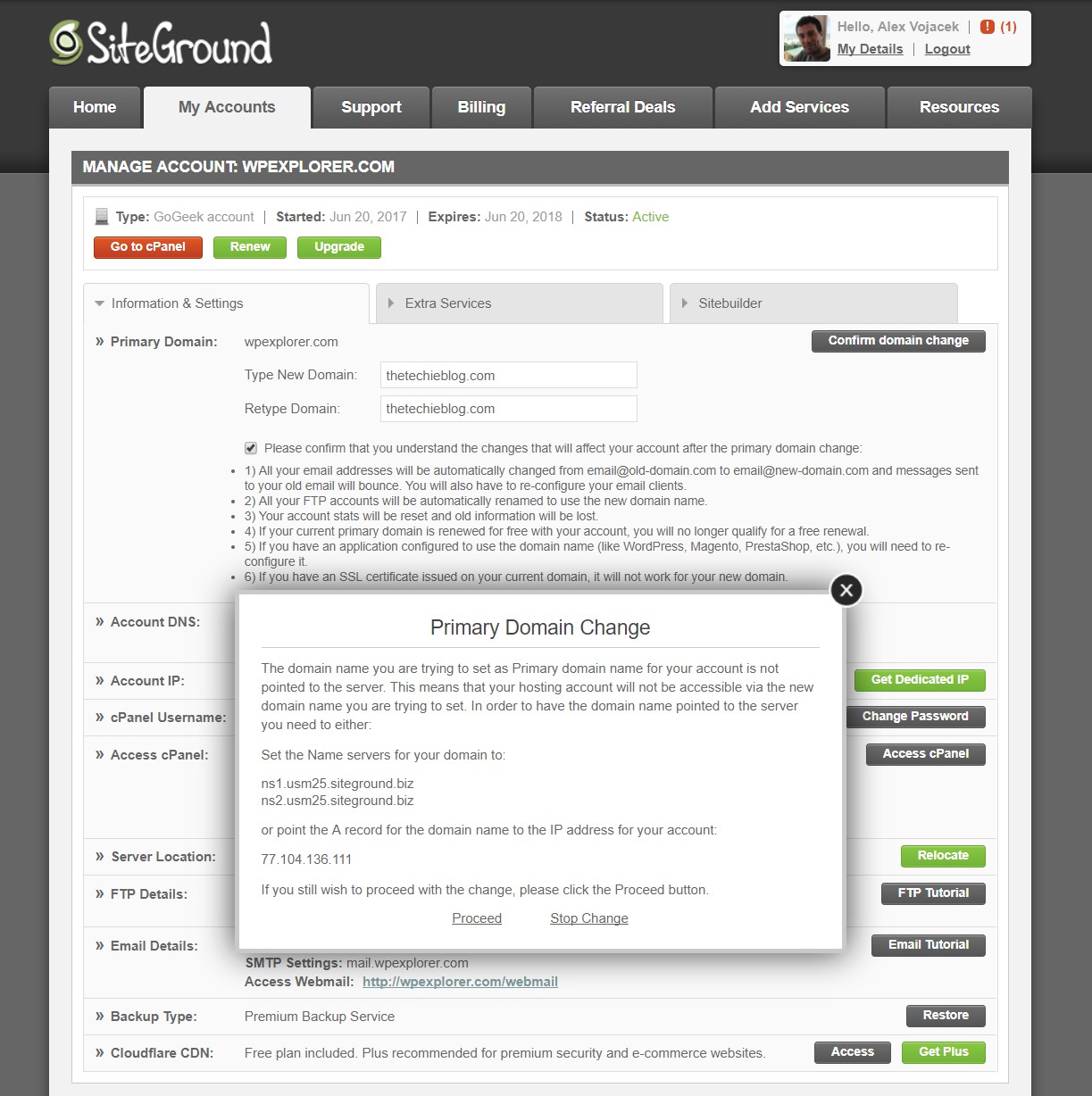 Unlike many services, SiteGround does allow you to change your primary domain as many times as you want. This is a big plus as you don't have to host a specific domain. You're basically creating an empty account that can be used for whatever project you want. The main dashboard takes care of the process of asigning your domain to cPanel.
For this review we swaped the test domain from wpexplorer.com to thetechieblog.com without any problems and the account was immediately changed and was accessible through cPanel afterwards.
Extra Hosting Services
SiteGround won't stop there, it does offer quite a bit of extra services from Premium Support to Premium Backup Service and Wildcard Certificates thanks to the inclusion of Let's Encrypt.
One of the many virtues of all this extra services that SiteGround offers is the inclusion of Dedicated IP's that can be easily ordered from this panel along with the inclusion of Cloudflare paid services. This will allow you to have a very powerful hosting experience in a central management system. Cloudflare inclusion is a nice added bonus, this combined with a dedicated IP and Backup services is extremely good for customers. If you think that's too much, SiteGround will surprise you with one more extra service and that's SG Site Scanner and Malware monitoring. Since this is a general hosting service, adding this extra check is extremely helpful.
Let's Encrypt Free SSL is Here
Adding your domain and installing a certificate is a piece of cake since SiteGround now allows Let's Encrypt free SSL.
Changing Datacenter? No problem!
You think SiteGround will stop there but no, they even offer you with the ability to swap Datacenters. Of course, there is a price to that action but that will allow you to easily change location of your website to a more suitable place in case your customer or your project needs it.
The CloudFlare paid plan allows you to have the Web Application Firewall and advanced features but SiteGround does allow you to use the free CDN to speed up WordPress.
The Good old cPanel
SiteGround is based on the good old cPanel software to handle all the main tasks. Even when cPanel may not be the fastest experience there can be, since it's still based on Apache it does provide a convenient way to handle all your hosting needs.
Siteground implements a custom theme that fits the style of their dashboard by calling cPanel from inside SiteGround Dashboard.
Although all the main functions are there and cPanel does seem updated, SiteGround could use some revamp of the interface and take advantage of the new cPanel style as the current one is quite old. Nevertheless, there were no performance issues detected during the analysis and I was able to do pretty much everything I wanted to my website. Manually creating my database, importing the contents, creating FTP accounts, handle e-mail, using the built-in cPanel explorer and uploading WordPress files. This is all a piece of cake having cPanel as the control panel.
SiteGround Hosting Performance
SiteGround as a Managed WordPress service averaged a pretty good number out of the San Jose location.
If you take a look at the actual First Time to Byte you'll see a pretty solid 300ms average time which is more than good considering this is Apache-based cPanel. What's more interesting to note is that SiteGround is indeed using NGINX as a proxy mechanism behind Apache which does explain the more than acceptable result.
Doing a test under GTMetrix confirmed my expectations.
Since SiteGround is a Managed WordPress Hosting service, they do offer a WordPress optimized dynamic cache. But the user needs to configure it themselves. It's obvious that Pagespeed and Yslow scores are low because the site by default is running pretty much without any caching mechanism aside from the reverse NGINX proxy that SiteGround implements. But check the fully loaded time, it's superb! SiteGround managed to get under 2.5s in GTMetrix which is quite good considering this is a general hosting service.
Wrapping Up
SiteGround built it's service with tons of extra features. Having cPanel as a backend is nice and including a Backup, free SSL and Cloudflare functionality is a big plus. But SiteGround does not stop there, it offers extra Malware Scanning, Premium Support and does so with a level of performance that is more than fine to even compete with other respectable WordPress Managed Services. If you want a good and affordable service that's not restrictive in any way and has good performance, it's hard not to recommend them. In other words, SiteGround rocks.