muse.ai: Fast & Affordable Video Hosting for WordPress
Last updated on:
We all love videos. Our brains can't get enough of the visual stimulus, and it's quite addictive like that mug of coffee in the morning. We spend an ungodly amount of time watching videos on various platforms, and we can't help it because videos rock.
Marketers across the board know this, which is why videos have played a vital part in marketing since the medium was invented in the late 1880s. No matter where you look, a huge chunk of internet users consume content via videos. In marketing, videos offer you a lot of opportunities to market your brand.
As a WordPress website owner (and marketer), you can never go wrong when you leverage the power of videos to spread your brand message. With a well-planned video marketing strategy, you can send lots of traffic back to your site, increase your conversions, and ultimately, boost your sales. And that brings us to muse.ai.
But there is a huge problem.
For most people, adding videos to a WordPress site can present a number of issues.
Site Speed: Uploading videos to your WordPress site will burden your server (especially if you're on budget-friendly or shared hosting), which leads to slow site speeds. Slow site speeds and buffering videos will affect the user experience negatively. Nobody loves a slow site, which can increase your bounce rates, decrease your conversion rates and negatively affect your search engine rankings (reducing your organic traffic).
Cost:  Video files are large and will eat up your bandwidth. This then leads to costly fees since you have to either upgrade your hosting package or pay extra for your existing package. Many web hosts also have file size and storage limits, which holds you back if you need to host many large files e.g., you have an online video course. And even if you search out a video hosting platform specifically they'll charge exorbitant prices for the service.
Usability: The standard WordPress player is basic. When you are able to self host videos through your WordPress site you're not going to have options for your own branding, previews, chapters/segments, in-video search, or even playback quality. And embedded videos hosted on YouTube or other video sites will lack your branding since the video players come with third-party logos, adverts, and so on. They also come with links and recommended videos meant to lure your visitors to their site and away from yours.
With all these limitations, what will a WordPress website owner like you do?
Well, you could take to YouTube like many beginners who don't know any better or choose a better, faster video hosting platform such as muse.ai, the subject of today's review.
Below, we will learn more about muse.ai, the features that make the platform a darling of many, and show you how to integrate the platform with your WordPress site. The whole shebang is fun and super easy. In fact, you should be done in just a couple of minutes.
Without further ado, grab that mug of coffee or whatever floats your boat, and let's get down to work 🙂
What is muse.ai?
First things first, what is muse.ai? Well, muse.ai is a video hosting platform of the future. The platform allows you to host a ton of videos and embed the same on your WordPress site easily. On top of that, the platform utilizes artificial intelligence (AI) that makes hosting your videos a fun and fulfilling experience.
For instance, the AI feature allows you to identify faces, words, and other objects in your videos automatically. On top of that, the AI splits your video into multiple scenes and generates transcriptions automatically. Additionally, you can record videos directly inside muse.ai and organize everything in collections.
muse.ai is a viable video hosting solution for all types of creators, online courses, conferences, eCommerce, and other businesses that need a robust video hosting platform. The platform powers video content for many big-name brands such as Click Funnels, Academia, Freight Waves, and Golf Canada, just to mention a few.
People are already raving about muse.ai. Here are a couple of happy users:
The speed. Videos upload fast, they get loaded fast and they play fast. Never a buffering delay. – Joseph G.
And…
The support is great. The video options are great (everything is possible). The price is great. Really happy I found these guys instead of the way more expensive Vimeo. – Nick
And…
I use muse.ai to search through conference videos and quickly find snippets of interest. I frequently use the keyword search function and have found some really interesting video scenes by virtue of skipping through related keywords. This is unique to this platform and I have found it invaluable. – Isabel Townsend
There are many more great reviews online, but let's not dwell on that.
To save time, let's learn more about muse.ai features in the next section.
muse.ai Features
muse.ai offers you a ton of amazing features that make hosting and sharing your videos a breeze. It's probably the last video hosting platform you'll ever need, as many users have already shifted from popular video hosting platforms such as Vimeo or Wistia. Let us discover what muse.ai offers in the features department.
Next-gen Video Hosting
Creating videos is an expensive undertaking, which means you need the best video hosting platform. The muse.ai video hosting platform offers you a solid way to store all of your videos without upload size and bandwidth limits. In terms of storage, you pay only $1 for every 25 GB, which is a steal compared to competing services.
On top of that, your videos are safe since muse.ai stores multiple versions of your videos in multiple locations to safeguard against any kind of loss. That means you can sleep at night peacefully without worrying about losing the videos that you worked so hard to create. Also, you have a global CDN, which facilitates faster video delivery.
The Best HTML5 Video Player
If you've ever embedded videos from YouTube, you probably aren't impressed with their video player. For starters, it comes with the YouTube logo, which doesn't help you project a professional look. On top of that, the video player shows adverts. Also, they show recommended videos and other links that lure your visitors away from your site.
muse.ai HTML5 video player will have none of that. The platform offers you a clean and clutter-free video player that helps you to deliver custom and professional video experiences to your users. The video player is incredibly easy to add to any website. For WordPress users, they offer you the muse.ai plugin that's easy to use as you'll learn later.
If that isn't enough, the muse.ai video player is responsive to a fault. That means your videos will look amazing no matter the device your viewers are using. Additionally, your users can choose how to watch your videos with automatic subtitles, in-video search, chapters, playback speed, and resolution controls including 4K.
To boot, the muse.ai video player comes with custom call-to-actions that allow you to engage with your audience like a boss. You can add relevant screens, links, and buttons anywhere you want in your videos.
Powerful Video AI
muse.ai offers you a modern and powerful way to find and watch your videos. An advanced AI allows you to enjoy memory-like video search and navigation. Now, you can save time and instantly find what matters instead of manually browsing through hours of video
Muse.ai artificial intelligence allows you to analyze and organize your videos easily. For instance, the AI feature analyzes your videos and automatically labels their content. Thanks to AI, you can "…easily search and find people, words, objects, text, actions, sounds, and more inside your video collection."
To be frank, the AI feature thoroughly impressed yours truly when I tested muse.ai. Maybe I'm alone on this, but I have never seen such a feature on any other video hosting platform before.
Features out of the way, let us discover how much muse.ai costs.
muse.ai Pricing
So, how much will the muse.ai video hosting platform cost you? Well, you'll be more than glad to learn muse.ai is quite affordable compared to other video platforms, especially when you consider the powerful set of features you're getting.
muse.ai offers you a flexible pricing structure with three solid plans namely:
Visionary – This plan costs just $5 per month when you pay yearly. You start with 100 GB of storage space for 1 account. The plan is perfect for beginners and even includes support for unlimited embeds.
Venture – Currently set at $20 bucks per month for annual members, Venture is the next step up. This plan offers plenty of space with 500 GB available for 3 accounts. It also incudes advanced options for your player, domain restrictions, link expiration and more making it a great choice for freelancers and intermediate users.
Enterprise – If you need more, that's no problem. Enterprise plans are completely custom and tailored to your specific needs. Choose your storage, add unlimited users and receive priority support from the muse.ai team. This is perfect for creators or businesses with big video demands.
Additionally, muse.ai offers you a free 14-day trial to test the waters. A credit card is required but you will only be charged after the 14-day trial ends. You can cancel anytime since muse.ai doesn't lock you into a contract as is characteristic of many video hosting sites.
With muse.ai pricing out of the way, let us now integrate the platform with your WordPress site, so you can hit the ground running.
How to Install muse.ai for WordPress Sites
Integrating the muse.ai video hosting platform with your WordPress site is the stuff of fourth-graders. You don't need any technical skills to configure muse.ai. It's extremely beginner-friendly anybody can do it in less than 5 minutes.
Firstly, you can start with the free trial or spring for one of the paid plans depending on your needs. Start by pointing your browser to the official muse.ai website and click the Get Started button:
After that, you can either Sign up with Google or use your email, as shown below.
Next, log in to your mailbox and activate your free trial:
Doing so will redirect you to muse.ai so you can enter your name, password, and credit card details, as we highlight below.
After filling out your details, click the Join Now button at the bottom of the page. This will redirect you to your muse.ai dashboard (mine already has some sample videos):
From the above dashboard, you can do a couple of things. You can record a video, upload video files, and organize your video files in collections.
After uploading your first video, you're ready to integrate muse.ai with your WordPress site.
How to Integrate muse.ai with WordPress
Log in to your WordPress admin dashboard and navigate to Plugins > Add New, as shown below.
Next, enter "muse.ai" in the keyword search box, and click the Install Now button, as shown below.
Next, Activate the muse.ai WordPress plugin: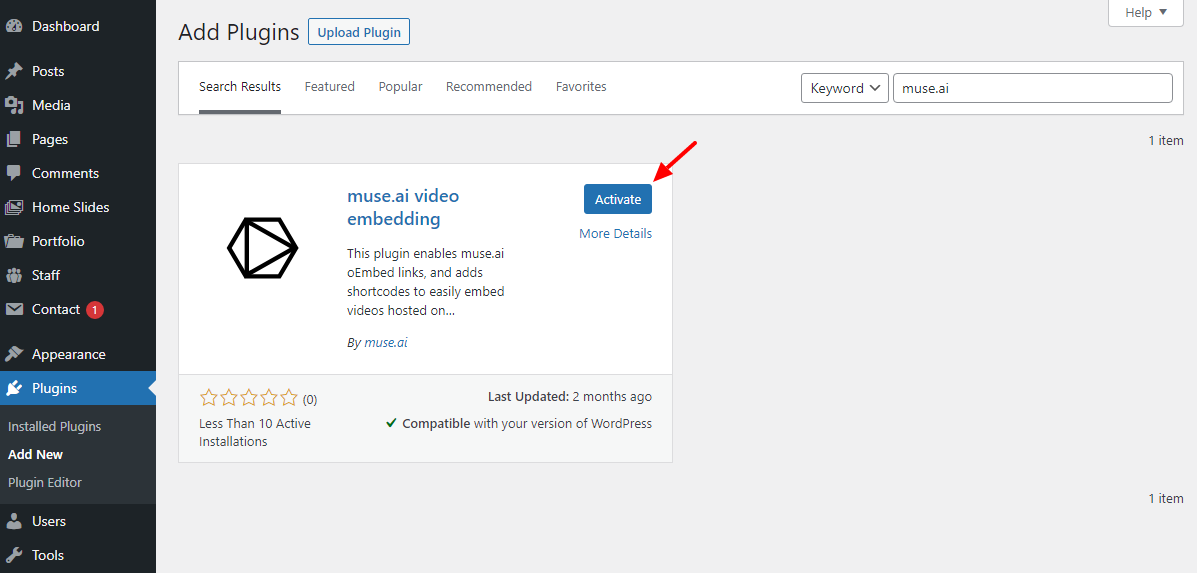 And that's all there is to it – you don't need to configure any settings. But how do you add a muse.ai video to WordPress? Well, that's easy. You simply need to copy-paste the video URL into a new post or page. You can also use shortcodes to customize your video.
Here's how.
How to Add a muse.ai Video to a WordPress Post/Page
Go to your muse.ai dashboard and click on the video you want to embed on your WordPress site:
Next, click the Share icon, as we highlight below.
On the dialog box that pops up, choose Public (or anything else other than Private) and click Continue to share, as shown in the screengrab below.
After that, click the Copy button, as shown below.
Log in back to your WordPress admin dashboard and navigate to Post > Add New:
Paste the video URL you just copied inside the post editor and publish your post:
Now, if you check the post on the front-end, you'll find your muse.ai video:
And that's it. As easy as A, B, C.
---
Video plays a great part in digital marketing nowadays. For the astute WordPress website owner, you can use the power of video to grow your brand awareness and increase your sales.
Still, serving videos from your WordPress site or free video sites such as YouTube doesn't offer you a streamlined experience. You also don't enjoy fast speeds and other benefits that come with a platform such as muse.ai.
Have you tried muse.ai? Which video hosting platform do you use? Are you happy with your current video host? What are your thoughts about the post and video hosting platforms in general? Please let us know in the comments below.