InfiniteWP vs ManageWP: Better WordPress Management
Last updated on:
I think you will agree when I say: Managing a couple of WordPress sites is no easy task. I mean, with a million and one tasks, how do you keep your websites healthy without going berserk?
Turns out you can easily keep tabs on your websites using a WordPress management tool such as InfiniteWP or ManageWP. In today's post, you will discover the best WordPress management tool for your unique needs. We pit InfiniteWP against ManageWP, two of the best WordPress management tools in the market.
Why Choose WordPress Management Tool?
Managing one WordPress site is relatively easy, but when you add more websites to your repertoire, the tasks just stack up. Yet you need to update the WordPress core, themes and plugins regularly. In addition, you must check how your sites perform in terms of SEO and speed. If that's not enough, you have to keep backups, moderate comments and so on.
If you're an agency, a WordPress theme developer or any other WordPresser with a couple of websites to run, getting a WordPress management tool is a no-brainer. A management tool will save you a lot of time and keep you sane.
What Happens When You Fail to Manage Your Site?
If you don't update your WordPress website regularly, you make it all too easy for hackers, and this I know firsthand. How about spam that hurts your credibility and fills your site with junk? And if you fail to keep backups, you will have a hard time restoring your site in case the worst happens, which steals your time and revenue.
Here's the deal, you must take care of your websites, but doing it manually will drive you crazy. This is exactly why you need a WordPress management tool.
Let's begin with first things first. What in the name of asking is a WordPress management tool?
What is a WordPress Management Tool?
A WordPress management tool/service/company/whatever you want to call it is any tool designed to streamline your daily workflow. In essence, a WordPress management tool allows you to manage not only one, but as many WordPress websites as you'd like.
In a matter of clicks, you can update the WordPress core, themes and plugins across multiple websites. On top of that, you can moderate comments, keep backups and do so much more on multiple WordPress sites without breaking a sweat.
What of today's top contenders?
InfiniteWP vs ManageWP: Which is The Better WordPress Management Tool?
Before we get to the features, pricing, support and that kind of thing, how about we review the companies behind each WordPress management tool?
We are talking user base, philosophy and the things that make each tick. Is it not a good thing to learn more about the team that will help you manage your WordPress sites like a boss? I thought so too.
ManageWP
Founded by Vladimir Prelovac and powered by a cheerful team of 28 staff personnel, ManageWP is an amazing WordPress management tool that is as beautiful as it is useful.
The tool was officially released back in 2012 as the first-ever WordPress management tool. Since then, it has grown in leaps and bounds. Really guys, somebody should invent a time machine already, so we can get rid of these kinds of redundant statements.
Today, ManageWP serves over 9,000 loyal customers who collectively manage over 280k websites. The tool saves about 40,000 work hours each day. Whoa.
That means every customer saves about 4 hours per day, which is kind of impressive.
What keeps these guys moving on the proverbial rainy day?
Their mission is simple. ManageWP aims at automating more of your daily work tasks. Also, they help you set up the best WordPress maintenance business. It's quite some tool, and these guys mean business as far as WordPress management goes.
Started writing code in 1984, never looked back. I would love to change the world, I just don't have the source code yet. Currently blogging here.  – Vladimir Prelovac
In July 2016, Vlad & Co. released ManageWP Orion, a more powerful version of ManageWP. Later in the year, the company joined GoDaddy. In the near future, ManageWP Orion integrates with GoDaddy plans, but will still operate as an independent service for users hosting elsewhere.
ManageWP is a hosted WordPress management tool, meaning the entire process is hosted on ManageWP servers. ManageWP operates from Serbia.
InfiniteWP
Two months after ManageWP was released, InfiniteWP saw the light of day. Note, however, the guys christened InfiniteWP back in 2010, but the WordPress management tool remained just an idea for two years.
Today, things are quite different. InfiniteWP is no longer just an idea but the WordPress management tool of choice for over 470,000 websites out there. Some of their satisfied customers (courtesy of Twitter, of course) include Yoast, Media Temple and Honda among others.
From what I could gather, InfiniteWP is powered by the blood, sweat and tears of four guys namely David, Amrit, Yuvaraj and Kalyan. And while ManageWP seems to put a spotlight on their 28-man team, InfiniteWP appears to laud customers for their progress.
All the comments, feedback, criticism, feature requests makes every day even more exciting. The whole team is now focussed on this and we are looking to take this to great heights.

We envision InfiniteWP to be a community-driven WordPress management platform with third party developers contributing to an ever growing plethora of addons addressing every need the multiple WordPress environment can ever come up with. – The InfiniteWP Team
Updates, Update & More Updates
These guys are constantly pushing out updates, and just the other day, they launched a standalone backup service know as WP Time Capsule. InfiniteWP is one WordPress management tool you must test-drive.
InfiniteWP WordPress management tool runs on your own server. This means you install the plugin on a sub-folder (e.g. yoursite.com/iwp), a process that's pretty much straightforward. InfiniteWP has offices in USA and India.
Verdict: Which do think is the better WordPress management tool in terms of team, user base and operating philosophy? Personally, I lean towards InfiniteWP.
Features: InfiniteWP vs ManageWP
Now that you can tell what a WordPress management tool is, let us review the features each tool offers. Since there's a lot of great features in this section, we will start right away.
ManageWP Features
As soon as you create your ManageWP account and link your WordPress sites, you're treated to an impressive list of features including:
Easy Setup
Setting up ManageWP is a matter of signing up for an account and adding your websites. You install the ManageWP Worker plugin automatically on each website you add. We will learn more about this when setting up ManageWP later on.
Central Dashboard
Whether you have two or 100 WordPress sites, you can admin each directly (and safely) from the ManageWP dashboard. Don't worry about the security of your login credentials, ManageWP does not store your username or password.
Efficient Updates
All updates are displayed in an intuitive screen that helps you to update the WordPress core, themes and plugins on multiple websites with a single click. You can update each item individually if you want to.
Cloud Backups
Once I lost my websites to a notorious hacker. As you'd expect, I asked my host for a backup, but there were none! ManageWP offers you one monthly cloud backup for free! You can get the premium backup addon at an extra $2 bucks/site/month that comes with the clone feature.
Get a Free Security Check to Spot Malware Early On
Malware can never be good for thy website. Nope Nope Nopety Nope. You can scan your websites for malware with one click. How suave?
Performance Check
Page load speed is a big ranking factor nowadays. Here's the deal: People absolutely hate slow websites. Google penalizes slow websites as well. A performance check once in a while shows you what's broken and how to fix it.
And for a small fee of just $1/site/month you can keep track of your SEO ranking. You can see how your SEO keywords perform, discover your competitors and much more easily.
Uptime Monitor
If you're a WordPress theme developer, your business revolves around demo sites. When your demo sites go offline, you start losing money. But you don't need to be a WordPress theme developer to lose money when a site goes offline.
ManageWP offers you Uptime Monitor so you know when your site is down. You can get notifications via email, SMS or Slack, so yay! This feature is a premium addon that costs just $1/site/month. There's a $25/mo bundle that's covers up to 100 websites, so choose one that works for your business.
Client Reports: If your website maintenance business involves sending reports to your clients, you'll agree it can be a helluva task creating reports that sweep clients off their feet. ManageWP understands this all too well, which is why they offer a one-click report generation tool that's quite a life saver.
White Label ManageWP
Your clients needn't know you use the ManageWP Worker plugin on their sites; you can totally rename the plugin or completely hide the fact you use ManageWP to keep their sites in good standing order. This means you can totally brand your maintenance business without breaking a sweat.
Collaboration
Have a team doing all the dirty work? Great, you can easily collaborate with others without ever revealing your ManageWP password. This means you can work with collaborators and even allow clients to edit certain things without the risk of losing your hard work. Adding collaborators is as easy as pie.
Google Analytics Integration
What is a WordPress management tool that doesn't help you keep track of your traffic? ManageWP offers you Google Analytics integration, meaning you can see your traffic stats right from within your ManageWP dashboard. You can add as many Google Analytics accounts as you desire.
Maintenance Mode
Need to optimize databases or perform any number of maintenance tasks on your WordPress sites, ManageWP comes with dedicated maintenance mode complete with two premade templates. You have beautiful "Maintenance" and "Coming Soon" templates that are easy to customize and launch.
Comment Management
Moderating comments can take a toll on you if you manage a couple of websites. Nonetheless, spam is horrendous and must go. ManageWP WordPress management tool helps you to take the bull by the horns as far as comment moderation go. With a single click, you can purge spam across a large network of websites like a superhuman.
Code Snippets
If you love digging into code to change plugin settings, eliminate dashboard widgets and generally be awesome, you'll surely love this feature. The code snippets feature allows you to write your own PHP code and execute it at once across multiple networks. You can delete or keep a history of your snippets.
Vulnerable Plugins? No Problem
Now, thanks to WPScan Vulnerability Database, you can spot vulnerable plugins on your websites immediately, offering you the chance to take action before the inevitable happens. Vulnerable plugins are bad, but ManageWP has your back.
InfiniteWP Features
Now, let us see just how InfiniteWP stacks up against ManageWP in terms of features. Do they offer what it takes to become the better WordPress management tool? Let's dig in.
Easy Setup
While installing the InfiniteWP WordPress management tool is not as straightforward as installing ManageWP, it's easy to hack. Just install the InfiniteWP tool and the InfiniteWP Client Plugin on your site, link the two and Voila! – you're good to go. The process is super-duper easy we don't expect you'll run into any problems.
One Master Login
In my own opinion, ManageWP Orion is beautifiul, but it doesn't offer you a bird's eye view of your sites the way InfiniteWP does. As a matter of fact, you may never have to use the WordPress dashboard ever again. Managing your WordPress sites using this WordPress management tool is pure bliss.
Quick Actions
Backing up your sites, opening your WordPress dashboard, writing new posts, editing site details, and saving site-specific links/notes among others things are just a hover away. Really, you can save a lot of time since all you have to do is mouse over your site, point and click.
Site Summary
No other WordPress management tool, not even ManageWP, gives you an accurate and detailed picture of your WordPress sites like InfiniteWP. Again, just by hovering over your site, you can view all available backups, updates, WordPress version, server info and so much more.
One-Click Update
Updating your plugins, themes and the WordPress core using the InfiniteWP WordPress management tool is truly a joy. Once you login to your self-hosted InfiniteWP dashboard, you spot an "Update All" button next to your site that does exactly that. Boy, you can even hide all plugins or themes that you never want to update ever.
Enhanced Security
Speaking of self-hosting, InfiniteWP lives on your own hosting server, meaning you have total control over your WordPress sites. Unlike ManageWP, you don't have to share data or trust your login details with a third party. Just integrate InfiniteWP with your WordPress site, and experience a WordPress management tool like no other.
Backup and Restore
ManageWP offers you one monthly backup with their free plan. InfiniteWP offers you unlimited backups. And we are talking about full website backups that include your databases and files. The backup feature comes with great options including the ability to optimize your tables, exclude files and folders and so much more. Restoring a backup is a matter of hover, point and click.
Easy Plugin & Theme Management
Check which plugins or themes are installed on all your WordPress sites or install new ones across multiple WordPress websites with a single click. This means you don't have to install your starter themes and plugin on multiple sites individually, which saves a ton of time.
Free for Life
This is probably the best feature for both WordPress management tools. They are both free to use on an unlimited number of sites. You will, however, need a couple of premium addons if you need more functionality. In comparison though, InfiniteWP premium addons have so much more to offer than ManageWP's, and we shall see this in our next section.
Write Posts
You can write and publish posts to multiple WordPress websites directly from InfiniteWP, a feature that's non-existent in ManageWP. See why we said you may never have to use the WordPress dashboard ever again?
Regular Updates
We all love growth, we all love progress, more so if we're part of it. Before I could finish writing this post, InfinteWP updated their dashboard and the InfiniteWP Client plugin. These guys mean business, which is why they keep updating this WordPress management tool with new features, bug fixes and so much more. If you're inclined, you can participate in the beta testing program.
Customer-Oriented
If you look inside the InfiniteWP dashboard, you will quickly get the feeling these guys put a lot of focus on you. They offer you an easy way to report issues as well as a complete forum where you can submit your ideas. It's from these ideas InfiniteWP derives most of its best features.
Verdict: In terms of features, ManageWP offers more features for free as compared to InfiniteWP. All the same, the core functions you need to manage multiple websites are free in both tools. In terms of overall feature offering (free and premium), InfiniteWP outshines ManageWP.
Pricing: InfinteWP vs ManageWP
There has been a lot of debate on the pricing models adopted by each WordPress management tool. The basic plan is free for both tools, but the real expenses can quickly rack up when you introduce the premium addons.
ManageWP Pricing
ManageWP offers an incremental pricing model in the sense that the more the websites you have the more you pay, even though prices for premium addons range between $1 and $2 bucks. The idea be hind the pricing is that you may not require the same add-ons for every website you manage, giving you the flexibility to adjust the per-site fees based on what you use. So if you use the max 25 websites allowed on a freelancer pricing plan and purchase all of your addons on a per site basis, you will pay no more than $200 bucks a month.
However, Manage WP does offer bundled packages for agencies with over 25 websites. If you spring for the Agency bundle, you will pay between $150 and $225 bucks a month for all premium addons. Note that the bundle packages cover up to 100 websites.
InfiniteWP Pricing
InfiniteWP offers a more standardized pricing scheme. The free plan covers unlimited sites, just like ManageWP, and ships with the features we outlined above. If you need the premium addons, you will pay between $147 and $647 bucks per year.
Allow me to expound. The Starter pack costing $147 bucks a year supports up to 10 websites, 1-3 days email support and 22 addons worth $2576. The Enterprise plan costing $647 bucks per year supports unlimited websites, InfiniteWP For Teams, 22 addons and priority email support.
In comparison, InfiniteWP offers more premium addons than ManageWP. We are talking about addons such as a broken link checker, iThemes Security, 2 factor authentication, WordFence Security, Sucuri Malware Scanner and a file uploader among others.
If you have 25 websites, you will pay $347 bucks per year, and this includes 22 addons and 1 day email support. If you have more than 25 websites, say you're an agency, you're better off with the Agency plan that costs $447 bucks per year. This package comes with all the addons and priority support.
Verdict: In terms of pricing, InfiniteWP beats ManageWP ten nil. For about $37 bucks a month, you get the Agency plan that ships with 22 addons and unlimited websites. The Agency plan at ManageWP costs between $150 and $225 bucks a month, comes with 7 addons, and supports up to 100 websites.
Support: InfiniteWP vs ManageWP
Now, let us see how each company fairs in the support department. You know, you can tell so much about a company depending on the value they place on supporting the customer base.
ManageWP Support
ManageWP has a great support section. They offer a detailed user guide that describes everything from installation to features and troubleshooting among other things. There are general and sales FAQs covering most of the questions you might have. If you need further assistance, you can easily contact the support team.
InfiniteWP Support
Running into problems is inevitable whether you're a beginner or a professional WordPresser. InfiniteWP made is incredibly easy to find help when you're stuck. That's why the offer a "Help" tab within the management dashboard, which makes it easy to report issues.
Additionally, they make it easy for users to make contact via their website what with a "Support" tab that sticks to your browser. Moreover, they have a fully-fledged support forum where users can post issues as well as engage in discussion with other users. Needless to say, the forums are quite popular with numerous topics.
Verdict: Both WordPress management tools offer adequate support, but your experience depends on the gravity of your issue, so only you can the ultimate judge here.
How to Setup a WordPress Management Tool
In this section, we walk through the process of installing InfiniteWP and ManageWP, so you can install your choice WordPress management tool without breaking a sweat. Remember both tools are free, and relatively easy to install even if you're a beginner. Let's begin with ManageWP.
How to Install ManageWP
Setting up ManageWP is smooth sailing all way. Just head over to ManageWP.com and sign up using your email:
After signing up, you chill for a couple seconds before you're directed to the next screen so you can add your personal details:
After providing your details, you're ready for the next step; adding your very first website to ManageWP. Just fill out the field and click the "Add Website" button:
Next step involves linking your website to ManageWP. This simply means installing the ManageWP Worker plugin on the site you added in the previous step. Here, you can choose to install the plugin manually or automatically via ManageWP. You choose the latter since it's faster:
If everything goes well, you should see the final screen as shown below. Here, you can choose to add another website or go to your ManageWP dashboard:
Since you can add more websites from the dashboard, click the "Go to Dashboard" button to launch your dashboard:
As you can see, your ManageWP dashboard looks beautiful. Activating any feature is straightforward, just point and click. Here you can activate backups, do performance checks, track your traffic and much more.
How to Install InfiniteWP
Installing the InfiniteWP WordPress management tool is easy as well, but the process involves more steps than ManageWP. All in all, it's so easy we don't expect you to run into any problems. Just go to InfiniteWP.com and enter your email as shown below:
Next, you're redirected to a page that outlines the entire installation process. Step one involves downloading InfiniteWP Admin Panel installer plugin:
Next, login to your WordPress admin dashboard and install the InfiniteWP installer plugin. If this is your first time installing a plugin, just navigate to Plugins -> Add New:
Next, upload, install and activate the plugin. After installing and activating the plugin, you should see the notification shown below. Click the "Install InfiniteWP admin panel" button:
Next step, choose a folder to install the InfiniteWP admin panel. It can be any folder, but if you use an existing folder, the contents will be overwritten. Choose the default IWP folder, and click the "Download & Install" button. You can also choose to delete the plugin after installing the admin panel: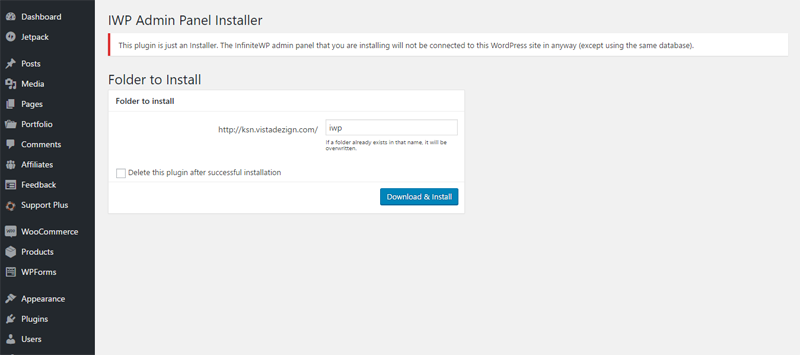 The following steps are rather straightforward. (1) Accept the license agreement, (2) confirm your database details (you needn't change anything here, unless you know what you're doing), (3) create your login details and you're done:
Next click the "Open Admin Panel" button and login with details you created to access your newly created admin panel:
As you can see, the dashboard is clean and easy to use. Everything you need to manage your website pop ups whenever you hover over your website in the sidebar.
Which Management System Is The Best?
So which is the best? We vote it's a tie! Managing multiple WordPress sites needn't be a challenge anymore with either InfiniteWP or ManageWP. Both tools are free to use, but the price of premium addons can quickly stack up if you're not careful so just be sure to keep track of what you need and what you don't. And as with any plugin, theme or service be sure to choose the tool that works for you and your business.
Basing your choice on personal taste and the details we outline in this post, which WordPress management tool will choose? Between ManageWP and InfiniteWP, which steals the day for you? Let us know in the comments. Thanks in advance!