The 15 Best WordPress Sports Themes
April 29, 2018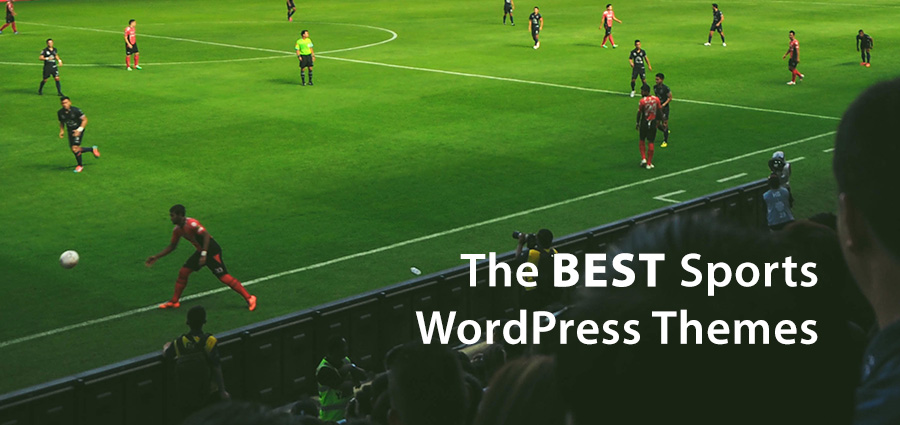 Sport is big business globally, and just like that competitive world, your sports website needs to be ready to play in the big leagues, and stand out from the competition. Whether for a sports team, association, club, or even a sports news site, you want your website to represent you well.
There are thousands of themes available for download, but there are benefits and drawbacks to having so much choice. Naturally, there are many WordPress themes that make it easy to create and manage a sports website, but you may not find them among the vast options available.
Fortunately, we've done the hard work for you, and this article will look at fifteen of the the best WordPress sports themes available to make your sports website run circles around the competition.
Disclaimer:
WPExplorer is an affiliate for one or more products listed below. If you click a link and complete a purchase we could make a commission.
The 15 Best Sports Themes
As we said, there are many themes available for you to choose from, but we've had to keep the list manageable. These are some of the best themes we found for sports websites, listed in no particular order.
Sportedge WordPress Theme by Themefuse

If you are looking to create a multi-sports news magazine, Sportedge is a great option. Brought to you by the folks at ThemeFuse, it is built on an extremely customizable framework, and comes with built-in page layouts and custom headers for most major sports. You can test-drive the theme for yourself in their TestLab for free.
Sporty Responsive WordPress Theme

To create a website for a specific team, take a look at Sporty. This responsive theme includes built-in fixtures and results for keeping your fans updated, as well as the DV Team plugin and TablePress, making it simple to showcase team members, league and cup information, and more. The theme is also e-commerce and multi-language ready, for selling merchandise and reaching your non-native speaking fans, respectively.
Club Sports& Events WordPress Theme

Club Sports is another solid option for a sports club website. It has built-in functionality for fixtures, results, player and team management, and points tables, making it a complete solution for managing your sports club data. This responsive theme is compatible with both WooCommerce and WPML, for further interaction with your fans.
Sportsline Responsive Sports News WordPress Theme

Sportsline is a responsive sports news website theme, originally built to coincide with the 2014 FIFA World Cup. It can be used for sports other than soccer, and includes built-in functionality for match fixtures and results, as well as custom widgets for elements such as your recent results. This powerful theme is both WooCommerce compatible and translation-ready.
Soccer Club Sporting Event WordPress Theme

Soccer Club is another sport team theme from the makers of Club Sports, with the same functionality for managing fixtures, results, players, teams, and points tables. Again, the theme is both WooCommerce and WPML compatible, but Soccer Club includes an advanced page builder to really make your site shine.
Real Soccer Sports Club WordPress Theme

Up next is Real Soccer, which as the name suggests, is designed for soccer clubs. It clearly serves its intended use well, given its Envato prize as a micro niche theme in 2014. The theme includes built-in functionality to manage match fixtures and results, player lists and profiles, league tables, and match reports. Real Soccer is a powerful and customizable theme that will make your club look world class.
WP FanZone Free WordPress Theme

The first free theme on our list is the magazine-style WP FanZone. Originally designed for sports fans and bloggers, it will serve you well if your budget is limited. It doesn't have any sports-specific features like the other themes we've covered so far, but it will give you a solid customizable look if you're just starting out.
Rookie Sports Free WordPress Theme

This next theme is also free, but is designed specifically to work with the SportsPress plugin. Rookie is a clean and responsive starter theme that, combined with the free version of SportsPress, will provide you with easy club and league management, including teams, players and staff, events, schedules, statistics, and standings. If you're on a budget, this full-featured combo is a great start.
Osage WordPress Theme

Osage is a multipurpose magazine theme, but does include some sports-specific features (such as a custom-built scoreboard) that make it a theme you could consider for your sports team or league. The theme is responsive, and comes with multiple ad units, including wallpaper ads for your major sponsors. If you plan to work on building your fan base, Osage is also WooCommerce and bbPress ready.
SportsMag Free WordPress Theme

SportsMag is another free theme you should check out. It's actually a child theme of AccessPress Mag, a free magazine theme. SportsMag offers a bold, cutting-edge design which is perfect for a sports news or magazine site, and includes multiple page layouts, ad units, and video lists. The theme doesn't include any sports-specific features, but is still great for a sports content site.
Gameday Sports Media WordPress Theme

From the makers of Osage comes another sports theme we like. Gameday is a sports and news media theme with a heavy focus on slideshows, video, and audio posts. Like Osage, it also features a custom-built scoreboard. The drag-and-drop homepage means you can customize the layout to suit your content.
KickOff Sports Club WordPress Theme

The KickOff theme is, as you might have guessed, designed for soccer clubs, teams, and leagues. With full-featured player, team, and fixture management, along with points tables, this theme is a good option for teams wanting to manage their events on their website. KickOff also enables you to fully customize the look and feel of your site.
AllStar Club WordPress Theme

AllStar is a simple and flexible theme designed for use by clubs, teams, and individual athletes. The built-in page builder and wide range of customizable options means you can create a unique looking site to represent your side. This theme includes several plugins and custom widgets to showcase all types of information about your team.
Champion Sporting Team WordPress Theme

Champion is a great looking theme created especially for sport clubs, football clubs, soccer news, and sport organizations. It includes built-in team and fixtures managers, but is also designed to work smoothly with the SportsPress plugin for more full-featured sports management functionality. It also includes the popular Visual Composer plugin to customize page layouts further.
Goal Club Sports & Events WordPress Theme

The last theme on our list is designed to work for various sports clubs and societies. Goal Club provides customizable team and player management, match fixtures, results, and league points tables. The advanced page builder makes it easy to create your desired layout via a drag-and-drop interface, and the theme is both WooCommerce and translation ready.
Conclusion
A sports website – whether for a league, team, or general sports news – needs to stand out to compete in the big leagues. With the myriad of themes available, however, it can be tough to find the right one.
In this article, we've attempted to help you out by sorting through thousands of themes available, to end up with fifteen of the very best. From our list above, you should be able to find the perfect theme to create your sports website, so pick one and get started today!
Do any of these themes look suitable for your next website, and if not, what functionality would you like to see? Please share your thoughts in the comments section below!