10 Tools to Make Working with WordPress Easier
Last updated on:
I bet we're in agreement when I say life is already hard as it is. It's way too short and with limited time to do everything on your WordPress bucket list and be all you ever wanted, having a couple of awesome tools to help with the burden is indeed a lifesaver.
These 10 awesome tools will make you insanely productive and your WordPress life a lot easier. You'll get more work done in lesser time. Which means you'll have more minutes in your day to spend with your family or enjoying the things for which you work so hard.
10 Awesome Tools to Make Your WordPress Life Easier
Get a pen and some paper as we're about to make your WordPress life 10X easier. We mix free and premium tools, because, at times, great things in life aren't free. The premium tools are, however, relatively cheap (and if you don't see your favorite tool on this list or have a question or suggestion, please don't hesitate commenting at the end of the post).
1. Yoast SEO
WordPress SEO and SEO in general is no child's play. One mistake and Google won't hesitate hanging you out to dry. Still, ranking well for your keywords in Google (the other search engines simply follow suit IMHO) is as easy as pie, more so with a plugin such as Yoast SEO.
Since I jumped on the WordPress bandwagon a couple of years ago, Yoast SEO has been my go-to SEO solution. Thanks to this plugin and a ton of carefully written SEO content, we've ranked first on Google for a couple of keywords.
But what makes Yoast SEO stand out among many other WordPress SEO plugins? For starters, Yoast SEO helps you to create readable content that is expertly optimized to woo search engines right from within your post editor!
Other features include breadcrumbs, canonical URLs, internal linking suggestions, content insights, redirect manager and 24/7 support among others. This tool ships in two flavors, a free version and a premium version that goes for $89 bucks.
2. Awesome Screenshot
See the screenshots in this post? Well, I grab them using Awesome Screenshot all thanks to Dev Sharma of WPKube who introduced me this nifty tool.
It has made my WordPress blogging life a whole lot easier because previously I had to use prt sc (Print Screen), MS Paint and Photoshop which involved a lot of steps.
The tool comes with plenty of features that make annotating, capturing and editing screenshots/local images a walk in the park. There is a one-click upload that makes sharing your capture a breeze.
You can grab the whole page, your desktop, a visible part of a browser window, a selection of the page, delay a capture, and edit your captures to your heart's content. Moreover, they offer a screen recorder that costs $19.99 bucks a year.
Awesome Screenshot has extensions for Mozilla Firefox and Chrome and a standalone Chrome app that is a miracle to use.
Learn more about Awesome Screenshot
3. FileZilla
Without the right tool, moving files from your hard disk to a remote server causes migraines. In the FTP category, FileZilla carries the day for yours truly but that's just me.
But can you blame me for loving an FTP tool that is incredibly easy to use? As long as you have the correct login credentials, you can access your web server and move files around like a boss.
For instance, you can download files/folders from your web server simply by drag and drop. Not to mention, FileZilla comes with awesome security settings that offer you secure access to your WordPress site to do as you will.
You can create files on your server straight from your desktop, change file permissions easily and do so much more. FileZilla is a free opensource FTP client, which sweetens the deal.
4. RegistrationMagic
As a WordPress user, you will obviously need to create forms at some point. In this regard, you will notice the WordPress user registration system is limited in functionality.
Which is precisely why you need RegistrationMagic, a user registration and management plugin on steroids.
In a nutshell, RegistrationMagic helps you to "…create customized user registration forms, accept payments, track submissions, manage users, analyze stats, assign user roles & much more!" From that single quote, you can tell this plugin does some heavy lifting.
To give you a better picture, let us see some of the things this bad boy can do. Firstly, you can create unlimited number of user registration forms each with varying fields. This means you can even accept file attachments on your forms among other things.
RegistrationMagic ships with a front-end user page that lets your users register on your site, login, download submissions, check transactions and reset passwords among other things.
This plugin shines in user management, what with an intuitive dashboard that helps you to track form submissions, setup payments for paid users, filter forms depending on date/time and so much more.
There's a free flavor of RegistrationMagic available on WordPress, but the best of features can be found within the pro version available at RegistrationMagic.com.
Learn more about RegistrationMagic
5. Pretty Links
Instead of using a nasty link such as https://www.example.com/dp/B00TQ1PB/ref=s9_acsd_bw_wf_a_dlpec1f4_cdl_1?, you can use the Pretty Links plugin to create a more user friendlier link such as https://yoursite.com/product-name. This second link is prettier and easier to spread.
In other words, Pretty Links helps you to shorten links using your own domain instead of relying on third-party link shortening services such as bit.ly or tinyurl.com. You can then redirect any link you create to any other URL of your choice.
Additionally, Pretty Links comes with a link tracking engine that shows you the number of clicks your links get, where the clicks came from, host, browser and operating system.
This tool is awesome for WordPress users looking to track links in emails, clean up affiliate links and share links on social media, comments and forums.
6. Thrive Leads
Whether you have a small or big online business, email marketing is one of the best ways of reaching your target audience and increasing your conversion rates. Think of it as having a direct means of contact with your prospects.
But before you start sending marketing messages to your prospects, you need to gather relevant audience information such as first name, email address and anything else you need. And what better way to capture this info than using Thrive Leads?
This list building tool comes with nifty features such as SmartExit to catch visitors before they abandon your site, A/B tests, precise targeting, beautiful animations, trigger options, unlimited opt-in forms, integration with multiple email marketing platforms and detailed reports among others.
Thrive Leads is a premium tool. A single site license will set you back a one-time fee of $67 bucks. Other plans include the $97 pack for 5 sites, the 15 site license pack that goes for $147 bucks and $19/month Thrive Membership pack for unlimited websites.
7. WAMP
The more you learn about WordPress, the easier your life gets as far as working with the platform goes. The best way to learn about WordPress is to dive right in and test things on your own.
Yet, you need a web server to run any instance of WordPress. At the same time, buying a domain name and signing up for a web hosting account wouldn't make any sense in terms of costs if all you want is to test the WordPress waters.
What is a WordPress user to do? Glad you asked. You can install WordPress on your PC using a tool such as WAMP. WAMP is an acronym for Windows Apache MySQL and PHP. In layman's language, WAMP installs a web server on your PC.
With a web server, you can then install as many instances of WordPress as you'd like to test whatever you will. If you have a Mac, you can use MAMP or XAMPP.
8. Chrome Developer Tools
What a lifesaver this has been. Chrome Developer Tools (DevTools) is an important part of the Google Chrome browser that most WordPress beginners don't know about.
To save you the suspense, Chrome Developer Tools put a lot of web authoring and debugging power in your hands.
Thanks to DevTools, you can have deep access into the internals of your WordPress site right from within the browser window. Why is having this much access important?
Well, you can edit your site temporarily without actually changing your code, see layout issues, track down problematic code, check your site loading time and play around with JavaScript among other things.
Chrome Developer Tools are built into Google Chrome, which means you get all this awesomeness for free. To access DevTools, just right click on any page element and select Inspect Element. Below, see how I changed up the WordPress.org homepage: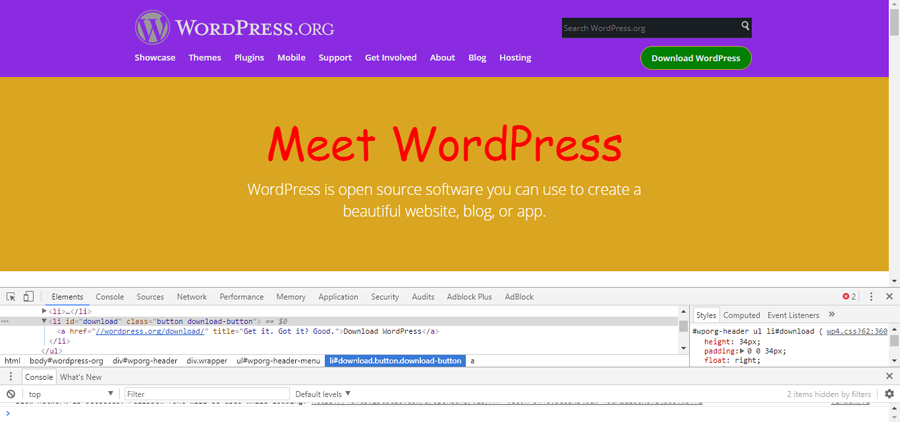 And just to be fair, here is a Web Developer Add-on for Mozilla Firefox.
Learn more about Chrome DevTools
9. NotePad++
As you work with WordPress, you might want to get down and dirty and write code on your own. Perhaps you'd like to create your own child theme, add some code to your .htaccess file, edit wp-config.php or add functions to your functions.php file among other things.
And since code can quickly get out of hand, you need an awesome code editor that helps you to stay on top of things without going berserk. NotePad++ makes it incredibly easy to write code in a number of programming languages.
With features such as syntax highlighting and folding, search and replace functionality, document map, an attractive GUI, auto-completion and so much more, writing code has never been easier.
10. Google Keyword Planner
Content marketing and SEO go hand in hand as far generating targeted traffic goes. To win as far as content marketing and SEO go, you require astute keyword research. How else will you tell what topics interest your readers?
Perhaps you have run out of topic ideas. How do you get new ideas to keep your content marketing machinery up and running? Again, you need proper keyword research to determine the topics your readers want to read.
You see, your readers use keywords to find topics and products. If you can find these keywords, you're halfway through the door. If you've read this far, you'll be glad to learn that finding keywords is as easy as working the Google Keyword Planner.
It's a free tool by Google that allows you to generate keyword ideas around your main topic.
Learn more about the Google Keyword Planner
Now Over to You
Which tools make your WordPress life easier? Did we leave out your favorite WordPress tools? Checkout more WordPress tools for business on our blog, or share with us in the comment section below. See you around!