WordPress 3.8 Beta Release
Last updated on:
The first  WordPress 3.8 Beta was recently released and it's a fun one. WordPress 3.7 had some great additions for increased security, and now WordPress 3.8 is bringing a fresh look to our favorite CMS.
Dashboard Redesign
One of the first things you'll notice in the beta is the dashboard makeover. The homepage is a bit cleaned up with less widgets (just like the DASH WordPress Plugin), but nothing too different from what you're used to. You'll also note that everything is darker, flatter, sleeker and much easier on the eyes. If you've been using the MP6 WordPress plugin then you'll feel right at home in 3.8. Plus you can now have your pick of four dashboard color schemes.
Mobile Improvements
One major update is the responsiveness of the dashboard menu and various pages within it. Take a look at a side-by-side comparison:
The all new dashboard features a much more user friendly menu bar with drop-downs, quick links to common pages (add post, moderate comments, upload media, add user) as well as improved responsive displays for each page (posts, widgets, menus, etc). Everything resizes beautifully to accommodate those with limited screen space.
Widgets
The widgets menu has also been cleaned up. If you're an unlimited sidebar kinda person you're going to love this update. Instead of a single column of widget areas, you'll see two columns of toggles as well as two columns of widgets. The widgets are all still drag and drop, but it's much easier to manage lots of sidebar areas with the all new layout.
Theme Management
Choosing your theme is still operationally the same but the main theme menu has gotten a face-lift. The THX WordPress Plugin gave a nice preview of the new theme selection grid, and is consistent with what's in the beta. Your current theme is shown first with all of your other installed themes following in alphabetical order. The theme thumbnails are much larger making it easier to see what you have installed and find what you're looking for.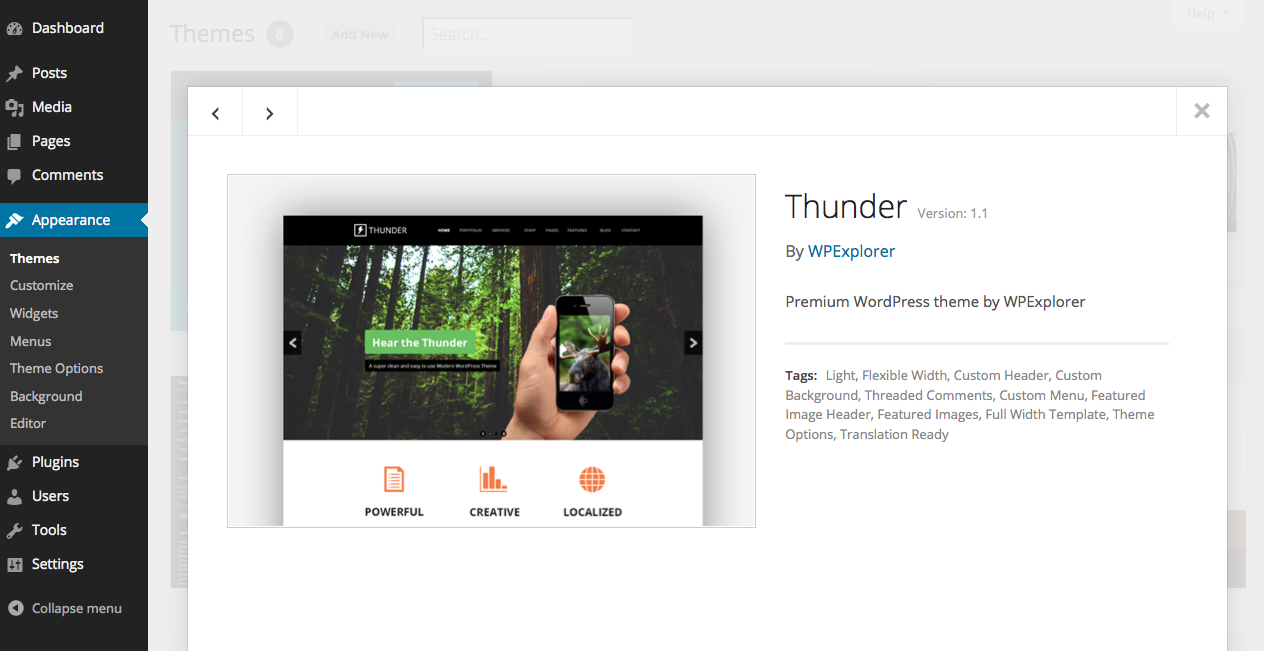 Just click on a theme to open up a description lightbox (or click on the "Live Preview" which is still pretty much the same, or "Activate" button). If you're looking to clean out some of your older themes you can also delete theme from within the info lightbox.
A note to theme developers: make sure to add in good descriptions for your themes. The new info box leaves lots of room for a great description of what your theme has to offer so why not add it in?
New Default WordPress Theme: Twenty Fourteen
Typically WordPress will release a more traditional blog style theme with each new edition. This year they're going a bit of a different route with Twenty Fourteen. The magazine style theme features multiple navigation menus, page templates (default, full-width, and an author page), and plenty of post formats (standard, image, gallery, aside, quote, video and audio). Plus they've included a tagging system so you can quickly feature selected posts on your homepage.
My only complaint about Twenty Fourteen (and Twenty Thirteen for that matter) is that it doesn't look great on large monitors. Yes, it is a left aligned theme, but on a 27 inch screen it just looks a bit lopsided. Other than that it's a solid default theme that lots of users should enjoy.
Wrap Up
Overall the beta looks great, and I'm excited for the changes. I'm looking forward to WordPress 3.8, how about you? Do you like the new aesthetic direction of WordPress? What are your thoughts on Twenty Fourteen? Let me know in the comments below!