Build Awesome Online Communities With Ultimate Member For WordPress
Last updated on: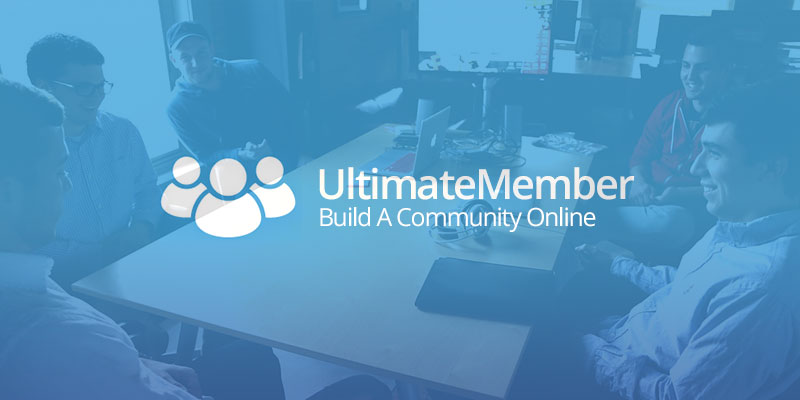 If you're wanting to create a website where people can sign-up and become members then there is a new plugin available that will make your life a whole lot simpler. Ultimate Member is a community and user profile plugin that makes it very easy to add beautiful user profiles to your site and create advanced online communities.
The plugin is extremely versatile and will allow you to create a wide variety of sites where users can sign-up and become members. It is packed full of features and functionality but is still easy to use and lightweight.
Whilst there are too many features to mention in this post the main features of the plugin include: custom user roles; multiple registration forms with role assignment; unlimited form fields for capturing user data; conditional logic for fields; an advanced drag and drop form builder; beautiful user profiles; conditional menus; member directories with optional search filters; account page for users to manage their own account (change password, delete account, privacy etc); content restriction with page redirects; email templates and much more.
Instant setup
The great thing about the plugin is that you can get your community site up and running in a matter of minutes with the plugin's instant setup which will automatically add all the core pages needed to allow people register and become members.
Extensions
To maintain its simplicity and keep the plugin lightweight and bloat free the plugin uses the extension model which is the same model used by popular plugins such as WooCommerce, Easy Digital Downloads and Ninja Forms. Ultimate Member currently offers the following Ultimate Member Extensions with more planned for the future:
Social Login
If you want to let users register/login to your site via social networks so they do not need to remember another set of login details then you can do this with the social login extension that allows users to register/login via Facebook, Twitter, Google+, LinkedIn, Instagram, VK.com/VKontakte. You can decide which networks to use and you can show the buttons on login and registration forms or anywhere on the site using shortcodes.
MailChimp
The MailChimp extension integrates MailChimp with the plugin and allows users to subscribe to your mailing lists when they register on your site. Users can subscribe to multiple lists and can unsubscribe from lists directly from their account page. With this extension you can also sync user meta into your MailChimp list.
bbPress
When creating community based sites it is common to have a forum where users can interact with one another. This extension seamlessly integrates Ultimate Member with bbPress and moves bbPress profile information onto the Ultimate Member profile.
User Reviews
Ultimate Member's user reviews extension provides a 5 star rating and review system to your site which allows users to rate and review each other. With this extension you can order member directories by highest rated users, allow users to filter directories by rating, add widgets to your site showing top rated and most rated users and much more.
myCRED
If you are looking to gamify your site and reward users then you can do this easily by integrating Ultimate Member with myCRED which in my opinion is the best points management system for WordPress. This extension allows you to reward users with points for specific actions and also display a user's points, badges, rank and progress meter on their profile.
Notices
There are many plugins that will allow you to add site-wide notices to your website but not many have the capability to show notices to certain user roles or logged in/logged out users. With this extension you have complete control over which users can see each notice. You can also show notices site-wide or on specific pages only via shortcode.
Real-time Notifications
If you want to add a notification system similar to those found on Facebook and Twitter to your site then this extension will allow you to do that. The real-time notification system allows users to receive real-time notifications directly on your site to events that are relevant to them.
Online Users (free)
If you want to let users see which other users are online then this free extension will allow you to display who is currently logged into your site. As with many other elements of the plugin this extension allows users to control their own privacy so if a user does not want to let other users know they are online then they can hide themselves via their account page.
Google reCAPTCHA (free)
Whilst the plugin already comes with anti-spam measures for login and registration forms this free extension allows you to add the official Google reCAPTCHA to your forms which will help to further combat spam.
Gallery for UM (Third Party Extension)
The WordPress plugin Gallery for Ultimate Member is one of the best galleries available for Ultimate Member social network plugin. It's easy to set up and use. Using this UM Gallery gives any social network a more modern experience with Photo and Video support, Comments and Album control.
This plugin is perfect for any social network as it keeps users active on any social network by keeping them engaged through unlimited albums and photos. Plus there are 2 modes; Single Album Mode and Unlimited Mode. In Single Album Mode, users upload all their photos to one album while Unlimited Mode gives them the option to organize photos and videos into unlimited albums. The plugin also boasts its custom designed lightbox which allows media owners to edit album description and photo caption.
If the site does not require video support, it can be easily turned off by the gallery add-on section in the admin. From that section, the comments add-on can also be enabled which would add the option to write comments on photos from the lightbox.
With the Ultimate Member plugin Social Activity activated, admin can enable the Activity Wall add-on for UM Gallery. Once enabled, new albums will be displayed on the activity wall.
The plugin does have a few hooks available for developers including hooks after photo upload, album edited, album created etc.
---
If you are looking for an easy way to add community like features to your site then Ultimate Member might just be the plugin for you. Whilst the plugin does not allow you to currently create a social network like you can with BuddyPress, the flexibility of the plugin in addition to its growing number of extensions means that Ultimate Member will be a great choice for many WordPress users looking to create online communities.