How to Improve Your WordPress Website's Usability
Last updated on:
Everyone knows how important it is for a website to be user-friendly if it is to be successful. When an audience likes a website and finds it easy to use, they're more likely to engage with the content and convert against the site's goals. So how can you improve your WordPress website's usability?
In this article, we will look how to give your audience a better user experience. From considering the appearance and navigation of your site to making it responsive and quicker to load, there are many aspects to think about when trying to improve the usability of your WordPress site.
Go Mobile-Friendly to Improve Your WordPress Website's Usability
So many people now access websites on their mobiles. It's now crucial that your site is responsive. Nearly all new themes, or all the good ones at least, are now fully mobile-friendly and responsive. So if you're just starting out with a new website then this is one area you shouldn't have to worry about.
However, if your website has been around for a few years or uses an older theme then it may not be very accessible for your readers on mobiles or tablets. Some sites contain little content, making them easier to switch to a new modern responsive theme. But if your site has extensive content, or if you just don't want to part with your current theme and design, then one option is to install a plugin that will make your site mobile-friendly.
Jetpack is a free WordPress plugin that contains a suite of modules to help improve your website. Jetpack's Mobile Theme module ensures that visitors reading your site on smartphones or tablets see a mobile version of your website. Optimized for small screens, it creates a custom look by using the header image, background, and widgets from your current theme. This will make your website and content user-friendly from any device.
Create a Website that is Aesthetically Pleasing
If you aren't a web designer then creating a website can be difficult. The more options and customizations your theme has, the higher the possibility of producing a car wreck. And your website won't attract visitors if it isn't aesthetically pleasing.
The best option for beginners and amateurs is to choose a theme that doesn't offer too many options for altering the design and layout. If creativity isn't your strong point always use the default settings for options such as colors and fonts. Colors that might look good to you may not be easy on the eye for others, damaging your site's usability and credibility.
Consider the Navigation of Your Website
Again, unless you're a web developer, keep the navigation of your site simple. Less is definitely more. If your site becomes cluttered with fancy widgets and numerous options of where to go next your viewers will become confused and leave quickly. Make it obvious where you want your audience to look and click. Use buttons that stand out and only promote the content that is important.
To find out more about how your audience is using your site have a look at these heatmap tools. Heat mapping will help you understand where your readers are focused most on your site, how they are navigating around it, and where they are leaving. This information can help you understand your audience and how to improve the usability of your WordPress website.
Improve Loading Times
Slow loading times do not equate with good usability. No one wants to be waiting for pages and content to load. It is actually one of the fastest ways to lose visitors. So how can you improve load times?
Select a Fast Web Host
The web host you use can make a big difference to the loading times of your site. Consider a premium managed web host like Flywheel or WPEngine if you want WordPress specific hosting that is reliable and fast. Both of these hosts can make a real difference to the usability of your site, with great track records in limiting downtime and increasing speed.
Use a Cache Plugin
Using a cache plugin is another option available if you want to noticeably improve the loading times of your website. A cache plugin works by storing data from your site so when a user opens a page the files can be retrieved quickly.
WP Super Cache is a free plugin that can cache your website's information and serve it up as static files, reducing the loading time of your site dramatically. A cache plugin like this is a must if you want to improve your WordPress website's usability.
Tidy up your dashboard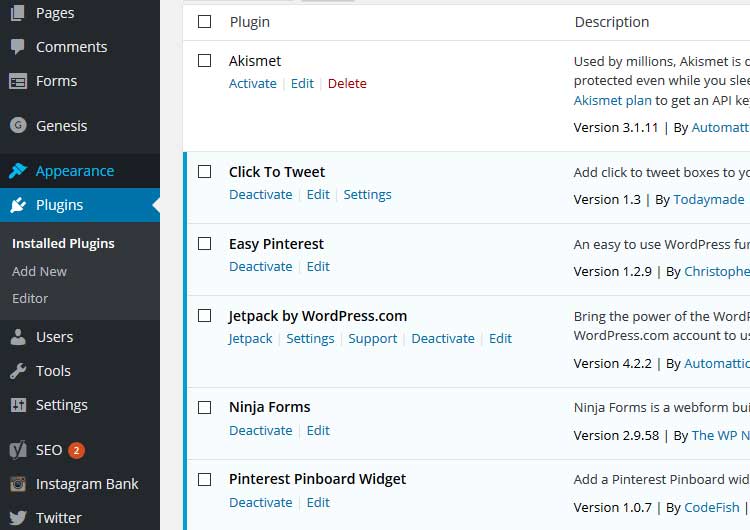 Many of us are guilty of having a cluttered WordPress dashboard. Redundant plugins, or those that need updating, can all contribute towards slowing down your site. Go through and delete any plugins you don't need and always update plugins as soon as possible. Keeping an eye on your plugins can be an easy way to improve the speed of your site.
Install an Image Optimization Plugin
Large sized images can dramatically slow down your website's load times and affect the usability of your site. If your site is image heavy you should consider using an image optimization plugin.
EWWW Image Optimizer is a free WordPress plugin that automatically optimizes images by creating the smallest image file size possible. Smaller file sizes mean pages will load quicker, helping to keep your audience happy.
Check for Broken Links
Broken links inevitably occur as your website grows in size and age. However, broken links don't make for a pleasant user experience. If a visitor reads an article and finds that a link within it isn't working they will, at the very least, find it frustrating.
Broken Link Checker is a free WordPress plugin that will check your sites pages and posts for any broken links or missing images. You'll then be informed of any that are found. Thanks to this, you'll have an easy way to monitor the links on your site and fix any broken items as soon as they arise.
Be Careful if Using…
Popups are a popular choice for many websites and have been proven to help generate leads, grow email lists, and drive sales. However, too many popups can upset your audience and even lose you visitors. Popups on mobiles can be particularly difficult for users to ignore and are something that Google is now going to start penalizing. If you want a user-friendly site, keep your popups to a minimum.
Sliders can have a similar effect to popups. Too many images whizzing around people's screens can be distracting, and often prevent your audience from engaging with your content. Again, particularly on mobiles, sideshows can greatly impact the usability of your WordPress website, so use them with caution.
Final Thoughts
The easier your website is to use the higher the chances of your site converting against its goals. This article has given you many actionable points to help you improve your WordPress website's usability. Now it is time to start implementing them.
What will you implemented to help improve the usability of your website? Please share in the comments below.