How to Create an Image Gallery in WordPress Beginner's Guide
Last updated on:
Hey there! Hope you had a great holiday season in your own unique way. Today, let's talk about WordPress galleries. If you would like to share those nice photos you took over the holiday season, you needn't look further than the WordPress gallery. That's right, you don't need a plugin. Nah, you don't.
WordPress ships with a built-in gallery that's a bliss to work with. You can post your amazing photos, edit them; add captions, links etc., and – thanks to Jetpack Carousel module – add a lightbox so your readers can view larger versions of your photos in their full splendor.
Whether you're a photographer, photo blogger or just love sharing pictures on your site, the WordPress gallery offers you exactly the tools you need to win big. In this post, you will discover:
How to Create Colorful WordPress Galleries
A couple of WordPress Gallery plugins should you need to supercharge your galleries
In short, you are in for a great time, so fasten those seat belts and enjoy the ride.
How to Create Colorful WordPress Galleries
Image galleries add color and life to your WordPress site while boosting user retention. And considering they're incredibly easy to add to WordPress, nothing is to stop you from creating swanky posts and pages that'll impress your readers. Here's how to add an image gallery in WordPress.
Choose Location
A WordPress gallery can go anywhere in your page or post. You can place it on a blank post/page or in the midst of text. All you have to do is place your cursor where you want your gallery to go as shown below:
Add Images
Next, you need to add your images. Click on the Add Media button to access the Insert Media screen. Next, click on the Create Gallery link to start building your gallery:
You have two options here. You can either upload images from your computer, or use images you already have in your media library. Since ours is a new WordPress install without any images, we'll proceed with the former.
Click on Select Files or drag and drop your images on the screen to initiate the upload:
Once you upload the images, you have the choice of describing each of your images. You can even exclude some of the images from your WordPress gallery. It is simple stuff; a matter of point and click per se. Add titles, captions, alt texts and descriptions to each of your images, and then hit the Create a New Gallery button. This will take you to the Edit Gallery screen, where you can edit your gallery at length:
Edit Gallery
On the Edit Gallery screen, you can perform a number of actions. For instance, you can drag-and-drop images to reorder, add more images to the gallery, order your images in reverse, arrange images in any random order, view URLs of your images, cancel the whole gallery, set the number of columns and so on: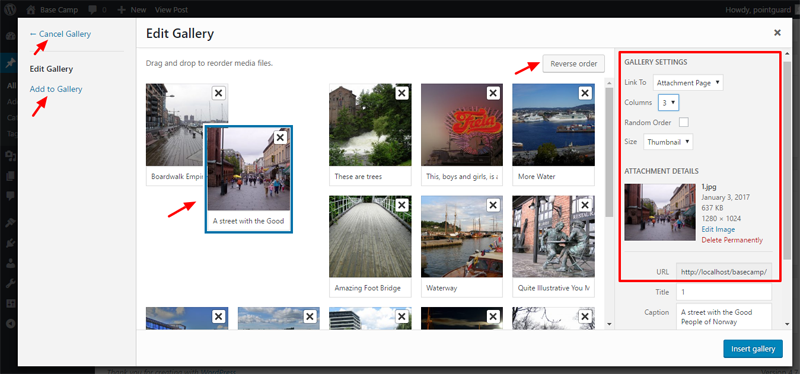 Insert Gallery
Once you are satisfied with your gallery settings, it's time to move ahead. Click the Insert Gallery button. Your gallery will appear inside your post/page as a series of thumbnails. You can still edit the gallery at this point simply by clicking on any of the thumbnails:
All you have to do is hit the Publish/Update button and you're golden:
That was easy, right? You can bank on these WordPress marketing tips to show off your gallery to the entire world. If you click on any image on your gallery at this point, it will open in the attachment page, which we must agree, isn't very attractive:
Adding a Lightbox to Your WordPress Galleries
You can activate Jetpack's Carousel module allowing users to view your gallery in a beautiful lightbox. If you'd like to avoid Jetpack, the cool guys over at WPBeginner forked the carousel module, and now offers it as a standalone plugin known as Gallery Carousel Without Jetpack.
Just install and activate the plugin on your WordPress site then navigate to Settings -> Media to choose Carousel options:
Refresh your gallery post, and click on any image. Your gallery now opens in a beautiful lightbox:
Sweet.
Now that you can create WordPress galleries like a pro, how about trying out a couple WordPress gallery plugins, which add more power to the whole WordPress gallery experience? Sounds grand, right?
WordPress Gallery Plugins
If you'd like to supercharge your WordPress galleries, the WordPress plugin market is never short of the plugin(s) you need. As you choose, keep in mind factors such as plugin ratings, speed, ease of use and the features offered. That out of the way, here is a list of the best plugins we found:
Gallery by Envira
Let's kickoff with a WordPress gallery plugin like no other. Gallery by Envira allows you to build beautiful and fully responsive WordPress galleries in minutes. It is optimized for best web and server performance since, in the authors' own words, "…speed is important when it comes to SEO and conversion."
On top of being mobile friendly, this WordPress gallery plugin ships with a drag and drop gallery builder that makes creating WordPress galleries easy and fast. Moreover, you can easily add social media integration and sell your images without breaking a sweat. Just create your WordPress galleries and add them to your posts/pages using shortcodes.
To boot, you can create video galleries, add watermarks to protect your images, organize your images in albums complete with cover photos, create amazing slideshows, password protect your galleries, add custom CSS styles and so much more. The pro version offers you the best features.
WP Canvas
Developed by Chris Baldelomar, WP Canvas does nothing more than add extra options to your WordPress galleries. In other words, this plugin "…extends WordPress galleries to display masonry gallery, carousel gallery and slider gallery."
And when we say extra options, we mean plenty of nice options that allow you to turn your WordPress galleries whichever way you desire.
For instance, you can choose from 5 caption styles, 6 caption types, 8 display styles, 15 pop-up sizes, add custom links, open images in new tabs and hide gallery controls just to mention the highlights.
Photo Gallery
Once you install and activate this WordPress gallery plugin, it adds a Photo Gallery item on your admin menu that makes creating WordPress galleries just as easy as creating posts. It's just so sad I was unable to choose images from my media library, which meant uploading the same images again. This also means the plugin creates an additional directory in your uploads folder! Not cool guys.
Once you upload your images though, customizing your gallery is as easy as A, B, C. You can add a preview (cover) photo, add descriptions, set watermarks, add alt text, unpublish photos, recreate thumbnails, add tags and so much from a single screen.
You then add WordPress galleries from your Edit Post screen, where you can choose further options. We are talking about features such as multiple display styles, ability to show adverts, hide/show controls, a search box, fullscreen mode and so much more.
These guys need to do something about the user interface though, as Photo Gallery leaves a lot to be desired in terms of user friendliness.
NextGEN Gallery
Probably the most popular WordPress gallery plugin, NextGEN has been making waves in WordPress circles since 2007. Every year, it averages around 1.5 million downloads not to mention the amazing ratings it garners. Brought to you by Imagely, the WordPress photography guys, you can count on NextGEN to add life to your WordPress galleries.
Quickly, let's see what is in the bag. To begin with, NextGEN offers you a robust WordPress gallery management system that's packed with countless options for uploading, editing and publishing your images.
The one feature that carried my day, however, is the intuitive Gallery Wizard that takes you step by step through creating your first NextGEN gallery. The wizard is so easy to use you should create a gallery in seconds. We must laud this plugin for ease of use.
WP Photo Album Plus
Once you activate WP Photo Album Plus, you are presented a link (at the top of your WordPress admin screen) to the settings page for a quick initial setup. This quick setup page is laden with plenty of options that allow you to design a gallery out of your dreams.
For instance, you can choose whether your theme is responsive, choose to downsize your images on upload, allow visitors to upload images, activate the rating, comment and social sharing systems, add audio and video files, set image widths (there are countless options here!), add breadcrumbs, publish photo of the day, and so much more.
This is the ultimate gallery plugin what with more features than your will ever need. Away from the settings, creating a new gallery is as easy as pie. The plugin adds a Photo Albums item on your WordPress admin menu, which helps you to create and access your WordPress galleries easily. The user interface leaves a lot to be desired though, but with all the options this baby packs, you'll hardly complain.
After creating your photo album, just go to Edit Post/Page screen and add the gallery to your post or page using the WPPA+ Shortcode Generator button:
This will give you your very own WordPress photo album, and here is an example:
Related Reading
If you'd like to learn more about WordPress galleries and the related topic of WordPress photography, I curated this short list for your viewing pleasure:
Conclusion
WordPress galleries are effective at publishing, sharing and even selling photos. They are easy to create and extend using WordPress gallery plugins. Honestly, nothing should hold you back from creating beautiful WordPress galleries like a boss.
Did we leave out your favorite WordPress gallery plugin? Which WordPress gallery plugin or add-on are using on your site? Do you have a question or suggestion about WordPress galleries? Let us know in the comment area below. Cheers!