Elegant Themes Review
Last updated on: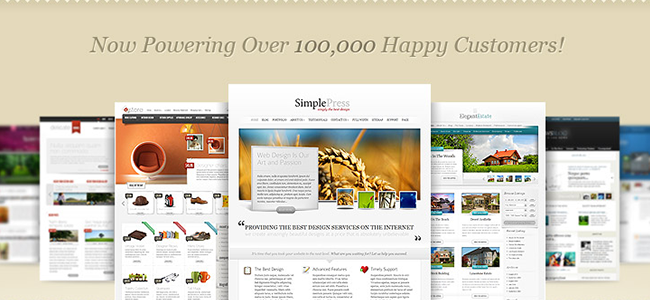 Elegant Themes is a Premium WordPress Theme Membership site owned and run by Nick Roach that features not only the best deal in premium themes but also some of the best and most unique designs out there. Unlike other premium theme sites, where you can browse through many premium themes and buy them individually (for a high price), at Elegant Themes you get access to tons of premium templates by joining the membership program.
I have been a member of Elegant Themes for a year or so and I really love them. All their theme releases have been fantastic and they have made it much easier for me to make my websites look amazing. And since I am such a fan of this website I thought it was about time I wrote an Elegant Themes Review.
How Elegant Themes Works
As I said, Elegant Themes works on a membership basis. You pay $39 and you get access to all the previous and future themes developed during your time as a member (you will have to pay the $39 to renew each year). Once you are a member you can browse and download any theme on the site.
This makes Elegant Themes one or probably the most affordable place to get Premium Themes. At many other places you will be paying over $30 just for 1 theme, while here you will get around 40 (and more when new ones come out).
Why Did I Join
I originally joined Elegant Themes because I was looking for a theme to run WPExplorer and at the time I wasn't much of a web developer. Now I of course have designed and programed my own theme (if you look around you will notice how specific everything is for my site's needs).
Anyway, I joined and I actually downloaded a theme called "egallery" which I began using on WPExplorer and really loved it. At that time Nick Roach hadn't developed the ePanel, but the theme still came from some pretty cool customizations in the admin panel, it worked well right out of the box and looked great.
Later, WPExplorer.com took a turn and became more of a theme showcase and blog site. So I joined the Affiliate Program to start making some money.
Was It Worth It
Was it worth it? Simply put, Yes. To start with it was a super affordable way to get some amazing premium themes for my blogs. Second, Nick Roach does some amazing work with these themes and digging into the back-end of his themes helped me learn some pretty nifty web design/coding tricks. Last, the affiliate program has been quite successful. Not only do i get to recommend a really great product, but I get some money for it. And Elegant Themes offers a super high payout of 50%.
What is Cool About Elegant Themes
Price
I have already talked about this, but just to enforce it a bit more. Elegant Themes will provide you with probably the best Premium Theme deal ever.
Design
Have you checked out the themes? They are freaking awesome. It looks like Nick Roach is always ahead of the curve when it comes to web design trends. Every theme he releases is filled with super modern techniques and functionality. Not only do they look great they work.
ePanel
For me not such a big deal, but for a lot of you that don't want to get your hands messy from digging into and changing all the code, every Elegant Themes theme has an "ePanel" which is Nick Roach's custom, super awesome and beautiful theme admin panel. From here you will be able to make all sorts of customizations to your theme as well as disable and enable certain features of your theme.
Shortcodes
Elegant Themes has recently include a huge list of shortcodes to all their themes that will allow you to easily add cool buttons, sliders, tabbed content, columns, content, social media, tool tips, and much more to your site right via your regular post editor. This means you can make your site AWESOME without having  to touch much of the code or work in HTML-Mode.
Theme Localization
All the themes have been localized for easy and complete translation into your native language. With the included .mo and .po files you can easily translate the theme into a different language (they are in English by default) and the themes already come with some pre-translation files for some languages to make it even easier.
Support And Updates
Having a well coded and beautiful WordPress Theme doesn't really mean anything if you aren't insured for longevity. WordPress is constantly changing and updating its platform, which means you have to constantly making sure your wp theme is up to date and has all the latest features and the most up-to-date code. Using an Elegant Theme is a smart choice because they are constantly updating and adding to all their themes so you don't have to.
And if you are a WordPress and/or web development rookie, fear not. Elegant Themes has a great support system where you can enter any issue you have within your account panel and the Elegant Staff will help you out with your problem. You have probably used a free theme in the past, ran into an issue and try contacting the free theme developer, but never heard back from them. This is the problem with free themes…they almost never provide support or help. But with Elegant Themes you can make sure your website or blog goes up and runs smoothly.
55+ Themes
Unlike many other wp theme sites you aren't just paying for 1 theme you are getting 55 themes plus the premium support and updates. That is a super good deall.
Not A Member? Join Elegant Themes
If you aren't a member it is about time you head on over and see what they are all about. And if you love it please come back and let me know, same thing if you hate it.