20+ Best Drag and Drop Page Builder WordPress Plugins
Last updated on: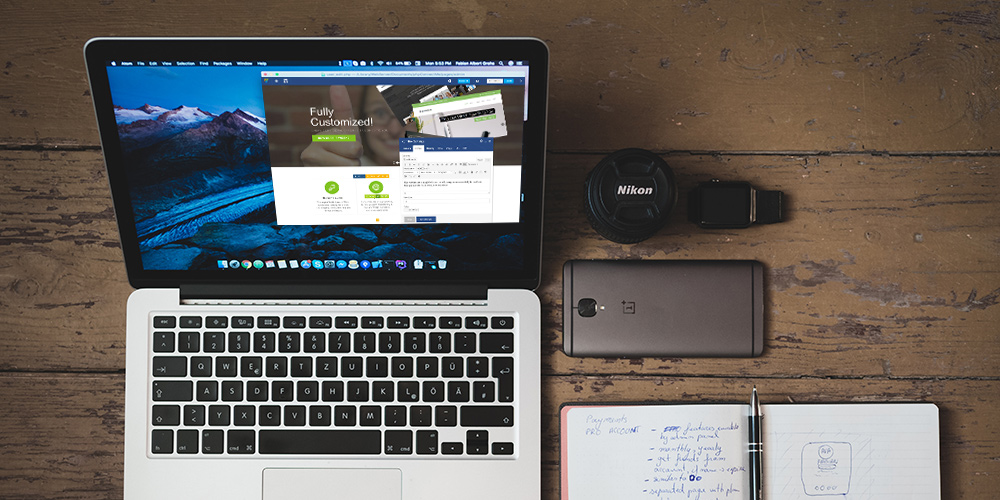 As web building platforms evolve to include those who aren't necessarily well-versed in the world of code, drag and drop page builders lead the way in allowing folks to forget about having to stare at a dull text WordPress editor in order to make websites come to life.
A drag and drop page builder completes two tasks:
it enables you to actually see what you are creating while you create it, and
it cuts down on the time it takes to build a website.
Let's face it: dragging and dropping components is always quicker, and you don't have to switch back and forth from the back end to the front end of your website to see results.
Drag and drop editors are awesome for beginners and experts who want to speed up their production. Let's take a look at the best drag and drop page builder WordPress plugins for you to choose from. (You can also check out our guide to drag and drop page building if you're feeling a little nervous about the whole topic.)
Disclaimer:
WPExplorer is an affiliate for one or more products listed below. If you click a link and complete a purchase we could make a commission.
1. WPBakery Page Builder ($46, or Free with Total)
The WPBakery Page Builder plugin is one of the top selling drag and drop plugins on the market. And with good reason, it's a pretty cool premium plugin. It's so great that we included it (for free) in our top selling theme Total. With theWPBakery visual page builder you get to choose whether you want to design your website on the front or backend. It also works with any theme you choose to install on your WordPress site, and the over 40+ content elements that the plugin includes are ready to use right out of the box.
Another great feature of this plugin is its flexibility. You can easily add more modules if you know what you're doing. In fact, we added tons of custom builder elements to our Total WordPress theme using the WPBakery Page Builder, like icon boxes, milestones, post types grids and more. Or you can use one of the hundreds of premium extensions to add on any features you might want or need.
2. Elementor (Free)
Elementor Live Page Builder is an open source front end editor that takes drag and drop page building to the next level. In fact, was the first free page builder with full design capabilities, a unique and super-friendly UI and a speedy and no-lag responding interface that is still much faster than the competition. This advanced drag and drop live page builder gives you instant results, so you don't have to wait around for changes to take effect. This may seem insignificant at first, but these incremental changes add up, and it won't be long before Elementor has saved you hours in page building time.
Elementor can be used with any theme and on any page type, so go to town on your homepage, sales pages, blog posts, and more. Elementor's intuitive layout options enable you to easily change everything from section width and height, to column and content position, as well as padding and margin settings.
Since the launch, many releases and updates have been made. Most inspired by requests from users. One major release was the Template Library, featuring the ability to save pages and sections as templates, and use one of many pre-designed and beautifully made templates, added to the page with one click. The other major release was Mobile Editing, the first toolset to customize any page and make it responsive and beautiful on any device. This is the first time designers can turn a page fully responsive without coding. Mobile Editing has never before capabilities like the ability to set different sizes per device, the ability to reorder columns per device, so you get control over mobile layout, the ability to set different padding, margin and alignments per device, and many other unique features.
Another great feature of Elementor is that all of your third party widgets and plugins are automatically available for you to drag and drop into your pages. In addition, Elementor comes with tons of customizable widgets, 400 unique icons, and over 600 Google Fonts.
The best part? It's free! And it's probably the best free page builder on the web.
3. WP Page Builder (Free)
WP Page Builder is an easy option to create your own custom pages. The drag and drop builder is as simple as clicking a button – literally. Just choose the module you'd like to add, edit the options, click and drag to resize, or drag and drop to reorder elements on your page.
Currently WP Page Builder includes over 60 page blocks to choose from. With options for accordions, alerts, icons, feature boxes, pricing tables, video, image hovers and more there's nothing you can't build! The plugin also supports up to 6 columns, all fully responsive and mobile ready. When you create a layout you love you can save it to your library to reuse, or use a pre-designed block to speed up your website building. And if you love the plugin, you can upgrade to premium to receive support, updates and awesome layout bundles.
4. Beaver Builder ($99)
The Beaver Builder plugin is a premium drag and drop page builder, but you can also grab the lite version by going to the Plugins panel in your WordPress dashboard. The plugin also comes with a theme if you opt for one of the premium plans, and some plans even give you multi-site capabilities.
But the reason this is one of the best drag and drop page builder plugins is because many themes already come with page builders, but they lock the changes to your theme. What happens if you ever want to change the theme? Beaver Builder is a third-party plugin, so it doesn't lock your changes to a particular theme or design. You can always change things up without having to start over on your initial designs.
So what can the BeaverBuilder do? Lots! The plugin comes with 20+ page elements (including text, headings, separators, images, galleries, videos, icons, content sliders, contact forms, social links, testimonials, products, maps, recent posts,  call to action, buttons and more) that you can insert, drag & drop into place, and edit all with a few clicks of your mouse. You can also drag and drop any widgets you have enabled to create custom sidebars for your pages (a great option, since you might want to show different widgets on your store page vs. your blog).
Oh, and it's WooCommerce compatible too. This means you can create stunning store pages that are as awesome as your business. You can drag & drop recent products, latest reviews, sale items, all your WooCommerce widgets and more.
The Beaver Builder is also fully responsive to look great on all your devices, can be extended through APIs for custom modules (so you can add niche specific page elements like restaurant menus, staff profiles, property listings or anything else), and the plugin is translation ready. So what's stopping you? Head over to the demo to try out the BeaverBuilder live – then get a copy for your WordPress site today!
View an in-depth review on the Beaver Builder plugin if you would like to learn more, and remember that this plugin even saves your changes if you decide to stop using Beaver Builder. This isn't always the case with some page builder plugins.
5. Elegant Themes Divi Builder ($89)
The Elegant Themes Divi Builder offers endless possibilities for creating incredible page designs. Within this intuitive builder, you simply stack rows of columns and add as many elements as you want. The Divi Builder comes with over 40 built-in modules including sliders, counters, and buttons. Every module comes with lots of customization options, including a custom CSS tab should you need to add your own code.
The Divi Builder plugin is included in the Elegant Themes annual membership. For $89 you get to access to all of their plugins and themes – including the top selling Divi theme.
6. Page Builder by SiteOrigin (Free)
The Page Builder plugin is a completely free option that incorporates WordPress widgets to help you build and modify responsive page designs. Since the plugin uses widgets, it is easy for beginners to learn. Besides, it doesn't do much to change the interface of your WordPress dashboard.
The live editing is wonderful for seeing your changes immediately, and the history tab works well for scrolling back to see all of your changes. So if you make a mistake, you can just go back and do it over again.
7. MotoPress Content Editor ($29)
The MotoPress Content Editor is a page builder WordPress plugin that will make creating, editing and customizing your WordPress posts & pages a breeze. It is a premium plugin, but you can always play around with the demo if you aren't sure about paying right away. This plugin completely replaces the default WordPress editor so that the default doesn't get in the way of you dragging and dropping all of your components.
This clever plugin is a content and page editor that integrates with most WordPress themes and replaces the default WordPress editor when installed. This gives you greater control over the look and feel of your posts and pages. Just remember that MotoPress can only customize the content you create while using the plugin (this means that any content you added prior to installing the plugin cannot be edited using MotoPress, and you must use the default WordPress editor instead).
MotoPress includes a number of great page elements (such as buttons, tables, spacing, text boxes and more) that you can use to create custom layouts. Most elements include additional options for margins, alignment, links, color, size and even custom class names (for the developers out there). To add an element simply drag and drop it from the editor bar into place. Then click on the element to make additional tweaks. This awesome front-end editor will make it easier than ever for you to build pages and edit your content.
Other great features include a responsive design, custom post types, WPML compatibility and extension via shortcodes. Plus the plugin include regular updates and full support from the plugin author, so you can be sure its always working perfectly.
8. Themify Builder (Free)
Themify Builder gives you both a back end and front end editor, so you have the flexibility to choose where you want to do your editing. This plugin works with any theme and comes with lots of options for creating the perfect pages for your site. Within the editor, you can easily duplicate modules and rows, and import or export Themify layouts with ease.
The premium version of the plugin is $39 and offers additional useful features such as over 60 predesigned layouts and dozens of animation effects.
9. Nimble Page Builder (Free)
The Nimble Page Builder plugin offers free drag and drop functionality with a powerful layout and fully responsive designs so people can view your website on different devices. You can also conveniently add elements like columns, images, contact forms, parallax effects, tweets and more.
I really like the fact that you can add widgets to any page in your WordPress editor. Simply drag and drop any standard widget in your page editor and you can start editing right away.
10. Live Composer Site Builder (Free)
Live Composer is a front end content creator premium WordPress plugin – which happens to be free now! With this plugin you can quickly create custom content layouts on the front-end of your theme – which means you can see your content as you build it!
There are lots of page builders available that use only the WordPress editor to create post or page layouts. While this is still a super easy way to build your website by inserting content blocks, wouldn't it be even easier if you could see your actual content as you add it? With the Live Composer you can. Just install the plugin on your WordPress site and start building on the front-end!
The Live Composer comes with over 30 modules you can use to create your page layouts. With options for recent posts, images, portfolio items, WooCommerce products, comments, thumbnails, widgets, sliders and so much more you can create just about any layout you want or need. Plus, since you can see what you're creating as you build your pages that means less refreshing the page and more time saved.
Other plugin features include responsive options, lots of module options (i.e. colors, fonts, borders, backgrounds, etc), template support, access controls (so only the users you choose can access the composer) and more. Plus there are even interactive tutorials so you can get the hang of the plugin asap and start building your own custom post and page layouts today.
11. FormCraft Drag and Drop Form Builder (Free)
This isn't exactly a full page builder, but it allows you to create forms using a drag and drop editor. FormCraft lets you quickly put together a stunning form, and you can even manage submissions with ease. Pop-up and inline forms are also included. I should also mention that the plugin creator has included a few tutorials to get you started.
But if you want more features, checkout the premium version of the plugin – it can do much more than its free counterpart. Learn more about the FormCraft Drag & Drop Form Builder plugin here.
12. Thrive Architect Content Builder ($67)
Thrive Content Builder is an intuitive front end editor that allows you to quickly and easily edit your WordPress website. The creators of this plugin are on a mission to take WYSIWYG (what you see is what you get) editing to the next level. It works on a basic but convenient and intuitive click-to-edit principle. If you want to edit an element, you simply click on it and start editing.
In addition to intuitive front-end editing, Thrive Content Builder also come with lots of other great features, such as call to action (CTA) buttons, a testimonial element, and responsive pricing tables.
13. Page Builder Sandwich (Free)
Page Builder Sandwich is another front end editor that's super simple to use. The authors pride themselves on having created "pop up-less" front end editing.  You simply click on the content you want to edit and start typing. A great feature of this plugin is its vast global shortcode mapping database. From this database, you can easily access shortcodes from hundreds of popular plugins like Jetpack, WooCommerce, and bbPress. To add videos within the builder, you can simply paste a URL or embed code and you're done.
While the Lite version is free, you can upgrade to the Premium version for $39. This offers a host of additional features, such as enhanced shortcode mapping controls and a carousel slider element.
14. Frontend Builder ($57)
Frontend Builder is another great option if you prefer to do your editing from the front end. With this builder, you create a page in the back end and then activate the builder for that page. You then hop over to the front end and build your page content from there.
Craft your page layout by adding rows and splitting them into multiple columns. You can then drag, drop, and edit your desired page elements to complete your design. Elements, including headings, buttons, forms, and menus, are all customizable within the main interface.
15. Cornerstone Page Builder ($39)
Cornerstone Page Builder is a front end editor that can be used with both pages and posts. This clutter-free and intuitive builder will allow you to quickly and easily tailor your content without having to switch between screens. One neat feature of this plugin is the Skeleton Mode which allows you to visualize your page structure (or skeleton) at the click of a button. Cornerstone also comes with a continually updated library of elements, templates, and third-party tools.
16. King Composer (Free)
The free version of King Composer offers a responsive drag and drop back-end editor. Within this intuitive user interface, you can create and organize your content by adding rows, columns, and elements. One great feature that sets this builder apart from much of the competition is that pages built with King Composer will remain intact even if you deactivate or delete the plugin.
If you prefer to work from a front end editor, you can upgrade to King Composer Pro for $29 and gain the ability to build pages from the front or back end.
17. Brix Builder (Free)
Brix Builder is a drag and drop builder that gives you full control over every detail of your page design. Its advanced grid system and intuitive interface enable you to create amazing results. Brix Builder has been designed to be modular and scalable so that it can be extended over time without issue.
This plugin comes with 16 modules, or building blocks, ranging from basic text and images to more advanced features like progress and counter modules. It also includes the Font Awesome library, built-in color palettes, and entrance effects to control how elements appear on scrolling.
18. Brizy Page Builder (Free)
Brizy is a front end page builder with incredible options, especially for a free plugin. Brizy stages your content instead of forcing you to work on published pages. That way, you can edit your pages from the front end, but they won't be published until you're ready for them to go live. Another great feature of Brizy is that there are more than 150 pre-made blocks – so you can quickly design your pages in minutes!
19. Bold Page Builder (Free)
The Bold Page Builder is a drag and drop page builder designed to work great with the default 2016 and 2017 WordPress themes. It's a quick, easy and free way to build a better niche site starting with one of these free core themes.
The plugin's intuitive interface is suitable for creating most types of pages. It supports many types of elements including video, masonry grids, images, and rich text. It also supports the Font Awesome icon library, so you can easily customize your pages with any icon.
20. Cornerstone & the Ultimate Elements Bundle
From the makers of X Theme, Cornerstone is an excellent page builder plugin, bringing the building blocks of its flagship theme in WordPress plugin form. Cornerstone is a frontend page builder with options for custom posts and pages. Add buttons, block quotes, maps, skill-bars, sliders, tabs, pricing tables and more.
But it's made even better when combined with a Cornerstone extension such as the Essential Addons for Cornerstone.
The plugin introduces a variety of new elements, most notably a brand new carousel slider feature. You can populate these carousels with all kinds of content – images, logos, testimonials, team members, blog posts, and even WooCommerce products. Each carousel offers plenty of customization options, too, with a choice of styles, layouts, sizes, and scroll buttons. You can also build a custom color scheme and upload a custom background image for them, giving you a platform to show off your creative flair.
Other modules include an Instagram image grid and, my personal favorite, interactive promos.
21. WordPress Page Builder by AZEXO
WordPress Page Builder by AZEXO is a result of numerous trials and mistakes during WordPress themes development for Themeforest by AZEXO team. They investigated almost all Page Builders available on the market and ready for integration with third-party WordPress themes.
They looked for the ideal builder for users and developers with the following conditions in mind:
100% front-end page builder with minimum as possible popups dialogs – so every change of page must be initiated by left or right mouse click directly above object.
Front-end CSS/HTML/JS of builder must guaranteed do not interfere working of page – zero CSS and JS conflicts for all possible environment.
Creation of pages with ready-made sections so user can build pages with maximum speed as it possible.
Full front-end control for almost all CSS styles of every HTML tag – if user need it.
Front-end Builder performance – not more than 500 millisecond for every action even on big page.
It is impossible to break page by careless actions – drag and drop for example.
Minimum as it possible special attributes and classes which need for Front-end Builder working.
Every section/element/block – implemented via pure HTML without PHP generation (one place for source code) – for easiest as it possible development and customization of section/element/block
Page Builder must not add any new tags, attributes, classes for it's internal purposes – only help for user to change HTML which created by developer.
Since AZEXO couldn't find a product which would satisfy all these conditions simultaneously they decided to create new WordPress Page Builder to use in their themes. They decided to not develop a front-end CSS styles editor but instead made the page builder compatible with a very good available solution on the market for such task – Yellow Pencil.
After the developers integrated this page builder into their WordPress themes development process they were able to increase their speed by about 20-30%. They also never spend their time for CSS/JS conflicts and now they are able to merge new themes into single sections/elements/blocks library which can be combined with each other.
22. Gutenberg (Free)
Built into WordPress 5.0 Gutenberg is an option for newer sites looking for a simple content editor. I probably wouldn't call this a page builder, but it does include plenty of options for creating posts or simple page layouts. While nowhere near as feature rich as the options above, Gutenberg does offer users blocks for paragraphs, headings, code, media, comments, lists, etc.
Concluding the Best Drag and Drop Page Builder WordPress Plugins
Everyone should be using drag and drop page builder WordPress plugins, because they improve your productivity and save you money in the long-run. If you have any questions about these plugins, drop a line in the comments section below.