The Best Drag & Drop Page Builder WordPress Plugins
Last updated on: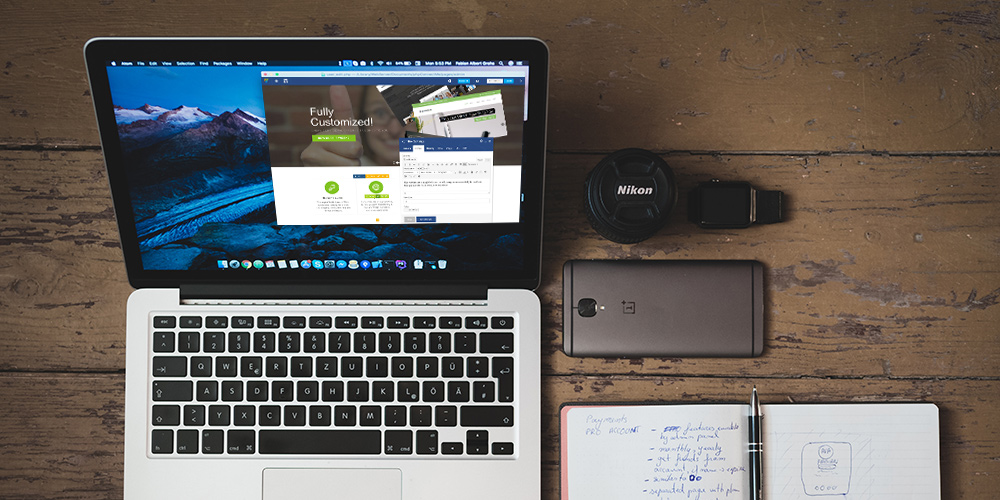 As web building platforms evolve to include those who aren't necessarily well-versed in the world of code, drag and drop page builders have lead the way in empowering anyone to be their own web designer. Even if it's your first time using WordPress, these page builders make it easy to take charge of how your site's overall design comes together.
A drag and drop page builder completes three main tasks:
Enables anyone to create layouts without any coding knowledge
You can actually see what you are creating while you create it
Drastically cuts down the time it takes to build a website
Let's face it: dragging and dropping components is always quicker, and you don't have to switch back and forth from the back end to the front end of your website to see results.
Drag and drop editors are awesome for beginners and experts who want to speed up their production. So let's take a look at WPExplorer's picks for the best drag and drop page builder WordPress plugins for you to choose from.
1. Gutenberg (Free)
Quite literally a part of WordPress, Gutenberg is the core block based builder that has been included since WordPress 5.0. Because of it's availability and ease of use we place it at #1 on our list. And it's completely free!
If you are looking for a simple page builder or content editor then Gutenberg is for you. Everything you need is already available, plus there are tons of free add-ons as well as a massive library of free patterns that you can use (just note that some patterns may require additional plugins to be installed, or may be designed for use with specific themes).
Personally, we highly recommend selecting a Full Site Editing (FSE) theme if you really want to take advantage of Gutenberg. This allows you to use blocks for every part of your site as you can create custom patterns for template parts, like your header, sidebar, a call out, footer, custom post types etc. Though Gutenberg does work with many other page builders if you'd like to only use it to build content.
2. WPBakery Page Builder ($64, or Free with Total)
If you have some room in your website budget then we suggest considering a premium page builder. In this case, the WPBakery Page Builder plugin is one of the top selling drag and drop plugins on the market. And with good reason, it's widely supported by theme developer. In fact, we've even included it (for free) in our top selling theme Total.
With the WPBakery visual page builder you get to choose whether you want to design your website on the front or back end. It also works with any theme you choose to install on your WordPress site, and the over 50+ content elements that the plugin includes are ready to use right out of the box.
That said, the default content elements have room for improvement which is why we suggest either using a theme or a third party plugin to extend WPBakery's functionality. For example we added tons of custom builder elements to our Total WordPress theme using the WPBakery Page Builder, like icon boxes, milestones, post types grids and more. Or if you want to use a different theme, then a premium extension such as Ultimate Add-ons for WPBakery should be able to add any additional features you might want or need.
3. Elementor (Free or $59/yr)
Elementor is an open source front end editor that takes drag and drop page building to the next level. In fact, was the first free page builder with full design capabilities, a unique and super-friendly UI and a speedy and no-lag responding interface that is still much faster than the competition. This advanced drag and drop live page builder gives you instant results, so you don't have to wait around for changes to take effect. This may seem insignificant at first, but these incremental changes add up, and it won't be long before Elementor has saved you hours in page building time.
Elementor can be used with just about any theme and on any page type, so go to town on your homepage, sales pages, blog posts, and more. Elementor's intuitive layout options enable you to easily change everything from section width and height, to column and content position, as well as padding and margin settings.
Since the launch, many releases and updates have been made. Most inspired by requests from users. One major release was the Template Library, featuring the ability to save pages and sections as templates, and use one of many pre-designed and beautifully made templates, added to the page with one click. Another was Mobile Editing, the first toolset to customize any page and make it responsive and beautiful on any device. This is the first time designers can turn a page fully responsive without coding. Mobile Editing has never before capabilities like the ability to set different sizes per device, the ability to reorder columns per device, so you get control over mobile layout, the ability to set different padding, margin and alignments per device, and many other unique features.
Another great feature of Elementor is that all of your third party widgets and plugins are automatically available for you to drag and drop into your pages. In addition, Elementor comes with tons of customizable widgets, 400 unique icons, and over 600 Google Fonts.
Now you can of course use the free version, however it is significantly limited. Many of Elementor's impressive features are only available if you sign up for an annual Pro membership which starts at $59 per year for a single site license. Alternatively, just like with WPBakery you can also find premium themes created around Elementor that include their own extensions or purchase a dedicated add-on like Ultimate Add-ons for Elementor to add more features.
4. Brizy Page Builder (Free or $60/yr)
Brizy is a front end page builder with many options, even in the free version of the plugin. Brizy allows you to create responsive layouts from scratch using their intuitive drag and drop builder. Edit your pages visually from the front end, and simply publish when you're ready for them to go live.
Another great feature of Brizy is the in built design kit which is a collection of 500+ blocks (which are each a section layout created with builder elements) – so you can quickly design your pages in minutes! These organized into categories (such as Hero, CTA, Pricing, Gallery, etc) for a variety of niches with dark and light variations to choose from.
The free version offers a set of 24 basic builder elements (including a contact form) plus 50+ ready to use templates. Comparatively Pro plans start at $60/yr and include 48 premium builder elements, WooCommerce integration, Theme builder, popup builder, vector icons, dynamic content, mega menus, 20+ marketing integrations and 150+ design templates (with multisite, white labeling and priority support reserved for higher level memberships). It would be nice if more features were available in the free version (for example the WooCommerce builder), but it is still a good option if you want to create custom layouts on a budget.
5. Beaver Builder (Free or $99/yr)
Beaver Builder is a visual, drag and drop page builder plugin that also offers a free and a premium version (like many others on our list). So what can the Beaver Builder do? Lots!
The plugin comes with modules for text, headings, images, audio, video, button, icons, HTML, slidebar and columns that you can insert, drag & drop into place, and edit all with a few clicks of your mouse. You can also drag and drop any widgets you have enabled to create custom sidebars for your pages (a great option, since you might want to show different widgets on your store page vs. your blog).
The premium version adds 20+ additional page elements including separators, galleries, icons, content sliders, contact and subscription forms, social links, testimonials, products, maps, recent posts, call to action and more.
The Beaver Builder is also fully responsive, translation ready and WooCommerce Compatible. The plugin also comes with significant perks if you upgrade to a premium plan, such as the core Beaver Builder Theme and multisite support. However this requires selecting a Pro or higher plan, bumping the price up to at least $199/yr which can be cost prohibitive for many users. So as an alternative you could pair the free version with an add-on like Ultimate Add-ons for Beaver builder, which is less than $60/yr (or a single payment of $240 for a lifetime license) and offers more than 70+ modules (including ones for WooCommerce).
Honorable Mentions
We've shared our top 5 builder plugins, but that doesn't meant that there aren't other great options on the web. Here are a few WordPress page builder honorable mentions that offer powerful features even if they aren't our favorites.
6. Elegant Themes Divi Builder ($89/yr)
The Elegant Themes Divi Builder offers endless possibilities for creating incredible page designs. Within this intuitive builder, you simply stack rows of columns and add as many elements as you want.
The Divi Builder comes with over 60+ built-in modules including sliders, counters, and buttons. Every module comes with lots of customization options, including a custom CSS tab should you need to add your own code. But there are also 200+ website elements (pre-designed sections using builder modules) as well as more than 2000+ fully styled page layouts using modules that you can choose from.
The Divi Builder plugin is included in the Elegant Themes annual membership. For $89 you get to access to all of their plugins and themes – including the top selling Divi theme. Which, as the name should imply, is the theme that the builder was created for.
The main reason we did not include the Divi builder in our top picks is that it really only makes sense if you're using Divi. There are a few third party developers that have created one off compatible themes, but realistically the Divi builder was created solely for the Divi theme. So if you're okay with being locked into Divi, then this is the builder for you!
7. SiteOrigin Page Builder (Free or $29/yr)
The SiteOrigin Page Builder plugin is a freemium option that incorporates WordPress widgets to help you build and modify responsive page designs. Since the plugin uses widgets, it is easy for beginners to learn. Besides, it doesn't do much to change the interface of your WordPress dashboard.
SiteOrigin works with Classic editor WordPress widgets, but for more traditional page builder options you should also install their free SiteOrigin Widgets Bundle. This adds 25 useful, core elements like rich text, button, accordion, image grid, pricing table, video, testimonials and more. And there are even more elements included with a premium membership (such as support for parallax, Lottie player, custom post types and white labeling).
The SiteOrigin live editor allows you to see your changes immediately, and the history tab works well for scrolling back to see all of your changes. So if you make a mistake, you can just go back and do it over again. The builder is also Gutenberg compatible – just insert a "Page Builder Layout" into the block editor to use SiteOrigin to create content or to design your template parts.
In our opinion the main reason SiteOrigin didn't make out top 5 is that it doesn't really feel like it's been able to keep up with other options. It's a bit harder to work with as it's widget based, and the front-end interface is not as smooth as options like WP Bakery, Elementor or even just Gutenberg. Additionally, we wouldn't really recommend SiteOrigin as a Gutenberg add-on since there is a lot of overlap with Gutenberg's default block options. And this isn't to say SiteOrigin is bad – if you prefer a more old school interface it might be a good choice for you.
8. MotoPress Content Editor ($39/yr)
The MotoPress Content Editor is a page builder WordPress plugin that will make creating, editing and customizing your WordPress posts & pages a breeze. It is a premium plugin, but you can always play around with the demo if you aren't sure about paying right away. This plugin completely replaces the default WordPress editor so that the default doesn't get in the way of you dragging and dropping all of your components.
This clever plugin is a content and page editor that integrates with most WordPress themes and replaces the default WordPress editor when installed. This gives you greater control over the look and feel of your posts and pages. Just remember that MotoPress can only customize the content you create while using the plugin (this means that any content you added prior to installing the plugin cannot be edited using MotoPress, and you must use the default WordPress editor instead).
MotoPress includes a number of great page elements (such as buttons, tables, spacing, text boxes and more) that you can use to create custom layouts. Most elements include additional options for margins, alignment, links, color, size and even custom class names (for the developers out there). To add an element simply drag and drop it from the editor bar into place. Then click on the element to make additional tweaks. This awesome front-end editor will make it easier than ever for you to build pages and edit your content.
Other features include a responsive design, custom post types, WPML compatibility and extension via shortcodes. Plus the plugin include regular updates and full support from the plugin author, so you can be sure its always working perfectly.
Now, while it is certainly a solid option, since the MotoPress Content Editor is only available if you sign up for a MotoPress membership we'd mainly recommend it if you plan on using other MotoPress products. Specifically, one of their themes that has already been coded to work seamlessly with the Content Editor.
9. Thrive Architect Content Builder ($99/yr)
Thrive Content Builder is an intuitive front end editor that allows you to quickly and easily edit your WordPress website. The creators of this plugin are on a mission to take WYSIWYG (what you see is what you get) editing to the next level. It works on a basic but convenient and intuitive click-to-edit principle. If you want to edit an element, you simply click on it and start editing.
In addition to intuitive front-end editing, Thrive Content Builder also come with lots of other great features, such as call to action (CTA) buttons, a testimonial element, and responsive pricing tables. Plus there are more than 350+ ready to use optimized landing page templates that you can use for your own pages!
The issue with Thrive Architect is similar to the Divi Builder – there just aren't many theme or plugin developers coding compatible products. This means that it's going to be tough if you want to add more features. Additionally, while the plugin can be used to create advanced landing page layouts it really best suited for just that – landing pages. Because the builder can be complex it's not something we'd personally choose to build lots of pages (let alone posts).
10. Bold Page Builder (Free)
Finally, the Bold Page Builder is a drag and drop page builder designed to work great just about any WordPress theme (although it developed and maintained by Bold Themes, so it's best suited to a theme from their collection). It's a quick, easy and entirely FREE way to build a better niche site with your own aesthetic flair. Other than Gutenberg, it's the only other completely free builder option that we're aware of.
So if you'd prefer a non-block based builder experience (again, for free) we'd recommend Bold. The plugin's intuitive front end as well as back end interface is suitable for creating most types of pages. It supports many types of elements including video, masonry grids, images, and rich text. It also supports the Font Awesome icon library, so you can easily customize your pages with any icon. Plus the plugin offers clipboard functionality so you can copy and paste to your hearts content!
---
Everyone should be using drag and drop page builder WordPress plugins, because they improve your productivity and save you money in the long-run. If you have any questions about these plugins, drop a line in the comments section below.