30 WordPress Professionals to Follow on Twitter
Last updated on:
Shout out to all WordPress professionals as well as the perfect beginner readying for the big plunge. This is a special dedication to everyone who just can't seem to get enough of WordPress. You're truly a darling, so get ready to have some fun.
Roughly a year ago, we published a post, 25+ Amazing WordPress Blogs You Should Follow, which garnered great feedback from you. We're talking about awesome and nostalgic comments such as:
This is one great collection Freddy! My favorite ones are WPExplorer, WPKube and of course WPMU Dev Blog. Also love the content on WPLift and WPBeginner. 🙂 – Syed Naimath, @SNaimath
Or…
Freddy, this is an incredible list you've put together. Thanks so much for mentioning WP Superstars – myself and the team really appreciate it. – Adam Connell @wpsuperstars
And I could go on and on because you rock. Each one of you. We love hearing your thoughts, and between you and me, your comments offer a much-needed morale boost. Today, we shall build up on this spirit of camaraderie with a post that gets you up and close with the creme de la creme of the WordPress community.
We point you towards 30 WordPress professionals to follow on Twitter. These guys (and girls) come armed with the best of WordPress tips, news, tutorials, tools and much much more. In other words, it's the kind of crowd you want to hang out with to stay ahead of the curve where WordPress is concerned.
Hungry and thirsty for the latest happenings in the world of WordPress? If that's a resounding yes, take a look at the following Twitter accounts, and don't hesitate hitting that follow button. Ready? Good.
All WordPress Professionals
This is not a drill. It's a special mention for all WordPress professionals across the globe. If you love and/or use WordPress, you fall in this category. If you plan on using WordPress, please take the dive already and don't fret none; you came to the right place.
Too bad we don't have your Twitter handle to shake your hand and personally usher you in. But there's a but.
Whether you're a WordPress beginner or power user, we invite you to drop us a line and your Twitter handle in the comments, so we can laud and recognize you as a vital cog in the gears that run WordPress. If you're the perfect beginner, feel free to follow @WordPress on Twitter.
WP Explorer
Bias or no bias, WPExplorer is one Twitter account you must follow. AJ Clarke and Kyla are top WordPress professionals on my list, and I'm not saying this because they cut me checks. Nope, that's not it.
I have watched the duo grow this blog from a tiny speck in the vast WordPress universe to the big bright star it is today. WPExplorer Twitter feed is laden with the best of WordPress reviews, news, tutorials, tips, giveaways and much more.
Devesh Sharma
Hands up if you've been to any of Dev's numerous WordPress sites. One of the most ardent WordPress professionals to ever grace the web, Devesh tweets from @wpkube. Tweets revolve around WordPress development, themes, plugins, news, tutorials and much more.
WinningWP
Curated by Brin Wilson, a self-proclaimed WordPress enthusiast from London, @winningWP shares a wealth of WordPress expertise and knowledge contributed by WordPress professionals from all over the world.
Syed Balkhi
I don't know whether to link to Syed's personal Twitter account @syedbalkhi or his more popular @wpbeginner account, because both are awesome. Syed is the guy behind other auspicious WordPress projects such as Soliloquy, Easy WP Forms, Envira Gallery, Optin Monster and so much more.
Tom McFarlin
Tom has been around WordPress what with awesome gigs on nice sites such as Tuts+ Code, CareerBuilder.com and Smashing Magazine just to mention a few. He occasionally speaks at WordCamps and MeetUps both as a blogger and as a developer. You'll also find his work at WordPress plugin repository and GitHub. He founded and runs @pressware.
Jean-Baptiste Jung
Jean is a professional web developer, blogger, and the guy behind Cats Who Code and WP Recipes. You can follow tweets about WordPress and everything web development.
Lorelle VanFossen
Lorelle VanFossen is so awesome I will let a fan speak on her behalf:
If you have a WordPress powered site, subscribe to Lorelle's blog. Actually, if you don't have a WordPress powered site, still subscribe. She writes tips and tricks for WordPress but she also covers general blogging tips. Everyone can benefit reading Lorelle on WordPress. – Tyme White, 9 Rules Network
Carrie Dils
Carrie Dils knows her stuff, and her blog…well…it's something else. But that's probably because she runs on the Genesis Framework. Did I mention she knows her stuff? Carrie Dils is a professional WordPress developer and consultant. Her Twitter feed is exactly where you need to be. @cdils it is 🙂
Sarah Gooding
This list keeps getting better and better. Is Sarah among the top WordPress professionals of this era? Darn right she is. She's quirky, funny and has a way with them words. Without sugarcoating it, she's a great blogger and knitter too! She tweets regularly at @pollyplummer.
Paul Andrew
Paul Andrew is the guy who brought us the popular Speckyboy Design magazine. He has extensive experience in web design and tweets about tools, resources and innovative techniques for WordPress and web design in general.
Chris Lema
This piece would be incomplete without Chris Lema, wouldn't it? He's a famed professional coach, speaker, writer and blogger. His advice is of great help if you need to leverage WordPress, own blogging or build a high performance team.
Pippin Williamson
Pippin W. of Pippins Plugins is a fine beer aficionado and the guy behind some of the most popular WordPress plugins such as RestrictContentPro, Easy Digital Downloads and AffiliateWP among others. His blog is home to plenty of WordPress tutorials and posts full of the best tips. Catch Pippin at @pippinsplugins.
Brian Krogsgard
Brian created and now runs Post Status, a long form blog dedicated to informing WordPress professionals about the industry. Listen to WordPress podcasts on the go, or read articles about WordPress core, news, development, business and much more.
Lisa Sabin Wilson
Tweeting from @LisaSabinWilson, Lisa is the brains and brawn behind @AppPresser, co-owner of Web Dev Studios, and author of WordPress For Dummies. She is always tweeting about business, WordPress design, development and life in general.
Nile Flores
Nile is a mother of one son, Luis Angel Flores. She's a professional WordPress designer/developer and SEO consultant. When she is not working, she indulges in drawing, astronomy and karate among other hobbies. She tweets at @blondishnet.
Adii Pienaar
Have you ever heard about @WooThemes? No? Well, they make some of the best WordPress themes. Oh, I nearly forgot; these guys gave the WordPress community the most popular eCommerce plugin, WooCommerce. Ring a bell?
Adii is the co-founder of WooThemes and now works on @getconversio. He's a new dad and an ex-rockstar based in Cape Town, South Africa.
Christian "Kriesi" Budschedl
Kriesi sells high quality WordPress themes at Kriesi.at. He says so himself and with 17 premium themes, and over 170k customers to show for it, he is among the top WordPress professionals you must follow. He tweets about WordPress now and then. Follow @kriesi.
Frederick Townes
If you love super-fast WordPress websites, you ought to love W3 Total Cache. Now, Frederick Townes is the widely published blogger behind this amazing plugin. He covers topics such as social media, web hosting, web design and internet marketing among others.
Matt Mullenweg
How could we forget Matt Mullenweg, WordPress founding father and entrepreneur extraordinaire? His Twitter bio links to a number of WordPress projects and the feed is full of awesome updates about business, entrepreneurship and WordPress, obviously.
Mark Jaquith
Serial WordPress committer and blogger Mark Jaquith earns a mention on this list of WordPress professionals for his enormous contribution to a platform we've grown to love dearly. He blogs about WordPress and the advice he offers is invaluable whether you're a beginner or pro.
Matt Medeiros
If you use (or plan to use) WordPress in your business, you need to listen to Matt's podcasts. He interviews people who make a living using WordPress, and shares it all on Matt Report, his behemoth of a blog. That, and he is an astute WordPress blogger worth checking out.
WP Engine
One of the best managed WordPress hosts around, WP Engine is a well known name in the game. These guys are always tweeting about the latest WordPress tips and news.
Ahsan Parwez
Ahsan is the WordPress community manager at Cloudways, a cloud hosting company like no other. He is also a WordPress developer and technical SEO expert who tweets about WordPress plugins, news, hosting and blogging among other topics.
Jeff Chandler
Contributing writer at @wptavern, Jeff has been blogging about WordPress since 2007. On top that, he hosts the WordPress Weekly Podcast, which means his Twitter feed is plenty of awesome stuff.
Jesse Petersen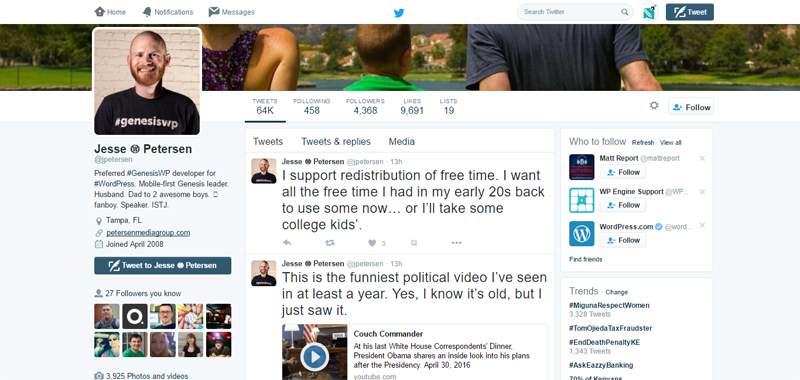 Jesse is a recommended Genesis child theme developer who spends most of his time developing sites that convert, entertain and sell. On his blog, you find webinars, videos and courses on WordPress, the Genesis Framework and running a WordPress-based business. But even with all these hats, his family comes first always.
Alex Vasquez
Alex eats, sleeps and dreams delightful WordPress sites that connect businesses to customers. He will help your business grow, and will keep you motivated on the side with inspirational tweets about WordPress and everyday life.
WP Theme Info
Looking for the perfect WordPress theme for your next project? I bet you read reviews and shop around for nothing but the best. WP Theme Info analyses premium WordPress themes and plugins offering you "…easy, affordable and superior quality WordPress solutions for every niche." Their Twitter feed is full of tips and news about WordPress themes and plugins.
C. Bavota
As a premium WordPress theme developer, Bavota knows the ins and outs of WordPress to school you up on all the skills you need to make a living. He's always tweeting about WordPress news, tips, themes, updates and much more.
Konstantin Kovshenin
WordPress core developer Kovshenin is more than meets the eye. He has Python, PHP and WordPress at his fingertips, or else why would he appear as a keynote speaker in so many a WordPress event. He's a father, a WordPress geek (addict?) and works at @automattic all the way from Moscow.
Conclusion
You'll agree this is quite some list. All the same, there are many more WordPress professionals out there, you included. So if you don't see the familiar name (or Twitter handle), feel free to share in the comment area below. Don't forget to share your Twitter handle as well to keep this list growing. Cheers!
Pssst – A note from WPExplorer: Freddy made this awesome list and he didn't even include himself! Follow Freddy on @VistaMediaInc to get lots of tips for WordPress, web design, SEO and more!