WordPress Blogging Tips To Make Your Blog A Success
Last updated on: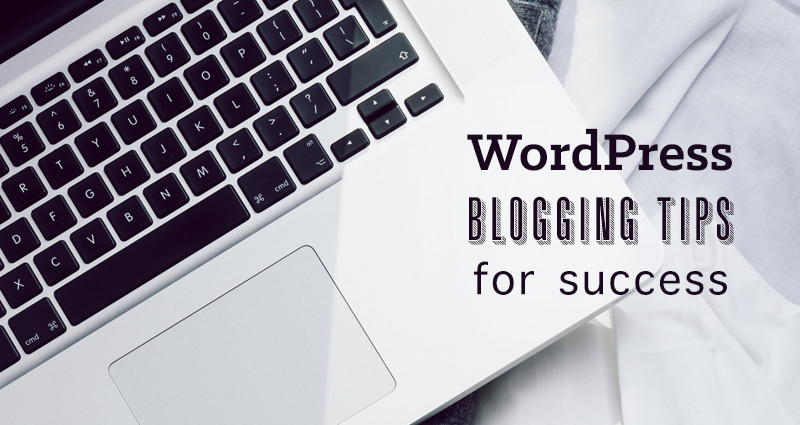 Since it's inception blogging has been a fantastic way to share your passion for a subject with other likeminded folks on the internet. Whether you write about cooking, mechanics, SEO or bird migrations there is an audience out there for you. And in the last 20+ years blogging has evolved from a simple hobby to a full blown career. Which is awesome! People are actually making a living doing what they love and sharing that passion with others.
We've shared tons of tips in the past for how to start a blog, how to build an online presence and how to grow your audience. Today we'll cover a handful of key blogging tips you can put to use immediately to help make your blog even better and become a successful blogger!
Write About What You Know
This may seem obvious, but write about what you love and what you are knowledgeable about. When you write about what you're interested in your passion will show through in your writing. This makes your new career in blogging more enjoyable and more manageable.
If you want to add more articles about a particular subject that you aren't an authority perhaps you should more authors to your team. Many WordPress themes include support for multiple authors as well custom author pages.
Want to add authors without giving them free reign over your blog? Try a plugin like the free User Role Editor for WordPress. This plugin allows you to limit access for various user roles (admin, contributors, subscribers, etc.) and then assign those roles to your registered users.
Create Relevant Content
Another important aspect is to keep your focus on relevant content. You don't see us writing about Youtube drama here on WPExplorer do you? Just because there are bloggers cashing in on a particular subject that doesn't mean you should try to write about it too… unless it's relevant to your blog's focus AND it's something you're knowledgeable about.
Make Your Articles Interesting
If you write about what you know it will make this tip much easier – you have to keep it interesting. Nobody wants to read a dictionary so don't write your articles like one. Find your writing style (there are tons of great articles online with writing tips find and develop your online voice) then dig into some of our other tips to revamp your articles.
Use A Good Headline
Along with interesting content you'll also need a great headline that catches attention and gets clicked. Headlines are the first thing potential new readers see in search engine results or on social media. When brainstorming consider the 4 U's for a great headline:
Urgent: If possible your title should include some type of urgency or call to action. Create content your readers can use to make a change today, or share something free for a limited time.
Unique: This is extremely important – your content must be one of a kind. Don't blatantly copy other's work. This is not only a crime that can affect your SEO but readers will stop coming back if all your blog provides is regurgitated information. Think about the kind of content you would like to read but haven't found yet then get to work creating it.
Useful: Write content that your readers want or need to read. Your articles should include information your readers can put to use which depending on your niche could be decor DIYs, life lessons learned when you became a parent, tips for snagging your dream career, or maybe a guide to creating an awesome blog.
Ultra-Specific: The only thing better than useful content is hyper useful content. The more specific your content the more involved your readers will likely be. Of course the flip-side is that the more niche your content the smaller the pool of readers you're appealing to, but by creating a good mix of general and specific articles on your blog you can grow and cultivate your audience of readers.
For even better headlines you could also use a title split testing plugin. With the plugin you can try out variations of the same headline to see which format appeals the most to your reader base. While this isn't a necessary step, it's something to consider even if you just split test titles for a limited time to get a feel for what your readers like to see.
Add Social Sharing
After investing all this time to create awesome content you want your readers to share it right? Of course you do! Well users are going to be more likely to share your content if you create sharable content. What does this mean? Glad you asked.
Make sure you have social sharing buttons built into your blog. Don't rely on your readers to have social browser shortcuts or to go through the extra effort of opening up their social accounts to share your content. On average people are bad at making decisions so the easier you make it for them to do something (like sharing your content) the more likely they are to do it.
A great free plugin for social buttons is Jetpack by Automattic. Jetpack offers bloggers a variety of powerful options all from one awesome plugin and one of those options just happens to be social sharing. After installing Jetpack go your dashboard and navigate to Jetpack > Settings > Sharing to enable your sharing buttons and to select a button location. There are currently 10 services supported (including the big three – Twitter, Facebook and Google+) as well as options to email and print.
In addition most people feel the need to belong to a group. So by showing the count of your social shares or your total social followers it's possible to boost a reader's likeliness to follow suit. Monarch is a great premium social plugin you can use to create social links and social sharing buttons with counters. But depending on how many followers you have you may want to hide your counters until the numbers are a bit more impressive.
Your Blog Should Be Easy To Read
Getting your content in order is a huge step but you shouldn't neglect readability. One quick way to check your content is with the Flesch test. The Flesch reading ease test is a standard method of testing the difficulty of a passage or article written in English. It's essentially a mathematic formula using your sentences, words and syllables as variables. While it shouldn't be the only factor to consider your Flesch score can help you write better content for your target audience.
If you already use the Yoast SEO plugin to optimize your WordPress site for search engines you'll be happy to know you can use the very same plugin to optimize your posts for human readers too since it has a Flesch Reading Ease test built-in. With the Yoast SEO Content Analysis tool you can see a quick snapshot of your title, meta and content SEO and make changes accordingly to get all your variables in the SEO green zone (you can take the real-time content analysis for a test drive on their website).
Clean Up Your Website Design
There are lots of great blogs that you've surely never returned to because their website design put you off. Seriously. Who wants fancy illegible fonts, flashing advertisements and crazy packed sidebars in their face? Many times simpler is better and when it comes to your blog readability should be key.
Use a WordPress theme that makes it easy for your readers to do what they do best (read) while giving you the options you need to run your blog/business. For some this may mean choosing a straight-forward blogging WordPress theme like Pineapple. This clean, minimal and FREE WordPress theme uses a simple centered content layout without a main sidebar so your readers keep their focus on your content not your widgets and other fluff.
If your needs are a bit more complex you might want to choose a bigger premium theme with a page builder (so you can build any other landing, shop, team or other pages you may need). We created Total right here at WPExplorer and built it the right way. Add unlimited blog pages, take advantage of the optional blog filter, choose from three main layouts (masonry, grid or standard list style), add a sidebar (or don't), add multiple authors with avatars, create post series, use custom image cropping, enable social sharing and more. And those are just some of the blog options! You can also add custom colors, fonts, logos, etc. Checkout the demo to see more!
And no matter which theme you choose make sure you choose a good font in a font-size that your readers can easily read. According to the American Writers & Artists Inc the best fonts for online reading are Arial in size 12+, Veranda at 10 or Georgia if you require something a bit more formal. They also found that if you're appealing to a more mature audience you should up your font-size to at least 14.
If you're not sure how to add custom code to change your theme fonts just get Easy Google Fonts for WordPress. With this free plugin you can make changes to your fonts right from the WordPress live customizer (no coding skills needed). Edit and preview the font color, size, line height and letter spacing for various text elements throughout your site.
Simplify Your Formatting
Keeping your content organized goes a long way. If you're putting in the effort to write a 2000+ word post you want your readers to make it to the end. One way to improve the readability of your posts is with the formatting you use.
Every thought you put into type doesn't have to be long, shorter sentences certainly have their place and can help keep you (and your readers) on point. Use headings to clearly label the various sections of your article. You should be using H2 headings for main sections with additional lover level heading (H3, H4, etc) as needed. Add bullets and numbered lists for simple and quick points within your posts.
Use Images To Your Advantage
A picture is worth a thousand words supposedly but for your blog it can be worth a whole lot more if you're taking proper advantage of it. Create images that are visually captivating. Thanks to free stock photos sites finding affordable images is a breeze. Then with Photoshop or the free online tool pixlr you can edit your image to add text, filters and more.
Make sure you also include an alt-text when you add images to your posts. Search engines can see this information. By optimizing your image alternative text that very same image just might rank better in search engine image results (creating a whole new channel of web traffic to your site).
Encourage Reader Engagement
We've covered this topic before but that's only because it's so important. Your audience is the focus of your blog so getting them actively involved is especially important. Here are a few simple ways to do just that.
Improve Your Comments Section
Your comments are the easiest way to get your readers involved. While WordPress comments are pretty great on their own, there are a ton of awesome WordPress plugins available to help you make your comments even better. Here are just a few of the best WordPress comments plugins (in our opinion) to level up your commenting section.
Start A Newsletter
Another simple way to reach out to your readers is with a newsletter. Newsletters go right to your audience's inbox so no matter where they are they can see you've got something new to checkout. Growing your email list is also an awesome way to share exclusive content with your readers, like a freebie or special contest just for them.
Consider A Freebie or Contest
Whether you offer a freebie/giveaway for subscribers only or for your entire audience, it's always nice to be able to give back to your readers. They are the ones supporting you and making your blogging lifestyle possible after all! Lucky you, with WordPress it's super easy to host your own competition or giveaway with the help of a plugin. You could also consider creating free downloadable goodies (like free WordPress themes, free ebooks, free psds etc) or securing exclusive discounts for products that you recommend.
---
This is just the tip of the iceberg of ways to improve your WordPress powered blog and we hope that some of these tips will help get you on the path to making your blog a success. But don't just stop here – there are tons of ways to improve your blog credibility, website security, WordPress SEO and even your subscriber rate. So keep researching and learning. And if you come across any other helpful blogging tips be sure to share them in the comments below!