Best WooCommerce Shipping Plugins for Your Online Store
Last updated on:
Shipping is one aspect of an online store that requires a careful strategy. Since an erratic shipping strategy can easily upset your customers, you need to pay extra attention to get it right all the time. And that's where a shipping plugin can help.
Each store owner will have different considerations depending on the interests of their customers and the nature of their products. But in general it's  important to show the accurate shipping charges upfront (as any unexpected charges may lead to cart abandonment) as well as an estimated delivery date (to manage expectations).
If you are using the WooCommerce platform, there are several interesting plugins that will help you execute your shipping strategy smoothly. Just like there are a number of WooCommerce payment gateway plugins, there are also a variety created to help with shipping. In this article, we will list out some of the best WooCommerce shipping plugins for your online store.
Disclaimer:
WPExplorer is an affiliate for one or more products listed below. If you click a link and complete a purchase we could make a commission.
1. ELEX USPS Shipping Plugin with Label Printing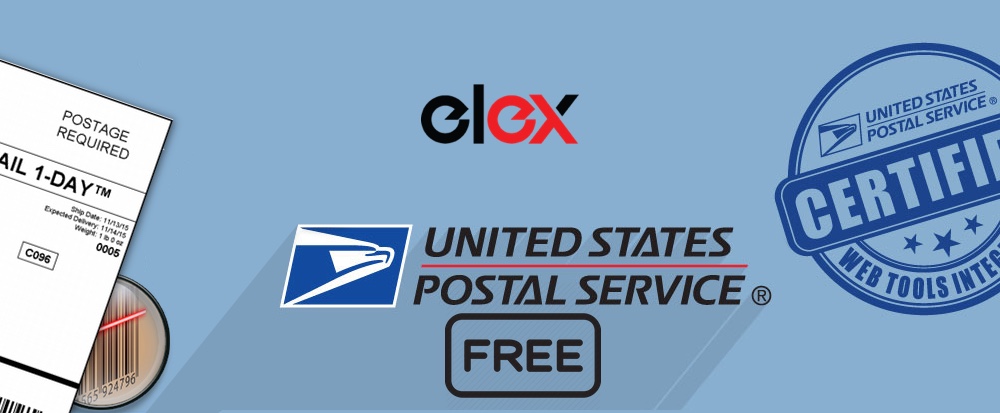 This free plugin lets you display real time rates from USPS API on your cart and checkout pages. You will be able to use normal rates as well as discount rates on your store. It offers an option to set a fallback rate in case the API does not return rates. In addition, you will also find an option to display all the available rates or only the cheapest rates. The premium version of ELEX USPS Shipping plugin offers options for eVs label printing and shipment tracking. If the volume of shipping is low on your store, you can use ELEX Stamps.com plugin for a complete integration of USPS shipping.
2. WooCommerce Table Rate Shipping
Shipping certainly occupies an important position within every eCommerce site, so it is more than clear why you need to have a powerful and feature rich shipping plugin. WooCommerce Table Rate Shipping is one of the best plugins for that because it provides you with an advanced and, at the same time, easy way of determining/setting shipping costs. Key features include calculating shipping based on the destination, using shipping classes to build fine grain rules, creating unique shipping method names, the ability to hide shipping methods, import/export of shipping methods, and forcing shipping methods to be used. Plus they offer a free lite version that you can try from WordPress.org that lets you set up multiple tables of rates using this plugin based on total cost of the order and product weight.
3. Advanced Flat Rate Shipping Method WooCommerce
The default flat rate shipping option of WooCommerce provides you options to set shipping rates per order, per item and also based on shipping classes. However, if you want more advanced options to calculate shipping rates, this plugin will help you. With this one, you will be able to create rules for shipping rates based on product, category, cart total, shipping location, etc. In addition, the plugin also offers to set shipping rate calculations based on cart quantity, and also for specific users. If you want more advanced options, take a look at the premium version of Advanced Flat Rate Shipping plugin in the WooCommerce extensions store.
4. ELEX WooCommerce Shipping Calculator, Purchase Shipping Label & Tracking for Customers
This advanced WooCommerce shipping calculator plugin allows configuring a platform for calculating shipping rates of FedEx, UPS, USPS, and Canada Post based on the source and destination address, and the weight and dimensions of packages using your EasyPost API.
With this platform, your customers can generate one or more labels and tracking links of shipments seamlessly. The admin will have complete access to decide which shipping services must be available on the shipping calculator, and they can even add a percentage or fixed price adjustment to the shipping rates. It also helps to charge a handling fee from your customers, which will be added along with the subtotal of shipping cost to be paid by the customers.
5. WooCommerce Conditional Shipping and Payments
Many of the best shipping plugins allow you to add helpful delivery options – but you don't want customers using carriers that aren't available in their country. With Conditional Shipping and Payments you can setup conditional rules to specify available shipping carriers by location, add custom shipping options as a perk for specific customers (such as members), add free shipping based on spending, limit shipping options based on weight and more. Plus the plugin works with many of WooCOmmerce's other extensions for added functionality.
6. ELEX WooCommerce DHL Express Shipping
You will be able to integrate the services of popular shipping carrier DHL using this plugin. When a customer adds a product to cart, the plugin retrieves real time shipping rates from DHL by taking into account product weight and shipping locations. Moreover, the plugin provides options to display estimated delivery time and a breakdown of different applicable charges in the shipping rate. For printing DHL shipping labels and provide tracking information to customers, you can check out the premium version of ELEX WooCommece DHL plugin. Along with DHL Express, the premium version of the plugin offers integration of DHL Paket and eCommerce as well.
7. Table Rate for WooCommerce by Flexible Shipping
This plugin can help a lot to set up table rate shipping on your online store. You can determine shipping costs based on cart total and cart weight. Also, you can set minimum and maximum values for cart total and weight. Moreover, the plugin helps you add handling charges to your shipping methods, or even create cash on delivery option with extra charges. For more advanced features, check out the premium version of the plugin.
8. FedEx, UPS and USPS shipping via EasyPost
Sometimes displaying rates of multiple shipping carriers can help to enhance customer satisfaction, as they can choose from different options. This plugin will help to display rates of FedEx, UPS and USPS on your online store's cart and checkout pages. The rates will be calculated automatically based on customer's location and other aspects like product dimensions. You will be able to choose between residential and commercial rates for all carriers. With the premium version of the plugin, you can print shipping labels and offer tracking information to customers.
9. WooCommerce Shipping
This free plugin will help you print USPS shipping labels directly from your WooCommerce store admin. If you have discounted rates available with your USPS account, you can use those rates to print labels. The plugin will save you from the troubles of transferring order details from your online store to another software for fulfillment. Also, you can avoid standing in post office queues to print labels, as you can print labels directly from your home, attach it to the parcel and drop them off. However, if you want to display real time USPS shipping rates on your cart pages, you will have to get the premium USPS shipping method extension.
10. WooCommerce Advanced Free Shipping
Offering free shipping to customers can help a lot in improving your conversion rate and average order value. However, you also need to be careful while offering this option as it can impact your profitability. This plugin will help you set up a range of rules to offer free shipping on your store. Some of the conditions that you can use with this plugin are order subtotal, quantity, location, user roles, shipping classes, etc. Also, the plugin is quite flexible as it allows easy customization using code snippets. You can find a pro version of Advanced Free shipping plugin with more features.
11. Address Validation and Address Autocomplete
Sending a shipment to a wrong address can be a nightmarish experience for both the customer and store owner. This plugin will help you verify the address that customers enter while checking out. It also offers an address autocomplete option, which will help customers have a better checkout experience on your online store. The free version of the plugin uses the APIs of EasyPost and Google for address validation and autocomplete respectively. And the premium version of the address validation plugin uses UPS or USPS APIs.
12. WooCommerce Weight Based Shipping
If you want to define shipping rates on your WooCommerce store based on order weight, this plugin could be really useful to you. In addition to order weight, you can create shipping rate rules based on subtotal ranges and shipping destinations. You can set up a flat rate based on specific conditions, or you can go for a progressive rate based on increasing weight units. The premium version of the plugin gives you more scope as it supports shipping classes as well.
13. Hide WooCommerce Shipping Methods
If you want to display shipping methods conditionally on the cart and checkout pages from a range of available options, this plugin will help you. You can hide select shipping methods when free shipping is available, or dependent on certain other conditions. The conditions include the presence of certain shipping methods, item weight, shipping classes, etc. And, if you want to include other conditions such as specific products, categories, services of shipping carriers, location, and the like there is a paid version of the Hide Shipping Methods plugin.
14. Order Delivery Date for WooCommerce
An important aspect of shipping experience for customers is to know exactly when the shipment will reach them. This plugin helps you provide this information to your customers, and helps in enhancing your conversion rate. You will be able to provide an option to customers to choose the delivery date while they are on the checkout page. And it lets you configure the minimum time required for delivery and also helps you display the days you won't be delivering. Moreover, you can set a limit to the number of deliveries assigned to a particular date to avoid operational hassles. The pro version of this plugin offers a lot of customization options.
15. Australia Post Label Printing and Tracking
If you prefer to integrate the shipping services of Australia Post to your online store, you should try it out with this plugin. It helps you display Australia Post services on the cart and checkout pages. It lets you access eParcel contracted and non-contracted rates from the Australia Post API. You can also disable specific alternate services like Satchel, Letter, etc. Many more features like label printing, shipment tracking and box packing are available with the advanced version of this plugin.
16. Advanced Shipment Tracking for WooCommerce
This plugin helps you provide shipment tracking information to customers once they place an order on your online store. You will find the tracking links and images of more than 100 different shipping carriers preloaded with this plugin. In addition, you can add your own shipping service providers and customize the display and email options. For creating smoother fulfillment workflows, you can use Trackship API.
17. WooCommerce Address Book
This is a free plugin that will let your customers store multiple shipping addresses in your store as part of their account. Often customers will be shipping to different addresses and this plugin could improve the customer experience effectively. However, if you are looking for an option to send shipments to multiple addresses from the same order, this plugin may not be the option. You can try the Shipping Multiple Addresses plugin available on WooCommerce extensions store for that.
18. WooCommerce Dropshipping by OPMC
We've covered standard shipping plugins – but you can also setup your WooCommerce store to use dropshipping. With the premium WooCommerce Dropshipping add-on you can automate the process of importing inventory, assigning products to suppliers and notifying supplies when you've made a sale of one of their products. Plus suppliers have easy access to shipping info and packing slips – so all that's let for you to do is sit back and watch your orders ship themselves!
---
Hopefully the WooCommerce shipping plugins we discussed above will help you execute a great shipping strategy on your online store. If you want to share an insight, or have a query, leave us a comment.