How to Build an Amazing Travel Blog With WordPress
Last updated on: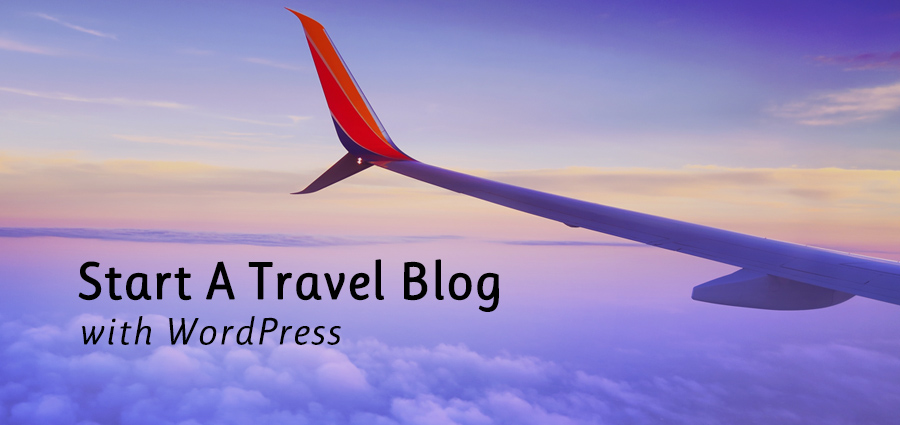 Who doesn't love to talk about where they've travelled to? If you are a frequent traveller, or just love traveling, you may have thought about writing a travel blog but don't know where to start.
WordPress is the perfect CMS for travel bloggers because it's easy to set up and there are lots of resources to help. You can create your own travel blog ready for you to share those breathtaking journeys and adventures in no time.
This article will take you through what you need to do to set up your own travel blog and share some themes and plugins that will take your travel blog to the next level and make your stories come alive for your readers. Let's get cracking!
1. Get Inspired by Other Travel Blogs
There is no shortage of travel blogs, so it is hard to pick only a couple to highlight. The best travel blogs are beautiful to look at and share a unique perspective on travel.
What You'll Need for Your Travel Blog
Now that we've shown you what a travel blog on WordPress can look like, let's take a look at what you will need to get started:
WordPress: Pretty obvious, right? You'll need it installed either locally or on your web server, and we will explain how you can get that set up below.
A theme: Next we will tell you what you should be looking for in a travel blog theme and give you some free and premium suggestions. Just choose one that suits your taste.
Plugins: We'll tell you what plugins you should consider adding to your website.
Beautiful photography: Half the fun of travel is the pictures, so you'll want plenty of photographs on your site, and we'll show you how to make sure they don't slow it down.
Nothing too complicated, right? Let's go!
2. Get a Good Hosting Plan & Install WordPress
The first step to setting up your blog is to get an instance of WordPress running either locally or online. For WordPress hosting, we highly recommend:
WP Engine: Managed hosting that starts at $29 per month, and they handle installs, backups, and updates.
Flywheel: Another managed WordPress host, but at $15 per month, it's great if you are on a budget.
Bluehost: Very budget-friendly, starting at $3.49 per month, and they have a quick install option for WordPress.
Now you have WordPress set up, what's next? Let's take a look at themes.
3. Choose a Travel Blog WordPress Theme
Although it's easy to change themes in WordPress, you should look at a few different themes before you start – don't just pick the first one you see. If you are thinking about purchasing a theme (which we recommend), check out our tips for buying the perfect WordPress theme.
When looking for a travel blog theme, you will want to pay attention to the layout and how it uses images, as this will be vital to your storytelling. Also look at whether it has built-in support for maps, as this can add another dimension to your travel stories. Here some WordPress themes you should definitely consider.
Total WordPress Theme (Travel Blog Demo)
Total is by far one of the most flexible and feature rich WordPress themes on the market, so it makes sense that it's a great choice for travel blogs as well. Use the included premium animated sliders, drag & drop page builder, image galleries, portfolio options, built-in post gallery formatting, custom image settings and more to design a pixel perfect website exactly how you want it. With intuitive options in the theme Customizer plus quick-import sample sites (like the Travel demo seen above) Total makes getting started easy even if you're new to WordPress.
Mesa Free Photo Blog WordPress Theme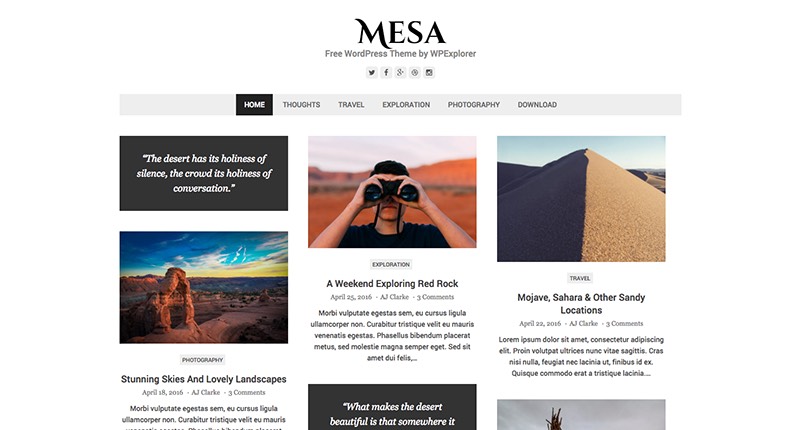 The Mesa Free WordPress theme from WPExplorer is the perfect way to build your travel blog today. With support for many types of media (image, gallery, audio, video and quote) and a clean masonry grid layout Mesa is perfect for showcasing your adventures.
WPVoyager Travel Blog WordPress Theme
The WPVoyager Theme is a bold, modern, premium theme uses elegant photo grids and Google Maps integration to entice your readers. Plus it supports KML trails so you can document your around the world travels.
Expedition Travel Blog Theme
Expedition is a responsive travel blog premium WordPress theme developed by WPZoom. This well traveled theme is perfect for sharing your favorite locations, hotels, activities, restaurants and more.
What makes Expedition great starts at it's core. The theme was built on the powerful ZOOM framework to give you plenty of color and font options, shortcodes, SEO settings, page & post templates and more. The theme is fully localized and completely ready to be translated into your native language so your readers can actually read your blog. Expedition is also fully responsive, so if your readers catch the travel bug they can checkout your blog from any desktop, tablet, phone or other device they have access to.
4. Add Helpful Plugins for SEO, Maps and More
One major advantage to using WordPress to build your site is the availability of plugins to do just about anything. We do recommend some basic plugins that you should consider installing and activating first on your site, such as Yoast SEO for search engine optimization and Akismet for spam protection. We cover some other options in our article on how to get started blogging.
As you build your travel blog, you may want to do a bit more than just write about the places you've been. Maps are a good way to help take your readers with you, and many travel blog themes will include map support. Adding in Google services such as analytics or captchas. And you might want to consider a social plugin too.
5. Add and Optimize Your Images
No travel blog would be complete without images of the destinations, and we know you have pictures of your trips. If you want to truly immerse your readers in your travel tales, you will need to have beautiful images of the places you writing about.
The big problem with having images on your website is that they can take up a lot of space, which unfortunately may slow your website down. Your website needs to be fast, especially if your readers want to browse your site on their mobile device.
Image optimization helps images take up as little space on your site as possible, which starts with using the right size and image format. We've written a pretty comprehensive guide to optimizing images to help you out, so don't feel you can't do this. There are also several image optimizing plugins you can use to help.
Conclusion
Creating a travel blog with WordPress is easy, and can be done pretty quickly using a beautiful theme and some plugins. Add your images to support your stories and you'll be transporting your readers around the world by the weekend!
All you need to do is follow the simple steps we outlined to get started:
Gert inspired
Set up WordPress
Choose a theme
Install the right plugins
Use beautiful (and optimized) images
Did you take our advice, follow the steps and finally start your travel blog? We would love to see how you'll be sharing your next adventure, so share the link below. Or if you have any questions or suggestions, please let us know in the comments section below!