Ultimate Guide to Free WordPress Themes
Last updated on:
If you're only preparing to take your first steps up the web development mountain, this ultimate guide can be a go-to resource for you.
These days, it seems like a no-brainer to build a website. It's self-evident. Whether you run a small bakery delivery service or are in the process of patenting and developing a brilliant invention, it's impossible to overstate the importance of an online presence for any business in today's connected world. And that's where a website comes in. The website is your own online identity. The good news is that with WordPress CMS platform anyone can build his/her own website without spending an arm and a leg on it. Eureka!
The fact that WordPress is a free open-source platform with a boundless ocean of free and premium themes, is what makes it awesome. The fact that there's a lot you can do with it for free, is what calls out to people. Let's say, with WordPress people can test out their ideas to pursue their dreams, hobbies, and wishes. Though the biggest hurdle is often picking the right WordPress theme. With so many choices it can get confusing.
The good news is that there's an overwhelming amount of free WordPress themes available on the web. The bad news is that there's an overwhelming amount of free WordPress themes out there for you to try.
In fact, there's nothing wrong with using a free WordPress theme –  just keep in mind what you are and aren't getting.
What is a Free WordPress Theme?
To begin with, a free WordPress theme is one of the easiest and cheapest ways to build a website for free, for Pete's sake! A free WordPress theme is just the thing to help people who don't have a lot of money but have a desire and a dream. Moreover, they are willing to work for that dream on their own. Free themes are great for those on a budget and haven't got the cash to spare. The best thing about free themes is that once you go for it, you can always upgrade it to a premium solution later on or switch to a different free theme.
There're lots of theme stores including TemplateMonster, WPExplorer free themes, ThemeIsle and more offering great free WordPress themes attracting the attention of users to their digital products. And of course the WordPress.org Theme Repository has the largest collection of free WordPress themes available online making it a great place to test the waters and get started with WordPress themes.
GPL License
Admit it, you've never read a single software license in your life. Most people have never paid attention to them, too. When we talk about free WordPress themes, the GPL license is an inevitable part of it. Why is it important? Let's put some light on it.
In simple, the GPL ensures you have the freedom to run, study, and change the program/code as well as redistribute and modify its copies to others. Thus, GPL means freedom for you, however, not the price. In other words, once you made changes to the code, you're obliged to release it using the same license. As a result, the more people tweak it, the better and stronger this software becomes. And it boils down to the fact that GPL license focuses on free things, and nothing about the price of anything.
99% of free WordPress themes features a GPL license. This means you free to download and use them as you please!
Creative Commons
Let's move forward. Creative Commons license (or CC) is another public copyright license that enables people to share, use, and build upon the derivative works created. In fact, it provides flexibility to an author and protects the users who redistribute the author's work.
There are several CC licenses. You can find some WordPress themes licensed under CC license. As you will see, they are typically not the part of the Theme Repository.
Free Themes Are Equal, But Some Free Themes Are More Equal Than Others
When choosing the free WordPress theme, it's important to check the type of license they are under. Why? The answer is, it depends. That's all about the rights you're allowed to do with it.
Advantages of Free WordPress Themes
The fact that free WordPress themes are free itself seems great. But, it's human nature to be not satisfied with less. We always want more. Find a free WordPress theme you like and simply go for it. So, what are the advantages for you?
The cost-cutting factor
Once you found a free theme you like, go ahead and use it on your website. Use your imagination instead of your wallet. If for some reasons, you'll want to switch to premium theme there's nothing to stop you. In contrast, with premium themes, it can be difficult to get your money back.
Incredible plugin support
Despite the fact that free WordPress themes are not accomplished by support, however, you can find many resources available to help you get rid of all that worries. What's more, you can upload date, edit and do any changes whenever you need using free plugins.
Choosing varieties
Nothing is constant, but change. You will want to make changes. Moreover, you are free to make any changes. Once you decide to go for it, experiment. Experiment with as many free WordPress themes as you like to find the solution that fits your delicate taste best.
Weak Points of Free WordPress Themes
Well, like it or not, but there's always a black fly in your Chardonnay. And free WordPress themes are not the exception.
Not unique
Though there're many beautiful free WordPress themes, lots of people use them because they're free. It means your site may not look unique.
Poorly coded (maybe)
Unfortunately there are a lot of poorly coded, clunky free WordPress themes out there. But there are just as many great options. This means you should research and always test your theme before uploading it to your live WordPress website.
Limited features
You're limited in editing options and settings when it comes to tweaking the overall look of your site.
Limited support
Most free WordPress themes do not include free support, but developers do welcome bug reports if you've found an issue. Some developers also offer premium support options, so you may have to shell out a bit of cash if you need help.
Limited updates
Because free themes are free it may take longer for developers to provide updates, or they may eventually abandon the theme all together.
Should You Choose a Free or Premium WordPress Theme?
So, what option to choose? The answer is, it depends. There're plenty of things to consider before making the choice. Think of the advantage that you can get. Though expectations can be a hard thing to manage. As a rule, you don't know unless you dedicate time and effort to trying. Well, to sum up, fear not to start small and build up.
A premium WordPress theme is just the thing for those who wish to hook up their unique and modern website worth both time and money. The premium theme doesn't always mean the better option, however, it can make a big difference. Remember, there's always a chance of paying too much for features you don't need.
Generally speaking, the premium theme is a fab way to get things done with minimal fuss. What's more, they come with more advanced features, unique designs, frequent updates, extra developer support, and great customization options. Admit it, with all those benefits, why not?
Tips for Picking Your Ideal Free WordPress Theme
You might be curious to find reliable free WordPress themes. That's important, after all. You can waster your valuable time and money for fly-by-night providers and in the end get a low-quality product which costs you an arm and leg. That's not an option.
Here's a head's up for you – if you haven't got a clue where to start, let's have a look at some great free WordPress themes from leading web developing companies like TemplateMonster and WPExplorer. Why not? That's a good idea. Moreover, the array of free and premium WordPress themes they offer is only limited by your imagination. No matter what niche you are in, anyone can find the best possible WordPress business themes, electronic templates, fashion, and beauty blogging pages, design and photography portals, and much more.
Let's say, when browsing free WordPress themes, you should pick the one that can easily be tailored to your chosen purpose. You have a mission or goal you're working toward, right? For example, if you wish to hook up a business website, Monstroid2 Lite is just the thing for you.
Monstroid 2 Lite Free WordPress Theme
First and foremost, the visual look of a WordPress theme should ideally fit your purpose. And Monstroid2 Lite has got you covered. This absolutely clean GPLv.3 licensed free WordPress can help you launch your business site without the headache of coding. With the main focus on content, Monstroid2 Lite includes a set of Google fonts to highlight the most interesting parts of your sticky content. It comes with lots of clean white space to help you break your content into easily readable parts. With WP Live Customizer, you can do any changes and see the results of your experiment straight away. What's more, a clean, responsive and eye-appealing design gives you the free will to set up any business, e-Commerce, or online publishing website on a fly. Don't knock it, till you try it.
Of course, you may want to pick a WordPress theme that is well coded and built around modern web standards. Make sure Corporate Free Business WordPress Theme has a clean, properly marked up code that will make your life easier from the start.
Corporate Free Business WordPress Theme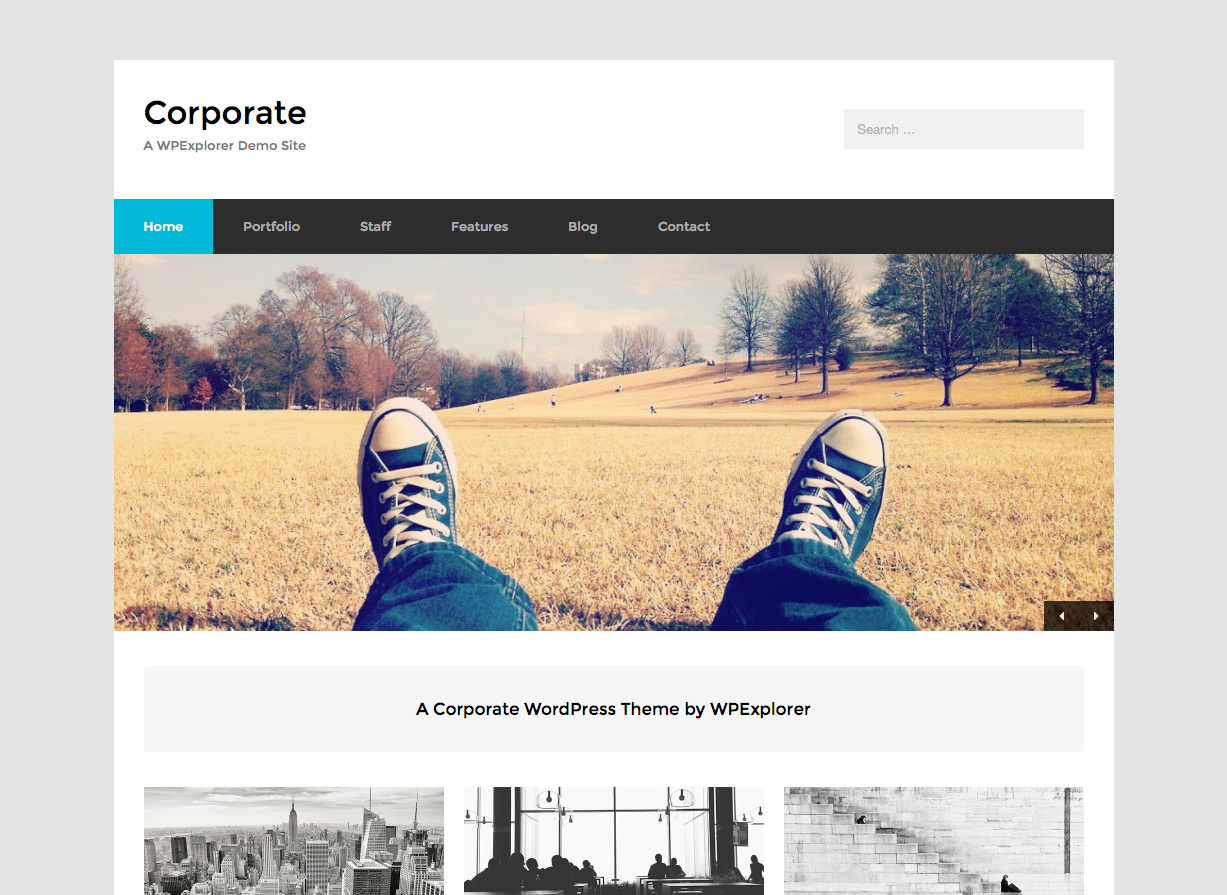 Designed for business and corporate websites, this free GPLv.3 WordPress theme can help you represent your unique brand or company for your incurious site visitors. With a Portfolio, you can showcase your exceptional works and projects to draw in your customers and tell a story of your mission. In addition, it supports images, galleries, and videos to encourage your would-be clients to join your brand. Don't underestimate the importance of having a blog page for promoting your business. Make any changes, experiment, create a cause, but get noticed. Feel free to play around the live demo to see whether it fits your delicate taste.
Think mobile-first unless you have a very good reason not to. If you want to be sure you're getting the most traffic possible – make sure your free WordPress theme is responsive. A fully responsive layout that adjusts smoothly to different digital devices eliminates the chances of site abandonment. Kustrix Lite is best suited to serve that purpose.
Kustrix Lite Free Fashion Blog WordPress Theme
As online world becomes increasingly visual; your beautiful website needs to be visible on all last-generation devices. People browse and shop throughout the day, that's why your responsive and eye-grabbing website should pop-up in those hungry search engine results. Take a look at this free 100% GPLv.3 licensed WordPress theme tailored for fashion and beauty personal blogs and photography projects. The theme is easy to customize and navigate thanks to its two-column positioning. With social options, you can get the word out about your new baby.
Powered Free Blogging WordPress Theme
Enjoy this completely free GPLv.3 licensed WordPress theme intended for creating blogs for business, technology, lifestyle, and travel. It comes with a clean, responsive and minimalist design to help you engage and impress your visitors right from the start. Do everything in your power to create a blog that is worth sticking around. It comes with WPML, Polylang, ad RTL support, social media, typography settings, clean and valid code, and more. Get it and use it to your full advantage.
Don't dismiss clean and minimal free WordPress themes. When choosing a theme, keep in mind outstanding design never gets out of style. A clean spacing of your site impacts the overall look of your site. Remember, clean and simple designs are often the best way to showcase your content and get noticed. Take a look at Melissa Photography WordPress theme.
Melissa Free Photography, Portfolio & Photo Studio WordPress Theme
Having a beautiful minimalist website can be a difference that swings visitor decisions in your favor. With Melissa, you can create an impressive photographer portfolio site and lull your visitor into a sense of beauty and glory. It comes with TM Gallery to help you create and represent your unique works and projects in the most appealing way. WP Live Customizer allows you customize the template to an astonishing degree without the headache of any coding. Make your visitors feel special when they land on your photography site by accident.
Pineapple Free Photography Blog WordPress Theme
This minimalist GPLv.3 licensed free WordPress theme can help you win the battle for the attention. It comes with all necessary features you may need to start a successful blog with a blink of an eye. This well-coded, responsive, Yoast SEO compatible template can jumpstart your web project and save you both time and effort. Pineapple offers a leeway for creating an engaging story that can't be put down. What's more, it supports multiple media types, is compatible with popular free plugins, Contact Form 7, and more. Now, enough talking. Dive in to see what is it all about.
Taking into account that Google ranks mobile-friendly websites higher, SEO standard ensures your site is marked up properly to be high up in the search engine results. Thus, you can get the maximum leverage from keywords and increase the chances people will land on your website. Many of free WordPress themes are optimized form the start, but as always only some of them are better at it than others.
Energico Free Gardening WordPress Theme
SEO-friendly free GPLv.3 WordPress theme designed with the clear advantage can ensure your website does exactly what you need it to. Energico is a great choice for gardening and landscaping businesses. It comes with a bunch of Cherry plugins to represent your unique business in the most engaging way. Choose between multiple blog layouts, header and footer styles, and different UI elements to match your business requirements best. Try it now to attract natural traffic from search engines.
Pytheas Free Corporate Business WordPress Theme
Pytheas is a clean, minimalist and responsive free GPLv.3 WordPress theme tailored for corporate, business, and portfolio web projects. It comes with built-in support for Yoast SEO breadcrumbs, WP Live Customizer, social media, Contact Form 7, and more. Use this SEO-friendly template to your full advantage and engage your visitors more fully online. Go ahead and get started today.
Catwalk Free Fashion Modeling Agency Responsive WordPress Theme
Catwalk is another SEO-friendly free WordPress theme perfect for your next web project. Crafted with care and elegance, it can help you create a new digital front door for your fashion modeling agency. Face it, your audience deserves the best. With Catwalk, you can promote your brand 24/7, 365 days a year. Get the most traffic from keywords that you know will cause conversions. What's your choice?
Congratulations! You're a Free Theme Expert!
Well, to sum up, WordPress is a fab option that can grow with you and your business. And once you pick the right WordPress theme, it can make a huge difference in your success. As you see, there are plenty of beautiful free WordPress themes, but only some of them can make your website look like a million bucks. Choosing the right free WordPress theme is always the hardest thing, in fact. Everything you need is an experience which you can only by getting a little training under your belt.
What do you think are the most important aspects of a free WordPress theme? And do you have any favorite themes that we missed? Let us know in the comments section – we'd love to check them out!