Since the advent of social networking sites such as Facebook, Twitter, LinkedIn, Pinterest et cetera, social media sharing has come of age as far as online promotion goes.
Just the other day, Facebook's user base hit the 1.15 billion mark! Twitter, too, is racking up the numbers and stacking up IPO cash. YouTube has changed how the world shares videos and as a result gained millions of users. This means that nearly everybody is on social media, your target customers included. You probably have one or two or three social networks open right now, don't you?
Your target audience throngs social networking sites in pursuit of news, entertainment, updates, gossip, products and to keep in touch with friends and familia. Others play Farmville and buy virtual pets on some of these sites, but hey, every man to his own tastes.
Point is, social networking sites can give you a huge boost in web traffic. Just follow a general social media strategy, and use any (or two) of the following plugins and you'll be alright.
Top 20+ Social Media Plugins For WordPress
Let us begin with premium plugins, shall we? All the plugins covered in the following section cost between $0 and $20, so you get to make huge savings this holiday season.
MONARCH SOCIAL SHARING
Monarch is the premium social sharing WordPress plugin by Elegant Themes. Included with their developer and lifetime licenses, Monarch is the perfect solution for all of your social sharing needs. With more than 35 social networks, 5 different button locations, 6 pop-up and fly-in triggers, optional counts, custom colors and more all built-in you can literally build your own one of a kind set of social buttons.
WORDPRESS SOCIAL STREAM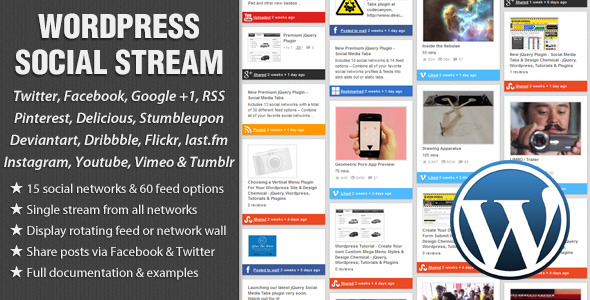 WordPress Social Stream is a feature-rich and regularly updated social media plugin that lets you combine all your social network activities into a single feed or one single network stream. To display your social media profiles, you can use rotating feed lists or a filterable jQuery social networking wall. This is the plugin to use if you are looking to make your social network streams more interactive. You can get WordPress Social Stream at just $14 bucks at one of the best marketplaces.
FACEBOOK LIKEBOX SLIDER FOR WORDPRESS
This is probably the best social slider plugin for WordPress on the Internet.
It features an awesome tab design, which is appealing and attention grabbing. But aesthetics aside, Facebook Likebox Slider is easy to install and use. In fact, installation involves a three-step configuration process and that's it, but the author (Arscode) provides 24-hour support in case you get stuck. Facebook Likebox Slider supports mobile devices, which means more users will share your content regardless of the device they use.
This 5-star rated plugin is a great tool and an easy way to get more shares, more fans, popularity and eventually more traffic. More traffic translates into more money sooner or later. Don't be fooled by its title though, this plugin supports a number of social networking sites including Facebook (obviously), Twitter, Google+, Youtube, Vimeo, LinkedIn and Pinterest. For only $15, this plugin could be working hard for your business in no time.
TWITTER SLIDER & USER CARD FOR WORDPRESS
Since we just covered the Facebook Likebox Slider, I figured it would be nice to add a Twitter Slider Plugin as a compliment. Now, if you are looking to display your tweets in a fancy way, this is the plugin you want. Twitter Slider offers a lot of personalization options including the ability to set up avatars, display animations and implement transitions. The slider can align horizontally or vertically depending on your taste, and you can use the plugin to display tweets from a user, a hashtag or Twitter search.
Get Twitter Slider & User Card For WordPress
SOCIALBOX – SOCIAL WORDPRESS WIDGET
Authored by Jonas Doe Bertin, with nearly two thousand purchases and selling at just $6, the SocialBox WordPress widget is easy to use and helps you to install a sleek social media widget to your WordPress website.
This widget supports numerous social networking sites such as Facebook, Twitter, Youtube and the other usual suspects. Furthermore, it lets you display the number of Facebook likes, Twitter followers, Youtube subscribers and so on. In addition, you can enter "placeholder" values that will be displayed in case the corresponding API fails or is not reachable. The plugin goes for $6 bucks only.
Get SocialBox – Social WordPress Widget
SOCIALPOP: A SOCIAL MEDIA PLUGIN FOR WORDPRESS
With a variety of beautiful display options, the SocialPop plugin takes the social sharing game to the next level. What's more? It supports up to twenty-seven of the best social media sites as well as email sharing.
Once you install and activate the plugin, you can set your social media icons to pop (up, down, left or right) every time you mouse over them. See how the SocialPop title relates? You can add social media sharing options to your posts, pages or wherever you like using the Manual Insert Settings Option, a process that is as easy as ABC. Additionally, you can add social sharing icons to your template files using shortcodes or PHP function calls, meaning you can place this plugin wherever you desire. That's not the end of it though. You can keep track of when users share your content using the Bit.ly/J.mp support that comes with the plugin. The author, LuckyKind, sells SocialPop at a throwaway price of $5. It is worth every penny.
Get SocialPop: A Social Media Plugin for WordPress
SHAREPLUS (+): THE MOST BEAUTIFUL WAY TO SHARE
If we were only after aesthetics, the image above shows that Share+ is indeed a "…beautiful way to share your site…". However, beauty does not equal functionality (or utility), so we have to delve into the technical details to determine whether the author, Daniel Paul, means business or he's just talking a good one.
To begin with, Daniel built Share+ using jQuery, HTML5 and pure CSS3. This is great a direction to take because it means the plugin is future proof and easy to modify. Speaking of ease, all that is required on your part is uploading the plugin, activating it and three clicks in the direction of configuration and your work is done. Other than that, you can use Share+ on dynamic and static web pages without problems since it is client-sided (does not require a server to run).
The plugin comes with a visually appealing (or rather beautiful) admin panel and five thrilling themes that will change the social sharing experience for your users. Finally, the plugin supports several social networking sites and gives you the power to track social sharing activity using Google Analytics. Share+ will set you back $10 bucks.
Get Share+: The Most Beautiful Way To Share
WOOF: LOAD YOUR WORDPRESS SITE INSIDE YOUR FACEBOOK PAGE
This is quite some social media plugin since it doesn't create social sharing buttons but instead loads your entire WordPress website inside your Facebook page. I don't know about you but, personally, I think that's dope (really cool). As opposed to leaving Facebook to visit your site, your visitors can browse, comment and share your WordPress site right from inside Facebook. Speak of increased user engagement and what nots.
According to Giggi, the author, Woof (WordPress On Our Facebook) is "…more than a 'script' and it's more than a 'plugin'…" To me, it's the result of smart web engineering. While Woof is a multi-faceted social integration plugin that might seem daunting, you can install it and be on your way to better social exposure with a single click! Just upload it, set up a Facebook App (really easy stuff) and click activate. Too bad you can only use this plugin with Facebook because it would be great to embed your entire website on a few more social networks. Regardless, I give Woof a 8.5/10 rating because it's cool, costs only $18 and works as advertised.
Get : Load Your WordPress Blog Inside Your Facebook Page
SOCIAL SIDEBAR FOR WORDPRESS
Right off the bat, I would like to say this plugin is very configurable! It allows you to add social links to your WordPress website easily and style them however you like using CSS3. When you are done configuring some of the options, you will feel like a developer yourself. Haha.
That aside, Social Sidebar is compatible with all modern browsers since it is built around HTML5. On top of that, the plugin supports automatic integration and comes with some great features including 100 icons, 4 themes, 2 sides meaning you can place it on the left or right sidebar, 2 styles but you can add more, and 4 label styles: square, rounded, fancy and curved. $10 bucks will get you the plugin and 24-hour hands-on support.
Get Social Sidebar for WordPress
SOCIALFANS – WP RESPONSIVE SOCIAL COUNTER PLUGIN
Built on Bootstrap 3, this Retina ready social media plugin packs quite a punch and enables you to display the number of your social account fans/subscribers/followers. It ships with a lot of features including numerous social networks, animated transitions, translation ready files and the ability to create custom skins.
To top it all, the guys behind the plugin, Themeinity, provide quick response (less than 15 minutes) to all queries. If they are ever late, they endeavor to respond within 24 hours. It's quite a clever thing to do: providing quick response for a "responsive" social media plugin. Haha. SocialFans Counter costs $10, and that comes with quick-response support of course.
Get SocialFans – WP Response Social Counter Plugin
TWEETABLE SHORTCODE V.12 – QUICK TWEET SENTENCES
The Tweetable Shortcode social media plugin for WordPress will help you UP your Twitter game. Twitter is a very noisy place (with all the tweets and stuff); and it's so noisy you might forget its huge potential as a source of – wait for it- free traffic. Oh yeah, Twitter grows everyday and with it grows traffic and engagement. All you need is a way (or a plugin) to tap into this traffic. The Tweetable Shortcode plugin will help you convert any sentence into a tweet with the touch click of a button.
That's right, just select the text in your post editor and click the Tweetable Shortcode button in the post editor toolbar. Job done. It's like inducing people to tweet your content: random thoughts, quotes, words and ideas. We all know that tweets breed traffic, and traffic breeds dough. The plugin is easy to set up and there is plenty of space to add your username (you need those followers, don't you?) and shorten the url of your shared posts (thanks to Bit.ly). Tweetable Shortcode's regular license costs $10 and the extended license costs $50. Choose one that works for you!
After the jump, we will review free but equally effective social media plugins for WordPress.
SHARETHIS
With over 1.5 million downloads and up to 120 social networking channels, ShareThis has become a powerful social media plugin in a market swarming with similar products. The plugin was lastly updated on 21st November, 2013 meaning it's still fresh and thus safe for your WordPress installation. I just touched on WordPress security because some free plugins are often lined with malicious code, so be very vigilant. Moving on. ShareThis gives you the ability to use sharing bars (including hovering bars), counters and buttons of different sizes. Additionally, you can track social network interactions by creating a social analytics account. This will let you determine the social quality of your WordPress site via the Social Quality Index (SQI).
FLOATING SOCIAL MEDIA ICON
With a little over 300k downloads at WordPress.org, the Floating Social Media Icon plugin is making waves of its own. Maybe it is the ease of use or the simple process of configuration or even the mere fact that you can set up your social media icons to float, but this social media plugin is among the best in the market. Its main features include over twenty icon styles, resizable icons, multiple widgets, shortcode support, auto or manual integration and less load, which is good for your page load speed.
The icons are quite fancy, and they fly from top left to bottom right and stick there for as long as the user stays on your page. Don't worry about it, you can disable this floating behavior and still use the plugin to grow your following and traffic.
Download Floating Social Media Icon
SOCIAL MEDIA WIDGET
We've mentioned this social media plugin in previous posts, which also reminds me of this WordPress marketing post. If you haven't read it, please do. Social Media Widget enables you to display your social media profiles as icons on the sidebar. The plugin supports numerous social networking sites as well as email sharing. It comes with a ton of icons in different sizes: 16×16, 24×24, 32×32, 64×64 and custom size. Moreover, you can animate the icons, which come in four packages, to create the visual effect you desire; the icons can zoom in (scale), bounce or fade in.
MICROBLOG POSTER
The Microblog Poster social media plugin for WordPress helps you to publish your content to various social networks automatically. The plugin supports multiple accounts per social networking site meaning you can cross post to several accounts on the same social network. On top of that, you can format the update message to create varying versions for your different social networking platforms. The plugin is easy to configure, use and supports shortcodes.
PO.ST
If you're not familiar with this social media plugin, Po.st allows you to share content across numerous social media sites and monetize social activity on your WordPress site. According to Po.st, the plugin is "…the first and only social sharing platform that offers publishers the ability to monetize social activity on their sites…"
Every time a user shares your content, a 300×250 ad appears within the sharing widget. If a user clicks on the ad, you can earn up to $25 depending on the ad's CPM (cost per 1,000 impressions). Po.st comes with an analytics dashboard that tracks your site's social activity as well as ad revenue.
SOCIAL MEDIA FEATHER
The following are the words that describe Social Media Feather: simple, super lightweight, effective social sharing, nice and modern looking. And I totally agree. The Social Media Feather plugin gives you the power to easily and quickly add social following and sharing buttons to posts, custom post types and pages. The plugin focuses on unobtrusive impact and performance while remaining simple. In addition, social media feather supports Retina displays, which means it works with all modern devices. It's a feature-rich plugin, this Social Media Feather, and supports shortcodes so that you can place the social sharing options anywhere on your website.
SOCIAL LOGIN
Make your WordPress site social with the Social Login plugin that allows your visitors to login, register and comment with over twenty social networks such as Facebook, Google+, Twitter, LinkedIn and even PayPal. You can choose where to display the widget with a single click. Alternatively, you can use shortcodes to place the plugin wherever you want. You can also activate a social plugin widget for your sidebar. Basically, this plugin is easy to use. The plugin is maintained by OneAll, and is a great way to improve user engagement on your WordPress or BuddyPress site.
SIMPLIFIED SOCIAL SHARING
Developed by the zealous guys at LoginRadius, Simplified Social Sharing plugin allows users to share your content via their profiles on over eighty social networking sites. Additionally, Simplified Social Sharing supports WordPress, BuddyPress, and BBPress and runs on LoginRadius SaaS. You can choose different themes to display your social media icons and take advantage of the available customization options to add your widget to various parts of your website e.g. feeds, pages, posts etc. Simplified Social Sharing comes in two versions: a free version and a paid version that accords you a set-up service and 24/7 email support amongst other privileges.
Download Simplified Social Sharing
SHARE BUTTONS BY ADDTOANY
With over two million downloads, Share Buttons by AddToAny is without a doubt a very popular social media plugin. But is it as effective as it is popular? Let us look into some of its features.
The latest version of the plugin comes with larger sharing buttons for the most popular social networks
The plugin supports over a hundred social networks and several languages
You can painlessly choose where and how you want your plugin to appear
You can integrate the plugin with your Google Analytics to track shares and bookmarks
If you are a web developer, the plugin is quite extensible
If you are a WordPress beginner, the plugin is quite configurable
The verdict: this plugin is without a doubt as effective as it is popular. Moreover, it is among the best social media plugins in the market.
Download Social Buttons by AddToAny
TFG SOCIAL SHARE
(The red arrow shows TFG Social Share and blue arrow shows Jetpack sharing)
The only drawback is you can only display about six social networks, which might be a limiting factor to some. Other than that, the plugin is clean and creates elegant sharing units that you can place above your posts, below your posts, above and below your posts or to the left side of the posts.
The plugin is crafted on Javascript, which loads in the footer meaning your content loads first (before the plugin). This way, your page load speed is not affected negatively. TFG Social Share is easy to configure and you can use shortcode [tfg_social_share] to display the social sharing icons anywhere on your site. It's a great sharing plugin, but you might need a second social media plugin that allows users to access the other social networks that TFG Social Share does not support. If you have Jetpack for WordPress, you should be able to overcome this problem easily.
The ball is now in your court…
Which social media plugin (or plugins) do you use on your WordPress site? Did I leave out a plugin or two that you feel should have appeared in this post? Let me know in the comment section below!
1 Familia – Swahili word for family.